I don't know what I like more about sake... I could say the taste, flavor or the sensation of it in my mouth but let's be honest, I love the feeling of being a giant with those tiny cups. It's like a tea party for adults. When studying food culture and health, we see a relationship between libations and health. However, it was just drunken ranting until now. To my delight, someone has done some pretty good research on this and opened the door to what I already knew: moderate drinkers are healthier. I recently attended a lecture at Harvard University's Healthy Plates, Healthy Lives conference and listened to Dr. Eric Rimm extol the virtues of alcohol, which include: increase in HDL (good) cholesterol, an increase in insulin sensitivity, and a decrease in inflammation.
With this knowledge in hand, I feel it is my duty to bring all of you some new and noteworthy alcohol options you may not have tried. This past Friday, I had the chance to visit The Joy of Sake in New York for its 11th annual celebration. This event was the largest sake tasting in the world, outside of Japan, and the cups may have been petite but the interest was enormous. The place was packed with foodies sampling the widest variety of sake I had ever seen. They presented over 400 premium sakes with appetizers to match the theme. From En Japanese Brasserie, serving up torotaku, which is fresh tuna belly tartare in a nori wrap, to SushiSamba's offering of yellowtail tiradito with avocado, pickled red cabbage, crispy wonton skin and aji amarillo, amazing treats to tempt your taste buds lined the hall. A few of my favorite sake samples were Zipang Sparking Sake and Kamoizumi Shusen Junmai Ginjo better known as "Three Dots". Sake, like wine, is about finding the bottle that speaks to you, however, there are some guidelines for doing sake right: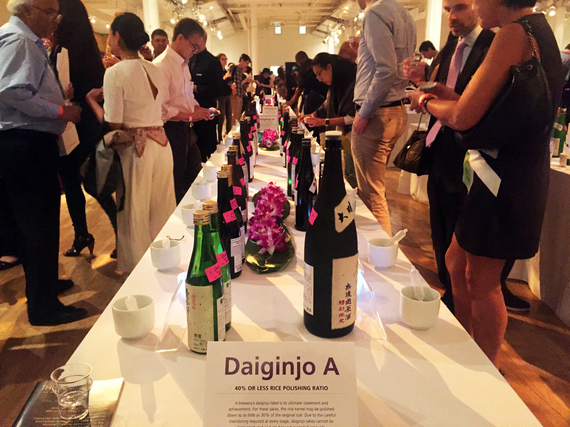 Portion Your Pour. Although alcohol may benefit your health, stick to the right amount and be sure to drink in moderation. I see many of my patients abstain from drinking Monday through Friday only to run wild on the weekend. The idea is that it is not only the amount you drink but also when you drink it. According to the research for women, it's one drink every other day, and for men, it's one to two drinks every other day. This produces an effect in the body called hormesis, which is something that harms you a little bit, like alcohol, but your body responds by becoming stronger. So, it is still unrealistic to binge on a whole bottle of whiskey and expect wellness.
Make It A Social Activity. The aspect of drinking I feel is quite important but so often overlooked is the comfort of sharing a dining and drinking experience with others. Eating and drinking alone is strongly associated with depression, which can cause a whole host of problems; sharing a meal and drink can make you and others feel better, which can decrease blood pressure and help you to relax.
Pair It With Asian-ish Menus. Creating your menus to be more pan-Asian allows you to include elements that are often left out of American menus. From seaweed to miso, adding one new ingredient, like sake, opens the doors to many others with healthful benefits. As Americans, we are always mixing and playing with food cultures anyways, why not be open to the idea of including sake in your beer, wine, and whiskey repertoire. I mean, we came up with the sushi burrito didn't we? Who knows what we will eat next.
Finding the balance in drinking for pleasure and health may seem like a new concept. But I assure you that if you merge the two ideas, it will allow you to maintain a wholesome life because being healthy isn't all about your body but also your soul.