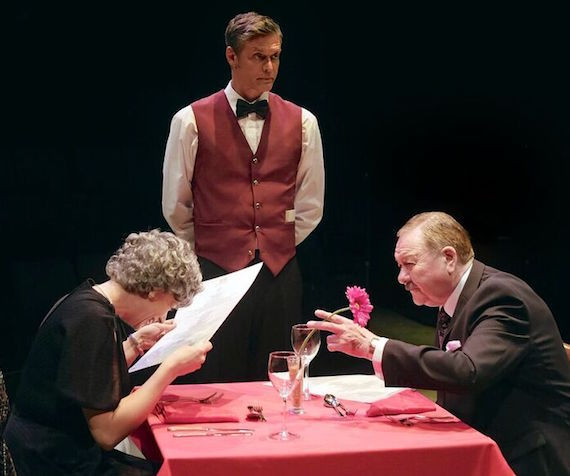 I am a longtime, can't-get-enough-of-his-wit-and-wisdom Sir Alan Ayckbourn fan. He's the 77-year-old British playwright/director who dashed off his first play at the age of 10 and has written about 80 others since then. Most of them first saw the light of day in Scarborough at the Stephen Joseph Theater, many were also hits in London's West End and of the ones produced on Broadway, The (hilarious) Norman Conquests won the 2009 Tony, Drama Desk and Outer Circle Awards and received a New York Drama Critics Circle Special Citation. I'm mentioning this to assure you that Sir Alan ain't no shlepper.
Ayckbourn now turns up at 59E59's Brits Off Broadway series every other year, with two plays he's written and directs in repertory with a complete cast of versatile British actors, who, like John Cleese, were born with a farce gene that inspires them to rush around in an intensely serious but unintentionally clumsy manner. The result? Hilarity that produces non-stop laughter!
This year Ayckbourn's Brits Off Broadway contribution consists of two plays written 40 years apart: the sidesplitting to moody Confusions (his #17 written in 1976) and the ironic Hero's Welcome (his latest written in 2016), having its World Premiere here.
Confusions' five interconnected one-act plays are linked by similar themes, played by the same actors and contain the most uproarious everything-that-could-possibly-go-wrong-does scenes I've seen in years.
Number 1, Mother Figure, features Lucy, a totally child-fixated Mom, who treats everyone as though they were a three year old child. I found it on target and amusing. The Male Stranger in the Seat Beside Me (hereinafter TMSITSBM) barely smiled.
Number 2, Drinking Companion, was more up TMSITSBM's alley. He found Lucy's neglected husband trying to pick up two girls in a bar funnier than I did.
Number 3, Between Mouthfuls was about the incompatible Pearces and the ditto Martins dining in the same restaurant at different tables after one of each of the above had just returned from a trip abroad. Speech and silences between the alternating conversations was extremely clever and a spicy ending produced an unexpected outcome. TMSITSBM and I both found this one amusing.
Number 4, Gosforth's Fete, was the evening's jewel with everything at a Country Fair running amuck from the public address system publicly announcing a spinster's sexual secret and equally perverse acts by the Weather God. One of funniest farces I've ever seen!!! Fortunately I'd visited the restroom during intermission. Don't know, don't care how TMSITSBM felt about it. I was LMAO too hard to notice!!!
Number 5, A Talk in the Park has five miserable people on five benches each moving to the next bench to avoid someone who wanted to talk to them about his/her problems. Neither TMSITSBM nor I were very intrigued by this one.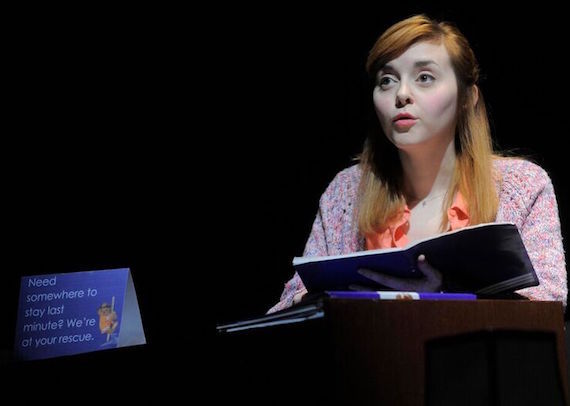 Hero's Welcome, Ayckbourn's latest is ironic, satirical and philosophical, tinged with the wisdom of the ages, amusing with bitter elements, but it happily ends on a hopeful note. It's about three childhood "friends," Murray, Alice and Brad, who share their past, but only one has a future.
Murray (Richard Stacey), our hero, has returned home after 17 years of army service with a young pleasant, ambitious, friendly, focused and very pretty foreign bride, Madrababacascabuna aka Baba (Evelyn Hoskins), whom he met during his recent deployment in the Third World, the site also of his heroic deeds. She speaks no English but she's friendly and honest, and her decency will make a man out of him.
Alice (Elizabeth Boag), now the mayor of the village, was the bride-to-be Murray abandoned at the alter 17 years ago, when he realized the child in her womb did not contain his DNA. Instead Alice married Derek (Russell Dixon), a silly, stupid, big-mouthed male yenta whose hobby is setting up model electric toy train tracks all over their home.
Then there's Brad (Stephen Billington), Murray's upper class boyhood buddy, who shared Alice's favors, impregnated her, loved her but didn't marry her lest it cost him his inheritance. Brad's landed gentry, a narcissistic toff who drinks too much, shoots clay pigeons, can't bear losing and a womanizer who treats his wife, Kara (Charlotte Harwood) with total contempt.
After Murray outshoots Brad, Brad bets Derek that he can bed Baba in the next fortnight. Does he or doesn't he? Does it matter? What happened to Alice's baby? Was Murray actually the hero he received medals for being?
What makes the play interesting and worth watching is the down-to-earth decency of Baba, who's worth more than all of that lot put together, except for Murray, who becomes a real hero because of her.

The acting and direction in both plays, along with the twists and turns in the plot, is created by a first rate intelligence. Hero's Welcome is a play to savor and think about, a complex plot with interesting characters. Anything Sir Alan writes is well worth seeing and I'm hard pressed to imagine that you'll find anything funnier to laugh about in the next five years than Confusions Goferth's Fete!
59E59
59 East 59th St. New York, NY
Performed in repertory until July 9th
Photo Credit: Tony Bartholomew
Calling all HuffPost superfans!
Sign up for membership to become a founding member and help shape HuffPost's next chapter