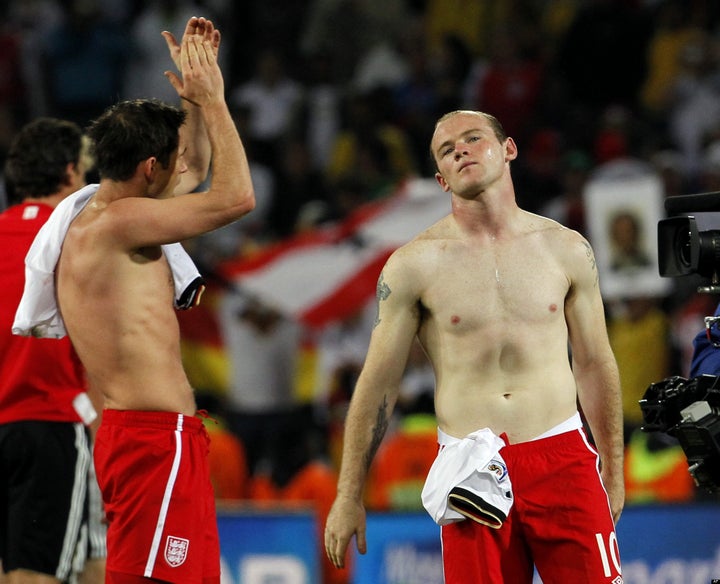 They call it "the hairdryer." It is one of the most feared spectacles in soccer. Manchester United's coach, Sir Alex Ferguson, ignites his temper with a blast of scalding curses blistering his trembling victims. Over the years, many players have felt the burn, the latest being star Wayne Rooney.
Wayne Rooney, man of many parts, is set to leave Manchester United after Fergie, Sir Alex's nom de guerre, switched on the fury. Fergie seethed when he saw newspaper pictures of a drunk, smoking Rooney staggering from a nightclub at 5am, followed up by a performance with hookers as his pregnant wife sat home alone. Naturally, Rooney's goal scoring prowess went flaccid after his nocturnal exertions. Sir Alex, being an old school soccer master, brought the caning to an end by dropping his shooting star from the team.
To understand Sir Alex, visit a neighborhood called Govan in Glasgow, Scotland, where in 1941 on New Year's Eve, Alex Ferguson was born under a tenement roof shaken by Hitler's bombs. Govan, on the River Clyde, was the heart of the world's shipbuilding industry riveted to the consciousness of Glasgow's working class. The neighborhood was uncompromising, filled with revolutionaries and militants and fiercely independent, yet hostile to Glasgow's immigrant other half, working class Catholics from Ireland who settled in the city's eastern end, up river. Govan was Protestant. Rangers played there, the city's Protestant soccer team. For most of the twentieth century Rangers refused to sign Catholic players. The atmosphere in their stadium was like a furnace of fury forged from the shipyards nearby. Ferguson's father worked in the yards, Alex followed, his socialist creed formed on Red Clydeside. He was a trade union shop steward. But socialism, like God, had to wait in line behind soccer.
Fergie played for Rangers in the sixties. His steeliness grew from there. But Fergie became an outsider in Govan in one crucial way. He married a Catholic girl and while he claims this did not affect his career at Rangers, other Rangers players who married across the divide soon found themselves looking for a game somewhere else. It is hard not to believe that Fergie's next chapter, shaking Scottish soccer to its foundations, was not inspired in some way by this awkwardness.
Sir Alex Ferguson is arguably the most successful and influential coach in club soccer history. His glorious record at Manchester United speaks for itself but his brick-minded Glasgow born toughness flourished from his years in charge of the Scottish club, Aberdeen. It was from the oil rich city in Scotland's North East that Ferguson loosened the stranglehold that the two massive Glasgow teams, "Protestant" Rangers and "Catholic" Celtic, had held on the Scottish game for a century. Fergie was born to take on the all-powerful. No one would stop him and his hairdryer. Provincial Aberdeen became the dominant Scottish club in the eighties. Manchester United followed. Player legends like Cantona, Beckham, Van Nistelroy, Giggs, Ronaldo and many more came under the wing of soccer's toughest nut.
So when a spoiled ego like Wayne Rooney wants to bolt and insults Sir Alex in the process, it's really no contest. Fergie learned to put down the show offs and the powerful in the shipyards of Glasgow. The hairdryer will blast Rooney out the door.
Calling all HuffPost superfans!
Sign up for membership to become a founding member and help shape HuffPost's next chapter