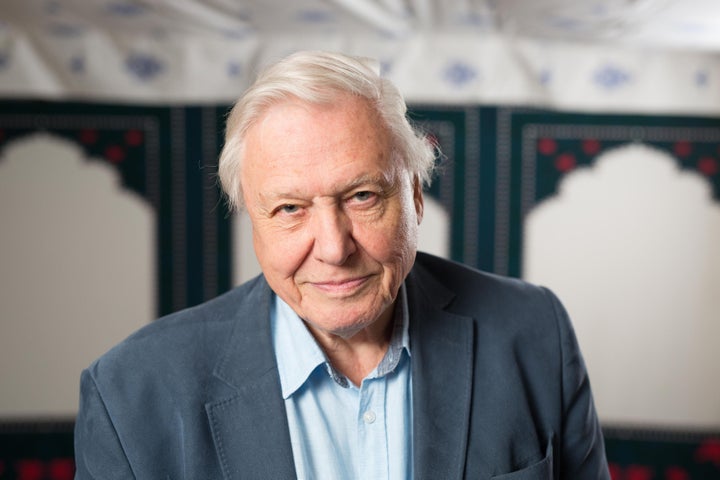 So when the famed naturalist, who turns 91 in May, sat down with The Telegraph less than 24 hours after a trip to the Jura Mountains in Switzerland and noted that he hadn't remembered the name of a searing yellow plant in front of him (it was oilseed rape), some panic alarms went off. Attenborough told the Telegraph that he was "coming to terms" with the idea that when finding the right words takes longer, you can "run into problems."
Attenborough does not make formal comments on his health, said his attorney Michael Ridley by email. "As far as I am aware this was just an incidental aside that has been blown up out of all proportion and was not the point or the purpose of the interview," Ridley wrote to HuffPost. He added, "From my personal perspective, having heard him deliver a 20-minute speech fluently and without notes very recently (and there have been plenty more since I heard this one), any morbid speculation here is quite unnecessary."
Whether Attenborough is experiencing some memory loss as most people his age will, or even excessive cognitive decline, his "admission" did cause many to suddenly draw parallels with their own "senior moments."
How much forgetfulness is normal?
Forgetfulness is a normal part of growing older, according to the National Institute on Aging. With advancing years, changes occur in all parts of the body, including the brain. People may notice they don't remember information as well as they once did, or they misplace things more often. The NIA says these are usually just the signs of mild forgetfulness, not serious memory problems.
Some difficulties with memory are related to health issues that may be treatable. Medication side effects, vitamin B12 deficiency, tumors or infections in the brain, and blood clots in the brain can cause memory loss. So can some thyroid, kidney and liver disorders. So check with your doctor.
Stress, anxiety and depression can also be contributing factors. Someone who has recently retired or who is coping with the death of a spouse may feel sad, lonely, worried or bored. Dealing with major life changes renders some people forgetful, the NIA says. The confusion and forgetfulness tied to emotions is usually temporary and goes away when the feelings fade.
Fear of Alzheimer's may be overblown
Yes, the number of people living with Alzheimer's is on the rise. The latest reports say it afflicts 1 in 10 people who are older than 65.
But a great many more than that worry about receiving the diagnosis. Alzheimer's is the second-most feared disease among people age 55 and older, according to a 2010 survey by the MetLife Foundation. (Cancer is the first.)
Alzheimer's is the most common type of dementia ― between 60 and 80 percent of all cases of dementia, according to the Alzheimer's Association. Still, it doesn't account for all dementia. Early signs of Alzheimer's include memory loss, confusion, difficulty communicating and anxiousness.
Attenborough, a legendary TV host, told the Telegraph that writing scripts for his next nature series, "Blue Planet II," has become more of a struggle as he can't so easily recall the names of his beloved plants.
That said, the nonagenarian is traveling around the globe to film the follow-up to his famous "Blue Planet" series. And he confessed to his memory lapse during a major newspaper interview just hours after returning from an international trip. That's not exactly cause for concern.
The Telegraph also reported that Attenborough shuns the internet and social media, which is perhaps a good thing: He isn't worriedly searching his symptoms on WebMD.
This article has been updated with comment from Attenborough's representative.