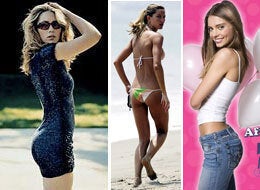 "I like big butts and I cannot lie. No otha brotha can deny. That when a girl walks in with an itty-bitty waist and round thing in your face you get..." to the radio and change the channel as fast as you can. That is if you're me. I hate that song. But you can't deny that for a genre usually known for its misogyny, Sir Mix-a-lot just bumped the high hip-to-waist ratio crowd way up the self-esteem ladder.
Everybody Has Something Speaking of self-esteem, tonight I was hanging out with two of my best girlfriends here, taking advantage of the fact that it's light until 9:30 so we can keep talking and pretend that we don't see our kids gradually working themselves into a frenzy that would make the WTO proud. All was fireflies and unicorns until one of my friends, a woman whose figure is the envy of all who see her, stuck out her perfectly tanned and gorgeous legs and declared, "I've had people ask me before why I don't have calves -- if I'm deformed or something. I hate my lower legs." Girlfriend has legs like a catwalk model. She is one of the few who can wear ankle strap shoes without looking like an oompa-loompa. And yet she hates.
Our other friend immediately displayed her iridescent skin to point out all the blue veins just under the surface. Which of course led me to complain about my stretch marks that go ALL THE WAY TO MY KNEES. Ahem. We are in good company.
Stars They Are Just Like Us A couple of days ago, bombshell Kate Beckinsale (whose wardrobe in Pearl Harbor I still covet) reportedly denounced her derriere, supposedly asking for a $2,000 a day body double to stand in for her um, more scenic scenes in her new film. Her people deny this but she has spoken out in previous interviews about her poor body image, admitting to thinking she is fat and has a big bottom.
Kate, a recovered (-ing?) anorexic, says:
"I don't think you can aspire to the Hollywood 'look' and nor can I. Everybody is retouched, stretched, lengthened, slimmed and trimmed. I could look at a picture of myself from the past and think, 'Why don't I look like that now?' It's because I never have."
Jumping on the starlet confessional bandwagon, Ali Larter recently 'fessed up in Allure magazine to all the sacrifices she makes for beauty ranging from the unsurprising, like having to rigorously watch her diet and exercise, to the sadly shocking like having her thighs duct taped during a photo shoot because "they were too round."
Ali talks about the effects of Hollywood's image machine when she gained a few pounds during the filming of a movie:
"The faxes went out from the producers and the director to my agents to my manager to call me and ask me to lose weight," she recalls. "I just remember sitting in my trailer hysterically crying from the embarrassment I felt about myself, my body -- and that no one could talk to me directly."
But she skips feeling sorry for herself, acknowledging that "This is what I signed up for. I'm not here going, 'Oh, they're so mean to me, and it's so hard for me.' What I do for a living puts me in the spotlight. They pay me for it."
It sounds like they're getting their money's worth.
Calling all HuffPost superfans!
Sign up for membership to become a founding member and help shape HuffPost's next chapter