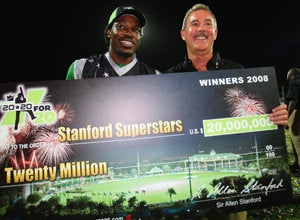 It looks like the SEC missed several red flags on Stanford, much as they did with Bernie Madoff. According to the New York Times, the SEC found several securities violations over the years, "but each time the regulators ultimately let the company off with relatively small fines, records show."
The same seems to have gone for the Financial Industry Regulatory Authority, or FINRA. The Financial Times reports that the agency levied several small fines on Stanford's companies, including for its faulty advertising of its CD's - the sale of which are the source of the current fraud charges - but never took any larger action.
The Times of London also has a report on Charlesworth Hewlett, the British accountant performed the financial audits for Stanford's $50 billion business.
The SEC charged Sir Allen Stanford and three of his companies with "massive fraud" centering on an $8 billion CD program.
Federal regulators are charging R. Allen Stanford and three of his companies with a "massive" fraud that centered around high-interest-rate CDs.

The Securities and Exchange Commission's complaint, filed in federal court in Dallas, alleges that Stanford International Bank sold about $8 billion of so-called certificates of deposit to investors by promising "improbable and unsubstantiated high interest rates."

The rates allegedly allowed the bank to achieve double-digit returns on its investments for the past 15 years. U.S. District Judge Reed O'Connor entered a temporary restraining order and froze Stanford's assets.
Meanwhile, Over the last ten years, Stanford and his companies have spent at least $5 million on lobbying expenditures and campaign contributions to a bipartisan group of congressional leaders.
For the seven most shocking allegations, in the SEC complaint, check here.
The Huffington Post intends to dig deeper into this story, and we need your help. If you have invested with Stanford or know about the bank's business practices, we want to hear from you. Email us at submissions+Stanford@huffingtonpost.com.
If you have invested with Stanford, let us know about your returns on investment. Have you tried to get your money back and been rebuffed? What have you been told about the bank's portfolio? How long have you been invested with him?
If you know Stanford personally, tell us about him.
Read the entire SEC complaint below.
REAL LIFE. REAL NEWS. REAL VOICES.
Help us tell more of the stories that matter from voices that too often remain unheard.