"Things I Carry: Smart Phone? I Prefer a Brilliant Assistant!"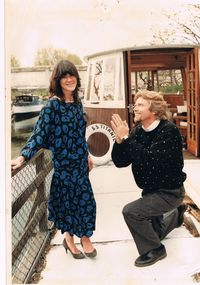 The headline got my attention. I've followed Sir Richard Branson's career for decades and my work has always been in support of personal and executive assistants. I read on!
The article underscored the value of great personal and executive support. With dozens of successful companies around the world, it was clear to me that Sir Richard's success was in part, a result of hiring the right help along the way. It was a delight to see someone of Richard Branson's stature extolling the difference that the right support has made in his businesses and in his life.
At the very end of the article was the sentence that "Back in the beginning, I had Penni Pike, a remarkable lady who traveled with me for 28 years". I had a feeling that Penni Pike and Sir Richard Branson had each been in right work for all those years. I decided to try and find Penni Pike.
My passion for understanding right work began early in my career when I found myself in nursing school after several years of college. It was clear to me right away that my overly empathic personality, and desire to work in a self-directed fashion, were both dangerous attributes for a young nursing student. I felt the pain of my patients and also resented needing a doctor's order to give an aspirin. I tell the story of leaving nursing to return to college in my book, but it was, at a significant level, very scary. Because of my own journey, my life's work has taken on many configurations over the years, but always has been motivated by an interest in helping others find their right work.
I published a book called "Finding Right Work, Five Steps to A Life You Love" after spending three decades in recruiting and consulting. There were so many people in wrong work. The people I met in right work always had their current priorities, their values and their strongest talents, skills and abilities aligned with the work they were doing. The people I met in wrong work, did not.
The biggest reason I have followed Sir Richard Branson's life is that he appeared to be a poster child for someone in "right work". His authenticity, enthusiasm and courageous adventures were inspiring to me as an entrepreneur. His expansive success and obvious joy in work were contagious. I knew that he was dyslexic and open about his need for great support. I loved his ten simple tips for success and referred back to them on many occasions.
Keep it simple
Give it a try
Be a leader
Don't give up
Delegate
Treat people well and fairly
Shake things up
People will be skeptical
Affect lives positively
Do things differently
Most of all, I loved his creativity and zest for life itself.
Who would be that special person that would support Sir Richard Branson during the first 31 years of his amazing career?
What kind of person could keep up with him?
What skills, talents and abilities would someone need to fully support Sir Richard's level of productivity and expansion?
What would be h/her values?
I Got to Meet Penni Pike!
Penni and I met over the phone. Until we began talking, I had not known that Penni had suffered a severe stroke at age 56 years old and three years after she left Richard's employment. Penni had joined Virgin in 1974 and as Richard's Personal Assistant, had supported the inception of everything from Virgin records, Virgin Atlantic Airlines, global balloon trips, and the launch of hundreds of businesses around the world. She worked 24 and 7. Penni was the one who took the phone call inquiring whether Richard would like to buy an old Boeing 707 which birthed Virgin Air. She has jumped out of helicopters, organized travel for 300 people at a time to Richard's private island, and calmly faced each and every day never knowing what would be asked and what would need to be supported. In return, Richard took great care of her as he does with all of those with whom he works. When she retired in 2006, Richard gave Penni his beloved houseboat to live in for some much needed rest and relaxation.
I asked Penni now, after all was said and done, what the biggest learning was that she remembered from working for Richard.
"I never said no! If I did, he would do it himself! I learned from Richard that, 'Almost nothing is improbable and everything is possible'."
Penni shared with me that after her stroke she could not talk or walk. The doctors told her that she would never walk or talk again. During those dark months, she repeated her mantra in her mind over and over again. Perhaps as a result, she never gave up. Sir Richard's inspiration for her was her daily bread and sustenance, and one day, Penni started talking...and another day, she started walking. She has only the use of one arm and requires still a wheel chair to get around for distance, but Penni Pike's recovery was definitely a medical miracle.
Richard and Penni always communicated directly. Richard had carried his indispensable notebook for many years and Penni had done the same. Penni had very little exposure to technology. Now, after her stroke, her son James gave her an IPad. She learned email and Facebook. She began to communicate with the outside world. One day, Penni received an email from the Founder and CEO of a Virtual Assistant company, TimeEtc., Barnaby Lashbrooke.
Barnaby wanted to meet Penni because he assumed that she must have been one of the best assistants in the world in order to successfully support Sir Richard Branson all of those years. He was certainly right about that. Now,Barnaby wanted to build the best Virtual Assistant company in the world. Penni was invited to be a Special Advisor helping to shape the company's selection process for Virtual Assistants. With over 700 Assistants around the world, Penni now speaks to audiences of many hundreds of people on a routine basis. I asked Penni if she ever thought she would work again after her stroke. Could she ever have imagined that she would be speaking in front of hundreds of Assistants and sharing her experience and wisdom. "No", she said softly. I could not have imagined this right after my stroke. But after working for Richard for 31 years, the one thing I knew for sure was that nothing is improbable and everything is possible, so perhaps I couldn't have imagined it, but I'm not surprised!"
Penni Pike continues to use her talents skills and abilities in the area of executive and personal support. As they were with Richard, her values are aligned with her current work. Her love of service and commitment to resourcefulness and creativity are being utilized. Her love of people and helping others is the foundation of both her work with Richard and her new work. I will say without any hesitation, that Penni Pike has found her right work again and has overcome tremendous challenges in order to do so. She is an inspiration to all of us as each of us overcomes small and large challenges on the road to our right work and fulfillment in life.
Let's all remember, as did Penni, Sir Richard Branson's mantra:
"Almost nothing is improbable and everything is possible!"
Related
Popular in the Community