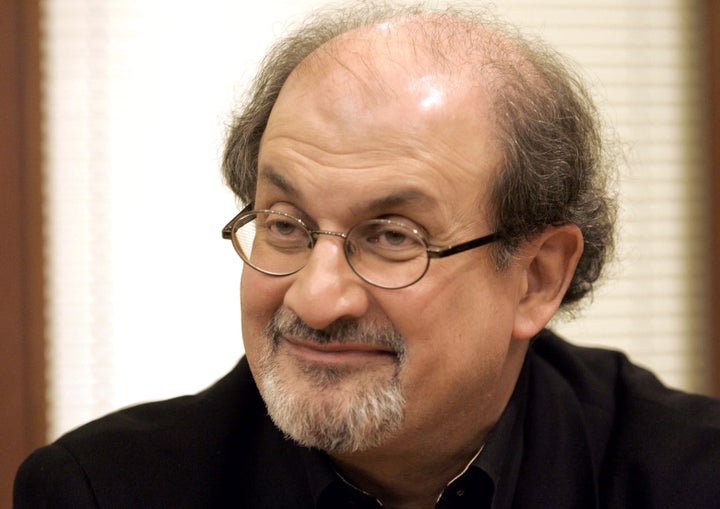 In a lecture last Friday in Sun Valley, Idaho, the celebrated author Salman Rushdie took on some of the most vexing subjects of our time, like Paris Hilton.
"When did a second rate hotel become a third rate human being?" asked the serious man of literature and letters.
Rushdie is an accomplished fellow. He has received more than two-dozen national and international literary awards (including the Best of the Bookers for Midnight's Children) and in 2007 was granted knighthood by Queen Elizabeth II for his "services to literature." He is a champion of free speech who lives under constant threat of officially sanctioned assassination by the government of Iran (more on that later). And for extra points, he was briefly married to supermodel and Top Chef host Padma Lakshmi.
As part of the Sun Valley Center for the Arts' lecture series, Rushdie held forth on all points of culture, from the very high to the oh-so-low. And throughout his intellectuals' stand-up act, he couldn't stop laughing at his own jokes.
"Have you noticed how strange things are lately," Rushdie asked in an oddly Seinfeldian set-up.
On the proposed Islamic center in Lower Manhattan (the so-called "Ground Zero Mosque"), Rushdie made light of the points that cable news largely ignores.
"There already is a mosque four blocks away from Ground Zero," he said. "How far away should it move? Where does its desecration stop?" A story in Friday's New York Times, he noted, made the whole debate seem absurd: "There was a mosque inside the Trade Towers."
Rushdie was succinct in summing up the overblown issues of a slow news month: "This stuff is stupid," he said. "It's stupid. Though not as stupid as what is happening in Florida -- as is so often the case," he said, referencing the Reverend Terry Jones, who he explained away with a quick discussion of the state's swamps and the lower life forms that often crawl out of them.
When it comes to ugly intolerance, Rushdie opined from solid ground.
"I am not a fan of burning books, and I have some experience in this," he said. "We cannot burn books, no matter how much you dislike the book. I would not, for instance, burn the books of Dan Brown."
Rushdie's humor upended serious moments into the absurd and mischievous. But where his jokes brought levity, his analysis left no uncertainty on the moral and ethical debasement of people like Rev. Jones.
"None of us can claim ignorance on what book-burning means. The burning of books is unmistakable code for tyranny, bigotry, hatred and fascism," he said to hearty applause.
Today's identity politics is allowing, indeed enabling people to be identified by their rage, Rushdie said. "More and more narrow communities wish to define themselves by what pisses them off. If nothing pisses you off, then what are you? You're a liberal -- and nothing is as weak as that," he said to his own laughter.
The great novelist composed himself and continued: "The news is becoming novelistic." Rushdie spoke of the pivotal events of our time -- 9/11 chiefly -- with the grand sweeps and clarity of vision of the best historical literature. In that instant when the planes hit, he said, "the history of the Arab world became intertwined with the history of New York. You could no longer understand the one without the other."
On novels: Living in such complex times, certain types of literature become crucial tools of understanding. We obviously can't depend on cable news -- "The more ways there are to get the news, the less you find out." Literature, in this "small and argumentative world we live in," is "in the business of explaining to the world what the world looks like."
Rushdie offered a quick, offhand reading list of recent works that have accomplished this, illuminating experience from Iran to New Orleans, Sudan to Kabul: Reading Lolita in Tehran by Azar Nafisi, The Kite Runner by Khaled Hosseini, and by Dave Eggers, What is the What and Zeitoun.
Such books, Rushdie suggested, offer literature's greatest gift: "It can give you a world that is not your world and make you feel like it is your own."
And what about that fatwa in 1989 -- when Iran's Ayatollah Ruhollah Khomeini called for Rushdie's execution?
"As for Khomeini and me," Rushdie said, "one of us is dead."