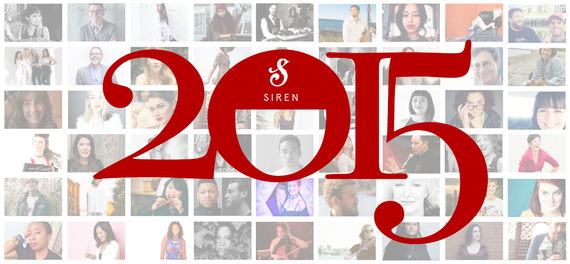 2015 was the year Siren went from an idea to something that made a real impact in people's lives.
This was the year that we learned how to be a team, how to think about repeatable and scalable strategies, how to follow through or change those strategies, and how to track progress. We navigated the crazy stresses by sharing responsibility, learning to recognize mistakes faster, and trying to do things better each round.
Our Siren members have been the best guides, giving us insightful feedback, reporting issues and cheering us on. Creating a platform that gives our members a fighting chance at real connections with someone is what drives us.
We'd like to share our lessons learned and highlights of this year with you.
Shaping a Team
David Golightly joined Siren at the beginning of 2015. Katrina and I now had a technical lead with experience and the drive to build something that made a difference in the world. Katrina learned the skills to become a COO, product owner, and product manger. I learned the worlds of fundraising, pitching, and PR. We went from a disparate group of contractors flowing in and out to a lean team that got the work of three times as many done.
Making Waves
Durex, the #1 global sexual health and condom company approached Siren--and only Siren--to partner in their campaign #Connect that went viral with over 37M views. They said the reason that they wanted us was because we were the only app that really felt like it encouraged conversations which led to real life meetings (which is, of course, what their business needs!)
We were nominated and then won Geekwire's App of the Year, beating out Starbucks and Alaska Airlines. I never fist-pumped as hard as the moment Siren was announced.
Growing a Community
We started the year on iPhone as an invitation-only heterosexual dating app limited to Seattle. The app wasn't scalable nor stable. There were some dark days where it felt like the doors were closing and the lights were shutting off. But our community hung on, and our team endeavored. In April we stabilized the code, and in September we opened to Android and web with a major redesign. In November, after careful consideration of the needs and desires of non-heterosexual members, we expanded Siren to serve the LGBTQ community, growing our community by 150% in the last three months.
The success stories have been rolling in. People have told us they're trying Siren as their first online dating app ever, while seasoned online daters tell us they've found more connections on Siren than any other platform. We've heard from members who have formed lasting relationships and even couples who are engaged. We are so grateful that something that started as an idea has come to occupy such an important position in many people's lives, and we couldn't have done it without our community.
Related
Popular in the Community