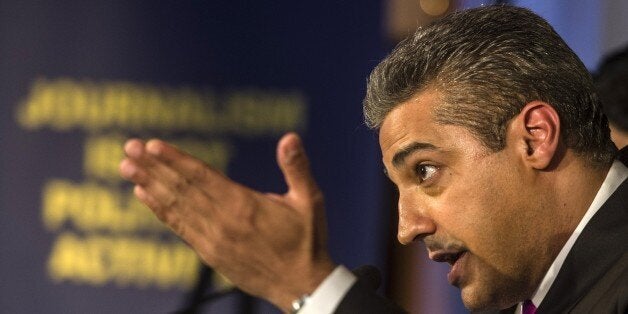 Amal Clooney Counsel for Mohamed Fahmy
Mohamed Fahmy, the Canadian journalist who worked with Al Jazeera, must wait another excruciating month to find out if he faces a new prison term in Cairo. The verdict in the Al Jazeera retrial has been postponed twice this week, most recently this morning until Aug. 29. It has not escaped observers that this new date falls after the visit of U.S. Secretary of State John Kerry, as well as the planned celebrations of the new Suez Canal waterway scheduled for Aug. 6, with various world leaders in attendance. The verdict may be coming later; but the world will still be watching.
Last year, Fahmy and other journalists working for the Al Jazeera English news network were sentenced to between seven and 10 years' imprisonment for broadcasting "false news" harmful to Egypt's image; supporting the Muslim Brotherhood terrorist group; and lacking a license for certain communications equipment in their possession. Fahmy spent over a year in prison before his conviction was set aside by Egypt's Supreme Court in January. Since then he has been retried while on bail.
But Fahmy was supposed to be home in Canada long ago. Back in February his colleague Peter Greste, an Australian national, was freed under a new decree allowing foreign nationals accused or convicted of crimes to be sent home. At that time the Egyptian authorities had told Fahmy and Canadian officials that he, too, would be deported through the same procedure if he renounced his Egyptian citizenship. The renunciation was published through official channels in preparation for his release. But in the days that followed Greste's departure, the Egyptians made an inexplicable U-turn. Fahmy was not deported, and on Feb. 12 he was dragged back to court to face a lengthy new trial.
The unfairness of the original trial is well-documented. It was famously presided over by a judge known as the "executioner" whose verdict was that the journalists "were joined by the devil to exploit [their] profession ... to harm this country." The retrial has been no fairer. The prosecutor sought to argue that simply because they worked for Al Jazeera and carried the video editing software Final Cut Pro, the journalists should be convicted on all charges. But there was no evidence to show that the journalists were in any way linked to the Brotherhood or had ever falsified content. Egypt's own Supreme Court had ruled that the original conviction for terrorism was unjust because there was not even an allegation (let alone proof) of violent intent, and in the retrial the prosecutor did not present anything new. On the false news charge, even the court's own experts concluded that there was no evidence of any fabrication or manipulation of footage. Nor is there a basis to sustain a conviction for the "crime" of possessing a telephone and two broadcasting devices without a license.
The long-awaited verdict on Aug. 29 will reveal whether the new panel of judges is independent and fair. In a case where even Egypt's Supreme Court (and the Supreme Court prosecutor) have admitted that there is no evidence to support the charges, the only just conclusion that can be reached by the judges is a full acquittal. But if the judges fail to acquit, President Sisi must promptly intervene to rectify this injustice. Sisi has previously distanced himself from the case, and promised to pardon the journalists if they are re-convicted. He rejected calls to intervene while the retrial was pending, but it will be over when the verdict is announced.
Last month, the Canadian ambassador to Egypt -- Troy Lulashnyk -- and I sent joint letters to the Egyptian president, minister of justice, foreign minister and prosecutor-general seeking Fahmy's release. We also requested joint meetings in which we could discuss the actions to be taken by the government in the event of a guilty verdict. We will be seeking confirmation of these meetings in the next week. And in the meetings we will seek an assurance that President Sisi will deliver on his promises to pardon the journalists if any guilty verdict is announced, or else deport Fahmy to Canada as previously agreed.
This outcome should also be pressed by the international community. The U.S. Secretary of State John Kerry has previously called the trial of the journalists "deeply disturbing," "chilling" and "draconian," and the UN has stated that their conviction was "in breach of international human rights law." If the court delivers another guilty verdict, the U.S., UN and other key international actors should urge Sisi to immediately step in.
According to Reporters Without Borders, Egypt had the fourth highest number of journalists imprisoned worldwide in 2014, the country's worst record since reporting began in 1990. This show trial is a simple example of political score-settling between Egypt and Qatar, which funds Al Jazeera, at the journalists' expense. Other journalists in Egypt have been given life sentences or held for years in prison without charge. President Sisi should know that the world will be watching the court's verdict on Aug. 29, and his government's response to it. Media freedom in the region is at stake. And, as the Council of Europe has put it, "it will be the commitment shown to free speech which determines whether or not Egypt grows -- or shrinks [--] in the eyes of the world."
PHOTO GALLERY
Peter Greste, Al Jazeera Journalist, Freed From Jail In Egypt
REAL LIFE. REAL NEWS. REAL VOICES.
Help us tell more of the stories that matter from voices that too often remain unheard.