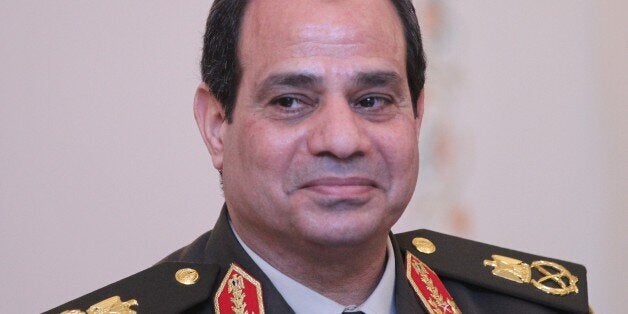 Listen to what this Egyptian general said about the dangers of counter-insurgency in the Sinai peninsula.
"I'm sure you can imagine that as an army officer I could come to Rafah and Sheikh Zwayyid, laying siege to them, removing the inhabitants and bombing the buildings there? Is it a problem that we do this? We shall kill anyone, impose a siege on Rafah and Sheikh Zyayyid, bring the inhabitants out and bomb these one hundred houses. We could do this. When someone fires, respond to his fire with one hundred more.But suppose two or three innocent people die. Ultimately you would be creating an enemy for you and your country because there would be blood between you and him. We create security through our presence and not through fighting. Pay attention. We say this here between us: security through presence, not fighting. One tank and one machine gun can do a lot for you but remember that these are, ultimately, your people. We should bring to mind the case of the cessation of the South in Sudan."
Wise words. They were uttered by Abdel-Fattah al-Sisi when he was defense minister under Mohamed Morsi. And they describe to the letter what he is doing now as president. Putin employed the same tactics in Chechnya, and with the same result -- the insurgency grew and spread. After two wars and two decades of these tactics it is still continuing in the North Caucasus.
In response to militant attacks which killed 31 soldiers on October 24, Sisi ordered the demolition of 800 homes on the border with Gaza, giving residents 48 hours notice. Close to 10,000 people have been displaced by Egyptian military actions in Northern Sinai. In April, the Middle East Eye published local estimates that over 300 had died in the previous eight months, most of them civilians. The Egyptian newspaper Aswat Masriya counted 82 deaths -- 62 security forces and 20 civilians from army press releases alone in August and September, four times the number than the previous two months.
Two executions were documented unwittingly by the Egyptian Army themselves. They released the pictures of the corpses of Ahmad Abd Al-Qadir Ifrij, aged 18, from Al-Madiyah village and Yousef Atiq, a mosque caller to prayer, from Al-Maydiyah unaware that the two victims appeared alive in a previous video documenting their torture.
The US is supportive. They brief analysts by talking about the need to keep an area so close to Israel free of Jihadi militants. They omit to say how useful they and Israel finds Egypt's role in maintaining the siege of Gaza.
The need to support counter-insurgency in North Sinai was John Kerry's get out clause for the sanctions the US imposed on military aid to Egypt after the Raba'a massacre. Now operations are in full swing, their support for the operation is expressed not just in terms of the Apache helicopters but in words too.
There is no connection, proven or otherwise. between Hamas in Gaza and Ansar Beit al Maqdis, the takfiri militants who have, according to Jane's Intelligence Review inflicted around 85 casualties among the Egyptian military. And yet the US State Department spokesman Jen Psaki said Egypt had the right to use a buffer zone along its border with Gaza to boost security. "Certainly we believe that Egypt has the right to take steps to maintain their own security. And we understand the threat that they are facing from the Sinai," the State Department spokeswoman said. The International Criminal Court is dormant on the issue of Egypt.
That leaves only one international forum in which Egypt's human rights violations can be raised -- and that is taking place for one day only in Geneva on Wednesday.
This is will happen under the Universal Periodic Review Mechanism of the United Nations Human Rights Council which takes place once every four years. Before the hearing starts the odds are heavily weighed against a session which could properly air the growing list of those violations. The review will be led by three UN member states with the close connections to Sisi's regime. Saudi Arabia has been bankrolling post-coup Egypt. Montenegro has received billions of investments from the United Arab Emirates, the most active Gulf country in planning and executing the counter revolution to the Arab Spring in North Africa. And lastly Ivory Coast played a key role in reinstating the membership of Egypt in the African Union.
Nevertheless 47 other member states can make comments during the review and the HRC could put a resolution before all its members for a commission of inquiry as it did on Syria, North Korea and Palestine. Its a UN body that lacks teeth, but for all that Sisi is taking the hearing seriously because of the reputational damage it could do to him internationally.
According to the report prepared by lawyers acting on behalf of the Muslim Brotherhood and Freedom and Justice Party, Egypt's submission fails to note any of the incidents which led to " the commission of widespread and systematic crimes committed against Egyptian civilians including killings, mass detention and torture. Egypt has not accounted for the fact that these incidents directly violated the citizens' "right to strike peacefully, dignity as a right of all citizens and the State's obligation to safeguard it" which the military regime's report assures are guaranteed to all citizens."
That list is known, but it is worth repeating if only for its length: the dispersal of the protest outside the Republican Guard headquarters in Cairo on July 8, 2013, in which 61 protesters were killed; 82 dead on July 27; 121 dead on August 16; Rabaa al-Adawiya mosque on 14 August in which up to 1000 were killed, the worst incident of unlawful killing in Egypt's modern history; 57 demonstrators killed on the October 6; 64 killed January 25 this year. The list continues. Then there are the arrests, anywhere between 16,000 and 41,000 people; the overwhelming and well documented evidence of torture in custody gathered by Human Rights Watch and Amnesty International; the failures of due legal process such as the mass death sentences, trials of 545 people concluded in less than an hour. These too are not small numbers. In less than seven months, 1,243 people have been sentenced to death in proceedings, which "grossly violate all guarantees provided under Egyptian law and under Egypt's international obligations to fair trial standards" according to the lawyers' report.
Then there is state repression against journalists, the protest law. Every freedom guaranteed under the Egyptian constitution -- freedom of association, freedom of speech, freedom of the press -- has been grossly violated by the military regime. It would take substantially more than a day just to read out the charge sheet.
All of this has escaped international legal attention, except in one honorable exception: The African Commission on Human and People's Rights who on July 29 this year condemned the "flagrant violation of human rights such as harassments, arbitrary arrests and detentions, sexual violence against women, and acts of torture."
South Africa is one of the few countries that do not offer immunity from arrest to visiting members of foreign governments.
The US or the EU policy to Egypt is to wave a weak rhetorical finger and carry on regardless with the essentials of life: military aid, access to western finance and markets, and legal impunity in all courts, international and national. In so doing, western governments rely on the Attention Deficit Disorder of public opinion. Egypt's dead will not be so easily forgotten. They have a habit of resurrecting themselves when it comes to writing the history of these awful events.
A faint echo of that process will start in Geneva on Wednesday.
Popular in the Community