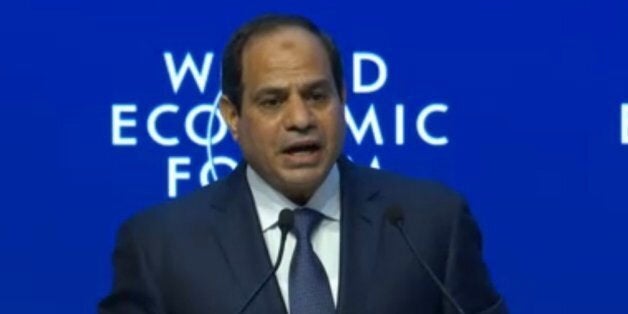 Egyptian President Abdel-Fattah el-Sisi said Thursday that Muslims need to adapt their religious discourse to the present and eliminate elements of their rhetoric that could foster violence.
"Islam is a tolerant religion, but this wasn't always clear to the rest of the world during the last 20 or 30 years," Sisi said during a speech at the World Economic Forum in Davos, Switzerland. "The terrible terrorist attacks and this terrible image of Muslims led us to think that we must stop and think and change the religious discourse and remove from it things that have led to violence and extremism."
The Egyptian leader's comments likely referred in part to Charlie Hebdo, the satirical French newspaper whose Paris offices were recently attacked by Islamist extremists, though Sisi did not specifically mention the terrorist attack.
"There can be no religious discourse which is in conflict with its environment and with the world," Sisi continued. "And therefore, we Muslims need to modify this religious discourse. And this has nothing to do with conviction and with religious beliefs, because those are immutable. But we need a new discourse that will be adapted to a new world and which will remove some of the misconceptions."
Sisi, himself a Muslim, has long presented himself as more secular than Egypt's ousted former President Mohammed Morsi -- the Islamist who served as Egypt's first democratically elected president. In 2013, as army chief, Sisi led the ouster of Morsi.
Speaking to a group of Muslim clerics at al-Azhar University in Cairo earlier this month, Sisi struck a similar tone, saying Islam needed a "religious revolution" and calling on clerics to take the lead.
"We are in need of a religious revolution. You imams are responsible before Allah," he said. "The entire world is waiting for your word ... because the Islamic world is being torn, it is being destroyed, it is being lost … by our own hands."
Sisi said on Thursday that it is important for the world to exercise caution before "provok[ing] other people."
"I think that the whole world should stop to think and take stock and think about certain things which could provoke other people or hurt their feelings," he said. "If we want to create a civilized humane environment, then we must respect each other's cultures and beliefs."
"Because no one can monopolize the truth," he continued. "No one should believe that he or she has the truth with a capital 'T.' And no one should believe that his or her convictions or ideas are better than anyone else's."
Last week, Sisi issued a decree giving Egypt's prime minister the power to ban any foreign publication deemed "offensive to religion."
PHOTO GALLERY
Muslims Respond To Charlie Hebdo Shooting
Calling all HuffPost superfans!
Sign up for membership to become a founding member and help shape HuffPost's next chapter