 She's a six-time Oscar nominee with forty years of films to her credit, but Sissy Spacek has always made it clear she's never wanted to be queen of the Hollywood prom.
From her terrifying turn as Stephen King's anti-heroine in 1976's "Carrie" to her down-to-the-mannerisms take on Loretta Lynn in 1980's "Coal Miner's Daughter," Spacek's quest for unconventionality has made her one of the most formidable actresses of a generation. As it turns out, that non-conformity extends to her personal life as well: at the height of her career, she and husband Jack Fisk fled Hollywood for a farmhouse in rural Virginia, where they raised daughters Schuyler Fisk, now 29, and Madison Fisk, 23.
While there's been no shortage of Spacek onscreen in recent years (check out her hilariously off-kilter Mrs. Walters in the 2011 smash "The Help," if you haven't already), the 62-year-old star has a more literary goal in mind these days. Co-written with friend Maryanne Vollers, "My Extraordinary Ordinary Life" traces Spacek's Texas childhood to her experiences working with Terrence Malick, Brian DePalma and David Lynch to the challenges of finding juicy roles as an actress over 50 -- all in exquisite, even heartfelt detail.
In the midst of a promotional blitz for her new book, the ever-charming Spacek nonetheless took a few moments to talk to The Huffington Post about her career, her family –- and, of course, that bloody prom night.
Congratulations on your new memoir! How did you decide the time was right to write your autobiography?
Well, I had the opportunity, and there's no time like the present, since that's all we've got! I wanted to put all my family stories down for my girls, and I remember everything so vividly. I just wanted to put everything down while I still can remember it all.

You've written candidly about your brother Robbie, whose death you've called "the defining moment" of your life. Do you ever speculate how your life and career may have turned out differently if he were still with us?
He probably would've been there with me. He was really the better actor of the two of us. And I'm sure he would've gone off first and I would've followed after him…it's a hard thing to know.
I think anything that happens in our lives has the power to change everything, so it's really impossible for me to speculate on that. If I hadn't left Texas, I might not have met the director Terrence Malick, and I wouldn't have met my husband and I wouldn't have had the children that I've had. Life is interesting like that.
You met your husband Jack on the set of Malick's 1973 film "Badlands," in which you starred and he served as art director. How have you been able to avoid the pratfalls that many Hollywood couples face when they choose to work together?
Well, first we met working together, and throughout the 1970s we just did almost every film together -- from "Badlands" to "Carrie." If I wasn't working, I helped him out, and if he wasn't working, he helped me with my research for a role. We really supported one another and we really understood the business. It was what brought us together.
And we were passionate about the same things, including movie-making…we both thought of ourselves as filmmakers. And I think it was a lucky thing for me, not only that I met Jack, but that I was so involved since the very beginning of my career with the entire production of my films. We both had this great passion and love for filmmaking, and that's something that we continue to share. And we each have an understanding of what making a commitment to a film entails. We both have to give 200 percent.
You talk rather frankly about the difficult audition process you endured for your iconic role in the horror classic "Carrie." Why did you feel so drawn to that particular character?
Well, I really loved Brian [DePalma, the film's director] and I wanted to work with him. It was early in my career and I just connected with the character… I loved the character and it was the title role. And I just needed a job! (laughs)
It was an interesting way that we auditioned. Usually you go in and you audition solely with the director. In this situation with Brian, we would go into a room and there would be 10-15 other actors there, so we'd play all of the different scenes together and then swap roles. All of us played all of those roles. All of the girls played all of the female roles, all of the boys played all of the male roles. That was a new experience. It was just so interesting, very fresh and very different.
"Carrie" has gone on to become a favorite among gay audiences. In your opinion, what is it about that film and that character that makes both so relevant to the gay community?
Well, I think all of it is relevant to anyone who has ever felt persecuted. And that's why the movie has continued to appeal to teenagers, all of us -- even the teenagers who were popular in school. It just appeals to that persecuted side of us.
It takes place during a time in a person's life when there's a lot of angst. So I can see how it would appeal to anyone who's ever felt persecuted in their own life. There are a lot of African-Americans who have talked to me over the years about how the story has touched them as well.
What advice would you give to someone who wanted to dress as Carrie White on Halloween?
Watch out for cars! (laughs) And stage blood is very sticky and flammable, so be careful. And don't sit down, you might stick to a chair!
You've nabbed an Academy Award, two Golden Globes, recorded an album and now written a book. Is there anything that you're dying to do that you haven't gotten the chance to yet?
You know, I don't know what the future will bring, but I'm ready for whatever comes!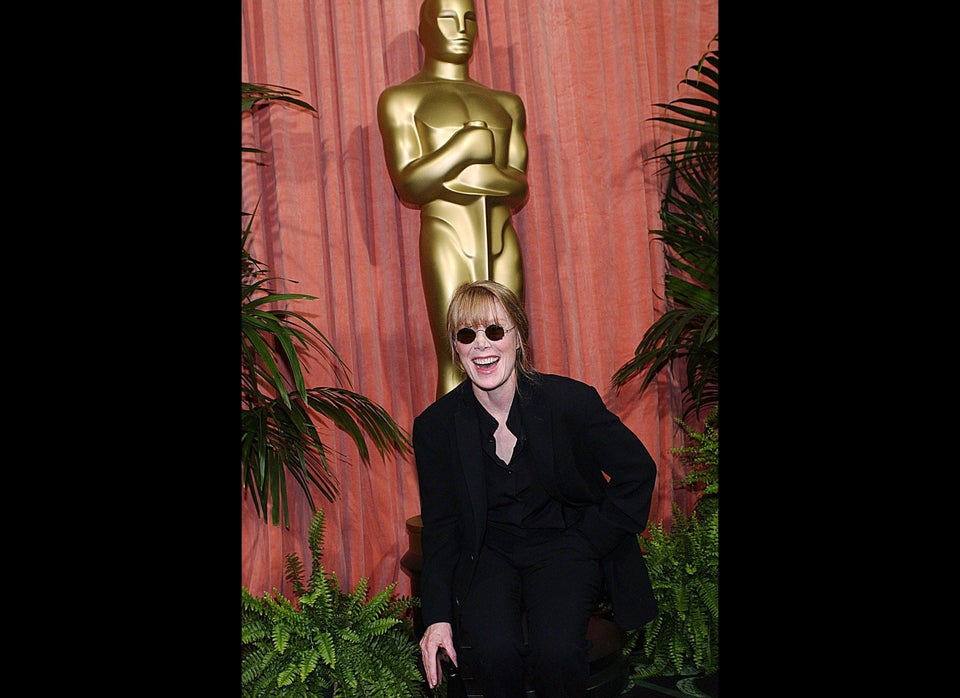 Sissy Spacek
Related
Popular in the Community