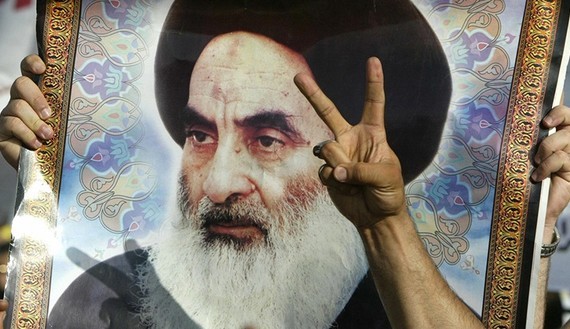 A V-sign for victory is flashed in front of a portrait of Grand Ayatollah Ali al-Sistani during a march through the streets of Baghdad, June 8, 2004. (photo by AHMAD AL-RUBAYE/AFP)
In June 2014, Iraq lost a third of its territory to the hands of Daesh (ISIS), the most notorious transnational terrorist group in modern history. A few days later, during a Friday prayer, on June 13th 2014, Grand Ayatollah Ali al-Sistani issued a religious edict (Fatwa) calling on all Iraqi citizens to defend the country, its people, the honour of its citizens, and its sacred sites. The call immediately mobilized tens of thousands of volunteers to join the Iraqi Security Forces (ISF). The Fatwa has also helped Shia militias, Sunni tribal men and Christian and Yezidis armed groups to be regulated under one umbrella of paramilitary forces called the Popular Mobilization Forces (PMF), now estimated to be around 65,000 volunteers including 17,000 Sunni tribesmen, all under the authority of the Commander in Chief, Prime Minister Haider al-Abadi.
One year on, the diverse PMF has proven to be a more capable force than the International Coalition's Air Force cover. It has helped safeguard Baghdad and liberate Tikrit along with large swaths in the midland. Nevertheless, Daesh was so desperate for a victory to compensate for its losses; it mobilized all its foreign fighters, many of whom became suicide bombers, to claim Ramadi in Anbar - a province that was largely out of control since 2003. However, the ISF including the Army and the PMF are adamant to liberate the province before the end of this year. The US has now acknowledged the effectiveness of the PMF as a key factor to liberate occupied territories by Daesh, while the international community has backed Sistani's Fatwa as demonstrated during the visit of the United Nations' Secretary General Ban Ki-moon to Najaf.
Grand Ayatollah Sistani's call in 2014 to help rebuilding Iraq's armed forces after the collapse of Mosul was not his first critical move of positive interference. Although he tends not to involve himself in Iraqi daily politics, but when he does, he makes sure it's for a critical issue and to the benefit of all Iraqis. His call to the forming of the National Assembly after the 2003 regime change was the key to kick-start the political process of writing Iraq's Constitution. He also helped in defusing the sectarian strife post the bombing of Samarra's holy shrine by al Qaeda in 2006. He played a significant role in securing a smooth transition of power in general elections, breaking political deadlocks in 2006 and 2014. Although he kept his door open to welcome all people, he stopped meeting Iraqi politicians since 2011 as many officials started to abuse Sistani's reception to market themselves politically. His welcome to PM Abadi was an exception as it came after his cabinet secured national, regional and international endorsement. Sistani continued to steer the public through his representatives during Friday prayers, calling for unity, fighting corruption, supporting internally displaced people, and to combat sectarian tendencies. His personality captured the attention of many western public figures nominating him for the Nobel Prize due to his peacemaking efforts.
Many people in the Western world have known Grand Ayatollah Sistani as a Shia-Muslim scholar of Iranian origin. Although he was born in 1930 in Mashhad (Iran), he chose to move to Iraq in 1951, dedicating over six decades of his life to the holy city of Najaf where he continued his Islamic education in the thousand-year-old Hawza (center for theological studies). He earned his first Ijtihad certificates (post graduate higher education) in jurisprudence in 1960. His teachings in studies of jurisprudence benefited from researching the original sources of Sharia laws of the various schools of thoughts in Islam. His methodology focused on comparative studies with modern laws (including the Iraqi, Egyptian, and French laws). He focused on the 'Renewal in Discourse' on Islamic rules according to modern era circumstances, contrary to some scholars who deal with the historical texts as fixed and cannot be changed though modern day conditions. Many professors of the Hawza were quoted as saying that they advised the late Grand Ayatollah al-Khoei (1899-1992) to groom someone for the office of the supreme religious authority and the directorship of Najaf Seminary. The choice fell on His Eminence, Ali al-Sistani for his merits, eligibility, knowledge, and impeccable character. Accordingly, he started leading the prayer in Khoei's mosque in Najaf and teaching at the Hawza. After the passing of Khoei in 1992, scholars of Najaf unanimously reached a consensus to choose Ali al-Sistani as the preeminent Grand Ayatollah of Shia Islam.
Last month, I had the honor of meeting Sistani, the man who single-handedly held Iraq together when it was about to tear apart. I vividly remember the moment when I walked into his humble hundred square meter house from the narrow ally off al-Rasool Street in Najaf, near the holly shrine of Imam Ali, a property that he rents for $400 per month according to some sources. I shared my thoughts on Iraq's current affairs, however I found him more informed on what's happening on the ground in every detail -- I realized that he must have enjoyed the benefits of good counsel to keep him up-to-date on national and international issues. His words of wisdom still resonate in my ears as he repeatedly said that he prays day and night for all humanity to enjoy a peaceful world, and for all Muslims to achieve unity by putting an end to sectarianism and respecting human rights. The 85-year-old Grand Ayatollah did not talk to me as if I'm Sunni or Shia, Muslim or non-Muslim but just as a human being. I left his reception fully confident that Iraq is currently in safe hands so long as it continues to have wise men like him.
However, the question that sprung to mind is still unanswered: what will happen after Sistani departs a fragile Iraq?
Popular in the Community