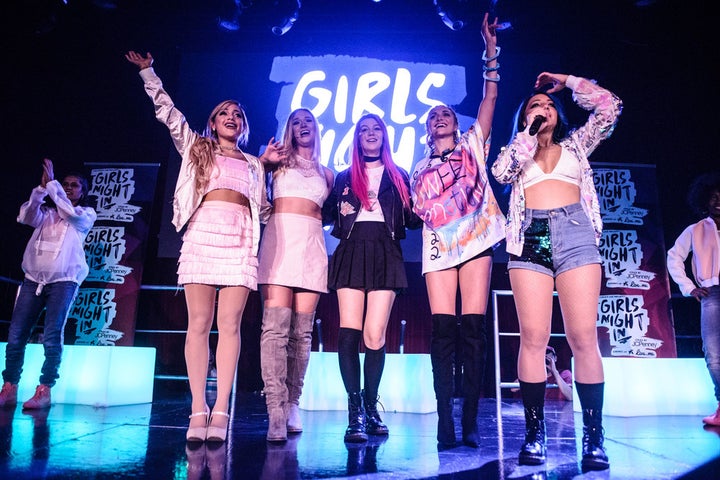 The first time JCPenney teamed up and got together with a set of famous twins it was none other than Mary-Kate and Ashley Olsen...and in case anyone has forgotten how that turned out then, "You're in big trouble, mister!" But, let's face it, charismatic twins have proved to be successful time and time again, whether it be the mega-mogul Olsen Twins, Sister, Sister's Tia and Tamara Mowry [now Tia Dashon Mowry-Hardict, and Tamara Darvette Mowry-Housley], or even the boys of The Suite Life Of Zack and Cody; Dylan and Cole Sprouse. And now, the world will have another set of twins to watch become a major branding empire; Niki and Gabi DeMartino.
Reinventing the wheel as they get the twin-torched passed to them, the DeMartino sisters come straight from the rapidly growing world of social media, vlogging about everything from celebrities to life hacks- and always throwing in tons of beauty and fashion tips along the way. They even have their own series where they do spot on impressions of the most famous people in tinsel town. And with videos that regularly score hits in the millions, it's no wonder that they snagged parts in the first full-length feature film for YouTube!
And now, the social media mavens are part of JCPenney and Fullscreen's tour; FullScreen Live Presents: Girls Night In! With the intent on bringing all different types of girls together, the tour joins the twins with three other viral sensations such as wholesome Alisha Marie, punky Jessie Paege, and singer Alyson Stoner of Camp Rock fame, to bring girls an exciting night filled with entertainment.
Below, Niki, one half of the dynamic beauty vlogging duo, took some time to sit down and answer some questions about the tour, talk about what her and Gabi are currently obsessed with beauty-wise, how they came up with Celebrity Prom 2016, and what else they are looking to do in the future!
So, let's start out by talking about "Girls Night In!" Where can people find out about your tour, and how long does it run for? What are the details?
So, Girls Night In! is a tour of five digital stars and YouTubers that are all really diverse in so many ways, from their looks, to their interests, to their abilities, and we all come together for the show and basically do our videos in real life- so it is a really cool experience for the viewers. And you can find out about it on fullscreenlive.com, or on any of our social media sites because we've been promoting it a lot. And you can also find YouTube videos that we've been doing daily while on the tour that showcases a day in the life of what we've been going through day by day. And it's very different from last year, so I don't think it will be what people are expecting. The show really amped up the entertainment factor and it's just really entertaining, and it's more-so based on that rather than a fictionalized story. Last year it was more of a slumber party scene that had a bunch of YouTubers in a scripted story where they were supposed to save the internet, and this is very different than that. I don't want to give too much away, but it really celebrates different people coming together- which is a great message. I think it's really cool.
Can you tell us a little bit about some of the other girls you are touring with? Have you guys all become fast friends?
We're actually on tour with our best friend, Alisha Marie, and she's really awesome. She's big on YouTube and kind of like the girl next door, everybody's best friend- fans go crazy for her during meet and greets, and she has tons of die-hard fans. We also have Alyson Stoner, who was in Camp Rock, Step Up, and The Suite Life of Zack and Cody, and now she's pursuing her own musical career, so she's on the tour with us. I think that's so insane, because I grew up watching her and I never in my life thought I would be sharing a stage with her. And then, finishing the lineup is Jessie Paege, who is a new YouTuber that is growing insanely fast. She has light pink hair and she's very quirky and has an edge to her- she's very cool. She's a big fan-girl, and she makes videos fan-girling over stuff. So, we're all so different, and yes we have gotten close because we have been working together since April, and the tour was scheduled to start in August, so before the tour started we've been putting together shoots and all that kind of stuff- so we had tons of time to bond. And we weren't allowed to put anything up on social media at the time, which was so hard because I wanted to tell the world that these were my friends- but, I couldn't because it would give away the tour, so it was really funny.
Talk a little bit about your successes on social media and how other girls who might want to follow in your footsteps could also get so many followers. Was there a very careful strategy, or was one specific post like viral lightning?
There's honestly no science behind it. The followers came after we started doing what we wanted and just got so into it. It was an outlet and a personal area where we could be ourselves and reach people and another audience. Then, the more we engaged people, the more they wanted to see more of our lives.So, there was definitely no specific formula or strategy, we just did what we loved on YouTube and everything seemed to fall into place. So, it just goes to show you that if you love something and are willing to give your all to it? Do it. You can only go up from there.
You are known of course for your YouTube beauty tips. What are some of your current beauty obsessions?
Speaking for Gabi, her favorite beauty obsession is lips. She loves her Kylie [Jenner] lips, and all that kind of stuff- she is very girlie. She's a hardcore make-up girl. I'm more-so into the hair. My hair is currently blue- I feel I have a personal attachment to the blue. I had purple before, but that only lasted about a week. And I've already been thinking about other colors, also. I just think I like taking fashion risks. I like being edgy and trying new things. So, I think Gabi is more the beauty and the make-up, and I'm more the fashion and the hair.
Talk about your YouTube video "Celebrity Prom 2016" and your film "Dance Camp" and where fans can see them.
We made the Celebrity Prom 2016 video in April, and what inspired us to make that is that we've always been obsessed with the entire celebrity/Hollywood/entertainment world. We were always in the loop on pop culture, reading gossip tabloids, obsessing over celebrities, going to concerts- we're huge fans. So, we realized we wanted to show that on our channel, but we also wanted to make a prom video, but we've done prom videos before and we didn't want to make anything redundant- so, Gaby actually came up with the idea of blending the idea of celebrities and prom together, and setting the song lyrics within the dialogue and making it situational. I just thought it was brilliant- I knew it would take off. And it did very well, and it has five million views now. So, since that took off, we knew we needed to make a second video and we did Celebrities In High School...which led to Celebrity Talent Show, so, it's kind of become a successful online series for us. And Dance Camp was produced and directed by AwesomenessTV, and it's the first movie that is made for YouTube- so that was a huge honor to be a part of it. We play two twins in the movie named Mia and Maya, and the names got really confusing [laughs.] The film is about a guy who is figuring himself out and learning things he never knew, and we kind of play the bad influences in the film, which was a little organic to play- especially for Gabi, because growing up she was always getting into trouble. Our parts were smaller because we are more part of the reason he gets sent to dance camp, so we're more featured in the earlier parts of the film back at home. But, it was so exciting and I definitely want to do more projects like that.
And who knows? As these twins continue to brand themselves and become idols for little girls all across the globe, they could very well get their own show! If studios have learned anything from the likes of Tia and Tamara Mowry, the Sprouse brothers and the Olsen twins, it's that twins sell! Luckily, Fullscreen and JCPenney definitely realizes this and is giving girls the night of their dreams with Girls Night In!!
REAL LIFE. REAL NEWS. REAL VOICES.
Help us tell more of the stories that matter from voices that too often remain unheard.