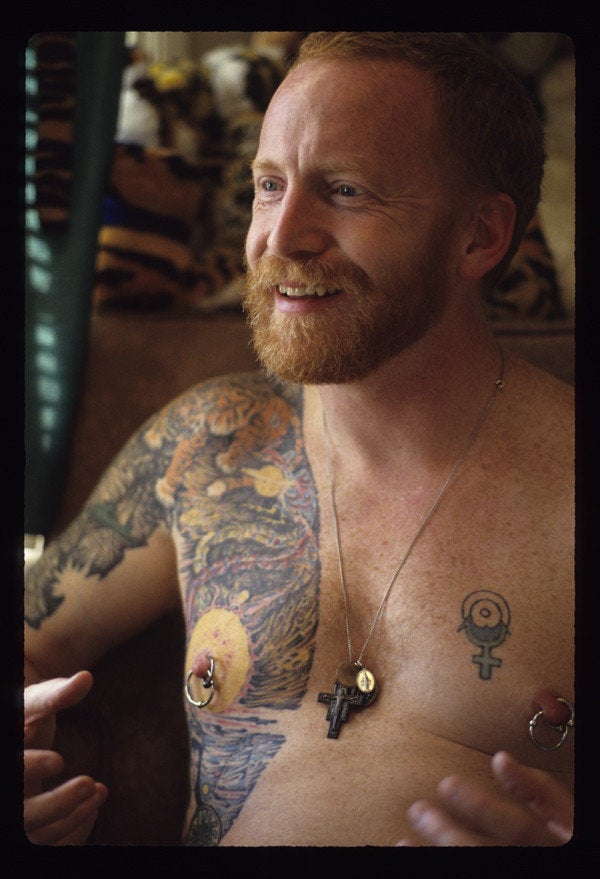 This past Saturday night the Sisters of Perpetual Indulgence held a (literally) moving memorial to Sister Boom Boom XXX (Jack Fertig), who transitioned from the earthly plane, becoming a "Nun of the Above." Actually, this designation, used by the drag nuns to refer to their departed sisters, creeped her out, because it was how she listed her occupation when she ran for the San Francisco Board of Supervisors in 1982. That run for electoral office was quintessential performance art in a broad public forum.
Boom Boom joined the order shortly after we formed in late 1979, while performing with Doris Fish and the Sluts A Go Go. She responded to a classified ad placed by Sister Hysterectoria in a local weekly, seeking recruits for the nascent order. Jack had found a playground with the perfect confluence of spirituality, politics, and street theatre, and Sister Boom Boom was born. And the Sisters had found ourselves a sexy, quick-witted, loud-mouthed MC for our events.
Whether it was a dog show, basketball game, sex club party, or exorcism, Boom Boom kept things moving with trenchant humor, usually in the service of exposing hypocrisy rather than being mean. For example, presiding over the 1984 exorcism of Jerry Falwell and Phyllis Schlafly in San Francisco's Union Square, Boom Boom described Schlafly as the woman who flies all over the country telling women that their place is in the kitchen.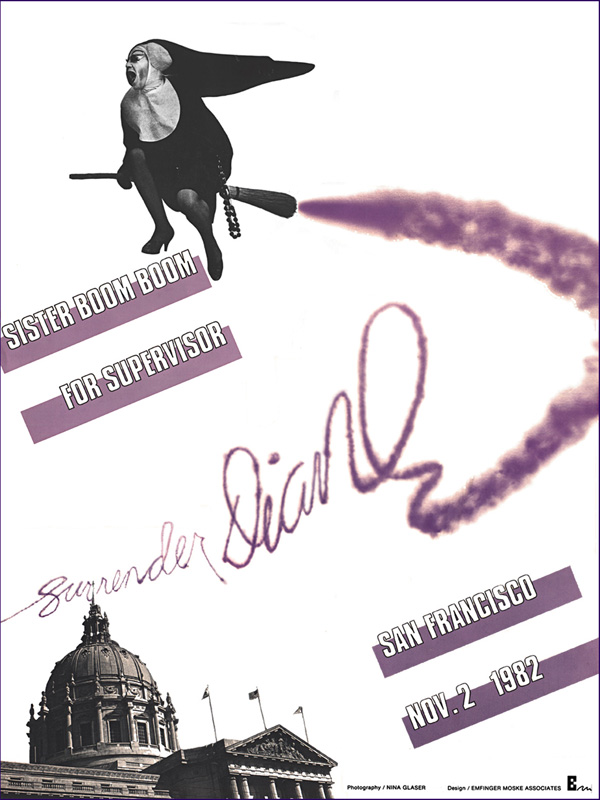 Boom Boom felt that "a good citizen should run for office once in their lifetime, and anybody who does it more than that is absolutely crazy." The most iconic image of her resulted from her own campaign for office, a poster of her on a broomstick flying over San Francisco City Hall, spelling out "Surrender Dianne" (then-mayor Diane Feinstein) in a trail of smoke.
Boom Boom, who opened every campaign speech asking, "Am I Supe yet?" didn't win a seat on the San Francisco Board of Supervisors, but she brought national attention to the absurdities of the political game and won a reputation that has proven enduring. The character of Sister Boom Boom turned up in Emily Mann's play Execution of Justice in the mid-80s. (Sister was delighted that she was played by one of her faves, Wesley Snipes.) Harvey Milk had been assassinated more than a year before the Sisters came on the scene, but Boom Boom's larger-than-life persona, the idea of what she expressed, was truer than mere history.
She viewed our group of drag nuns as shamanic gender warriors who appear in one form or another throughout time and the world. She said recently, "We are just the most conspicuous manifestation of nunconsciousness, a giant zit on the face of the cosmos, but the truth is nunconsciousness is universal."
Jack recently wrote of telling a kid that he was the man behind Sister Boom Boom, and the kid insisting that he was lying because Boom Boom had supposedly been killed by a bunch of bikers. Jack laughed over that all day at work, and when his co-workers asked what was so funny, he told them he'd just heard that Sister Boom Boom had been killed by bikers. They thought he was horrible, but he was thinking, "I hope they fucked her first. She would have liked that."
About 10 years ago Jack converted to Islam and left behind his original Sister Boom Boom persona. She traded in the fishnets, chains, and bustier for a burqa/habit. Jack was an astrologer born on the Aquarius/Pisces cusp. Inhabiting the edge felt natural to him, as it did for Boom Boom, who never stopped pushing boundaries, searching for the irreverent and unconventional.
She'd hate the sentiment, but it feels a little like an era has passed, a mold has been broken. I miss you, Sister.