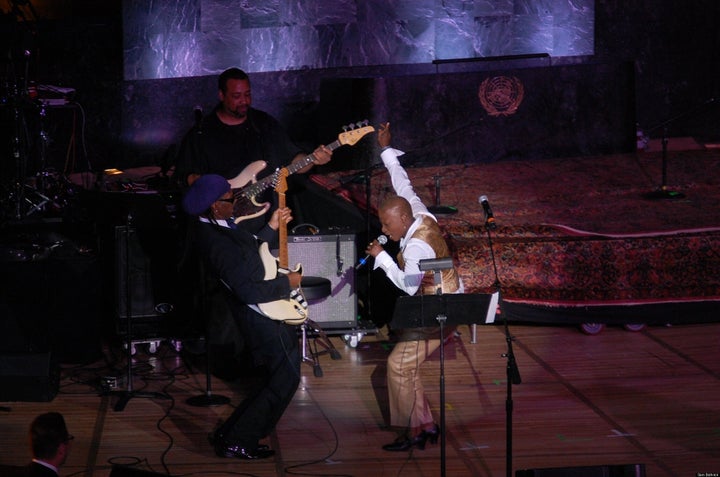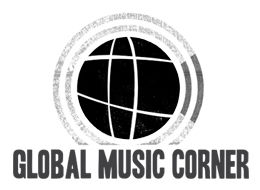 This is HuffPost World's regular feature that highlights interesting musicians and musical trends around the world. Know of a great musician doing ground-breaking work outside the United States? Send us your ideas for bands to profile or up-and-coming musicians to follow. Please fill out this survey form.
On October 23rd, 2009, the United Nations partnered with New York City non-profit Culture Project to celebrate its 64th anniversary with A Tribute to Peacekeeping Concert, a multi-media event featuring top recording artists from around the globe. The event, which reflected Culture Project's vision of art as a diplomatic tool, was part of the organization's ongoing effort to produce artistic content that impacts public policy and encourages civic participation.
The concert, which included performances by Angelique Kidjo, Roberta Flack, Harry Belafonte, Lang Lang, John Mclaughlin, Zakir Hussein, Emmanuel Jal, Sister Fa, and Aterciopelados, honored the "blue helmets" and their work with victimized populations in some of the most perilous locations on earth. Breaking up the performances, attendees viewed the premiere of Award-winning filmmaker Fisher Stevens' current documentary on challenges facing Peace Keepers, aptly titled The War Against War, also a Culture Project production.
Roberta Flack opened the evening with a rendition of Michael Jackson's 'You Are Not Alone' and Sudanese rapper and former child soldier Emmanuel Jal got the crowd moving with his content-rich brand of West African Hip Hop.
"Musicians really are ambassadors that reach across cultural difference," Culture Project Founder and Artistic Director Alan Buchman told reporters before the show. Perhaps no one embodies this more than the night's next presenter: legendary human rights activist and entertainer Harry Belafonte.
Belafonte, who traveled to Rwanda as a UN Goodwill Ambassador in wake of the Hutu-Tutsi conflict, gave an impassioned account of the importance of UN missions around the world, for which there are currently 115,000 men and women deployed in military, police and civilian peacekeeping roles. Belafonte, who told the crowd he no longer sings, left them cheering when, before leaving the stage, he sang one sweet line from 'Day-O.'
In a star-studded evening, which included standout performances by Chinese pianist Lang Lang, who the New York Times called "hottest artist on the classical music planet", Indian-Jazz Fusion quintet Remembering Shakti (formed by legends John McLaughlin and Zakir Hussein), and Benin's own Grammy-winning recording artist Angelique Kidjo, it was hard to pick a high point.
Mine was Senegalese Rapper Sister Fa, a rising talent with major crossover potential. Like the other performers in Culture Project's dynamic lineup, Sister Fa's music comes with a message and call to action. Last year's self-organized tour, "Education sans mutilation," served to educate the public about female genital mutilation in her homeland and around the world. Forget that being a female MC in a rap industry dominated by men worldwide comes with its own hurdles. While simply talking about female genital mutilation was seen as taboo by many in her homeland, Sister Fa put the struggle for female equality square on her shoulders and became a voice for women around the world when she declared publicly that she had been a victim herself.
After humbly introducing herself in English in the U.N. General Assembly Hall, Sister Fa switched to fiery verses in French, Wolof, Mandin, and Jola. Her May 2009 German release, Saraba - Tales From the Flipside of Paradise, is, at once, a nod to old-school rap and also a blazing new direction for West African Hip-hop.
Expect to see a whole lot more Sister Fa and, with Culture Project at the helm, more forums for marginalized voices on the world's stage.
Read more Global Music Corner stories here.
Calling all HuffPost superfans!
Sign up for membership to become a founding member and help shape HuffPost's next chapter