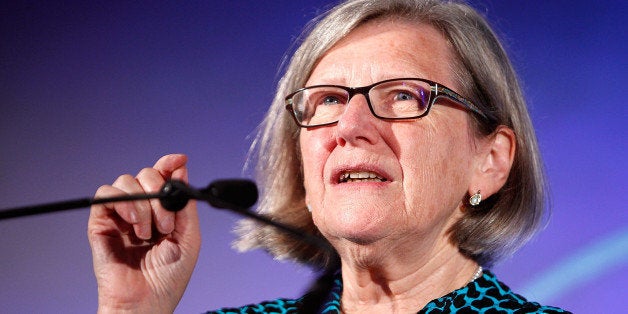 When Sister Simone Campbell hopped in the van at O'Hare airport, she admitted she'd never been to Joliet, Illinois and knew nothing about the place. Diane Nilan, advocate for homeless children and director of Hear Us - the organization she founded to raise awareness about the plight of millions of kids across America, set her at ease, "I went to school there. I can tell you all about it."
Nilan had already pulled a fast one. Clearly not your ordinary chauffer, Nilan had finagled a way to spend a few hours with Campbell, coincidentally not your ordinary Nun.
For those who aren't tirelessly working to end poverty, inequality, racism and discrimination based on immigrant status - and for those who aren't chasing down really courageous religious leaders - Campbell may be an unknown. Although, some of the tens of millions who watched the 2012 Democratic National Convention may find her name more familiar.
Cambell's a Sister of Social Service - an order of the Benedictine variety. She's also an attorney. Campbell founded the Community Law Center in Oakland, California and spent nearly two decades as their lead attorney. She's stood up for immigrants and she's campaigned for equal access to healthcare throughout the nation. She's part Ralph Nader, part Cesar Chavez, and part Mother Superior: with a pinch of Galileo thrown in on top.
That's right, Campbell and her fellow outspoken sisters in the Leadership Conference of Women Religious were told to reign in their rhetoric by the Vatican leadership in 2012. Campbell departs from Galileo in the fact that she persisted while he relented - granted the tactics of the Holy See have calmed down a bit since the 17th century - but proof of her chutzpah, nonetheless.
To avoid traffic, Nilan drove back roads from Chicago to Joliet. As they crossed through the poorer section, they passed abandoned homes and businesses. They conferred on how blight and neglect now pockmarked the wealthiest nation in the world. Campbell remarked, "We've got to engage in discussion of the issues of our time that effect everyone." She reminisced that during her "Nuns on the Bus" tours of the nation, someone pointed out, "The private backyard and the garage that exits directly into the home have eroded community." Add in the super highway that keeps folks from driving through America's neighborhoods and it's clear why the haves know so little about the have-nots. Campbell concluded, "It erodes community... We need to build community."
Just then, as the van continued down Ottawa Street into Joliet, they passed a weathered, barely legible, sign on the old fence of a long shuttered business that read, "Whatever it Takes." As Nilan delivered Campbell to the 125 mostly female, half clergy audience at the University of St. Francis, that sign foreshadowed the message of the evening.
In a word, Campbell promised her audience hope. She spoke of the Pope's recent address to the U.S. Congress - a pope bearing the same name as the university where she stood. She remarked on what she found most remarkable about his words, "He believed Congress could do their job. He believed they could get the job done." Campbell, after years of lobbying congress, was as surprised as anyone else in the room that this sort of faith in congress remained after years of divisive partisanship and obstruction.
Campbell encouraged her fellow women religious - and the lay listeners in the room - to remember, "Jesus always walked toward trouble." She said that part of the problem borne by the comfortable in society is lack of familiarity with the lives of the discomforted, "We don't know what's going on in our society, so we just assume that it's working some how."
Campbell in turn enumerated the, "Four Virtues for the 21st Century." She encourages Americans to "develop a modicum of joy," maintain a "holy curiosity," engage in "sacred gossip," and to "do your part." Proving she clings to joy she claimed to be a sort of "holy stomach acid" churning things up, hoping the power elite in the nation's capital will digest some reality.
The all white, middle class audience was receptive to Cambell's message: that remaining high-spirited while learning the plight of the poor and repeating their stories all across the United States, would help. It's the "doing your part" message that seemed difficult to execute. After all, no one in that audience - perennial advocate Nilan included - had the entrée to the halls of power that Campbell and her fellow lobbyists have.
That frustration was best summed up by one of the few men in the audience. Retired, he remarked that he spends more than a few sleepless nights wandering his local Wal*Mart. In spite of the late hours he's surrounded by a diverse group of shoppers and their children. He said they were mostly "the immigrants in the community, the laborers, who could only shop after their long day, often work two jobs, ends." He remarked that these folks - indeed everyone without the white privilege overwhelmingly exhibited at Campbell's talk - were maligned and blamed for what was going wrong. He was angry that so many people in positions of power refused to see the humanity in everyone.
Calmly Campbell explained. "It's about judgment and fear. We are kept separate to maintain the status quo." This man had bridged the separation by going to Wal*mart at a time uncharacteristic for his demographic. Then Campbell's emphasized her penchant for joy at all times as she added a pithy criticism of those in power who refuse to see what this man understands, "Perhaps we need brain transplants included in the Affordable Care Act."
REAL LIFE. REAL NEWS. REAL VOICES.
Help us tell more of the stories that matter from voices that too often remain unheard.