'Sister, Sister' is a recurring column about the adventures of real-life sisters Allison (17) and Natalie (15) from Kansas City, Missouri. You can also find them on DartNewsOnline.com, their official high school newspaper.
Sandwiched between Halloween and Christmas, Thanksgiving can often go by the wayside. However, we are here to remind you of the Turkey Day cheer! Food, family and TV specials on Lady GaGa are at the forefront of the holiday. Throw in some corn-on-the-cob candles and it's a celebration for the ages! Allison will write in italics and Natalie will write in bold.
Obviously food is the centerpiece for Thanksgiving. Every year our family argues over which items will make the menu. In fact, only a few days ago we had a debate about the merits of chunky mashed potatoes over regular mashed potatoes.
Most of the time, my picks get overruled by my loving family members, but every year, I still request these same things:
brown and serve rolls (I would prefer to skip the browning part, but I'll take what I can get.)
packaged mashed potatoes (There's too much risk with homemade potatoes-so many things could go wrong.)
anything but pie (I know pie is a staple at most Thanksgiving feasts, but that doesn't make me hate it any less.)

I disagree with most of Natalie's picks, so here are my rebuttals:
butt rolls (Let me explain... a "butt roll" is two frozen rolls put together and baked. The end product looks similar to a butt.)
stuffing (I was skeptical about this menu item a few years back, but now it's my absolute favorite part of the meal!)
pie (French silk and pumpkin pie are the only ones I like, but they make up for all the bad flavors of other pies.)
Being the cuisine connoisseur she is, Sadie (our dog) always wants to get in on the action of the biggest food holiday of the year. She's infamous for hopping up on the kitchen table when we're out of sight and one year, she got onto the dining room table and started drinking our grandma's wine. We were quick to stop her, but not before she was heavily intoxicated (not really, but that makes the story better).
This is reminiscent of a non-Thanksgiving time when Sadie jumped up on our kitchen table and stuck her long snout into some butter we had sitting out for dinner that night. Due to her ruthlessness, today we always keep two butters at the ready in case one of them gets destroyed by Sadie.
Sadie has even gotten her sharp little teeth on the pilgrim and Indian diorama we used to always set on the table for our Thanksgiving feast.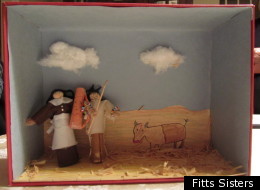 This diorama dates back to 2001 and 2003. I made the Great Plains setting (complete with buffalo) and the Indian man when I was in second grade. The pilgrim woman followed two years later when Natalie was in second grade. I honestly have no idea why we continue to display this year after year. I mean it is good art work for a second grader, but surely we have produced something better over the years, right?
No. I mean, I have made some pretty snazzy place cards with pilgrim stickers, but those only go so far.
Now it's time again for our monthly Sister Shoutout. November's sisters are Lucy and Sydney Edmonds!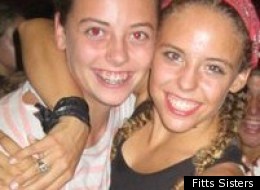 Lucy is a senior and Sydney is a freshman. They are a couple of goofy sisters who like to have fun with each other. Here is a story they wrote for our blog, in true form no less!
'We think one of the funniest things we do is how weird we are when we're in the car together. We do so much weird stuff (lots of contests that leave the loser in pain or extreme discomfort) but we decided to focus on our random dance parties.....
Lucy: The dance parties happen when you'd least expect it; but once that "jam" comes on the radio, there is no stopping us. Just yesterday, on our way to the gym, we started rocking out to "Party Rock Anthem" by LMFAO.
Sydney: Immediately I started throwin elbows this way and that, snappin mah fingaz and making funny faces. I was trying to casually fist-bump Lucy in the face but missed and hit my elbow on the cupholder.... resulting in a pretty bad skinned elbow. Let's just say that dance party ended in a jiffy.
Lucy: While she's whimpering like a little baby, I'm crying my eyes out from laughing so hard. Don't worry, she wasn't actually hurt... she was just being a drama queen.
Sydney: Okay moving on....... how about that time we had a dance party in our driveway at like 11:30 at night??
Lucy: yeah.. let's not bring that up
Sydney: No no, we are. So Lucy and I are jammin out to "Only Girl" by Rihanna in my driveway while the car is blasting the music with all four doors open. The song ends along with our dance party, and we went inside.
Lucy: Little did we know, my 20-year-old brother had some friends over, and probably the hottest of them all had just witnessed our full on jam sesh while he was walking to my house from his car.
Sydney: probably??? He is definitely the best looking. Anyways, he acknowledged our "stellar" dance moves before heading to the basement.
Lucy: Syd and I couldn't talk to him for a month without turning bright red. Anyways, this story's already too long, but I could go on and on about our weird dance parties in the car. Or at my house. Or our inside jokes. Or our secret hand signal across the quad. Or any other weird thing we do on a daily basis."
Thank you so much to the Edmonds sisters for sharing their story with us! We hope you all have a happy Thanksgiving and be sure to show all of your relatives this hilarious blog. Until next times, see ya sistas!
Popular in the Community