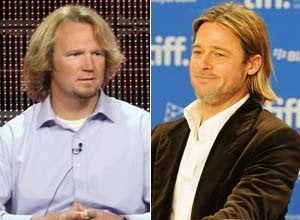 Controversial "Sister Wives" patriarch Kody Brown, who is no stranger to media criticism, is feeling Brad Pitt's pain after his strange remarks regarding ex-wife, Jennifer Aniston. In fact, Brown likes Pitt so much he's welcoming him to join his family of four wives and 16 children.

"If there was going to be a brother husband, I would ask Brad to join the family," Brown tells me backstage at "New York Live," his wives standing close by. "I'm an Angie guy. She is weird but she's genuine. She was married to Billy Bob, come on. It's not a matter of Jen being dull, but I think Angelina Jolie is a real humanitarian. I see her as a mother. Jen could do it well, but Brad and Angie are good parents."

And although Brown would be happy to welcome the actor into his crew, he is sure that he will not be welcoming any more ladies to join the modern family anytime soon.

"No more wives because I feel maxed out," Brown tells me. "I want to give them all that I've got. I think that I can manage it. I do want to ... No, maybe I don't think I can manage it."

And with another child on the way, Brown encourages his bromance brother to have more children too.

"Angie and Brad should have more children ... They are good parents," Brown says. "I like them. They are involved. I think Angelina Jolie has got a heart of gold."

The new season of "Sister Wives" debuts September 25th at 9:00 PM on TLC.

Popular in the Community