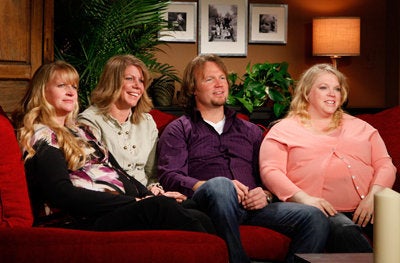 Kody Brown married his first wife, Meri, 20 years ago. Three years later he married Janelle, and a year after that he married Christine.
"I just fell in love. Then I fell in love again, and I fell in love again," he says in the opening episode of 'Sister Wives,' TLC's latest reality series about an excessively large family. This one is set in Utah with a polygamist twist.
The Browns and their 12 children are Fundamentalist Mormons, and their faith, as Kody says, likes to "reward good behavior." Why stop with one good marriage when you could have four? (Kody is courting a fourth wife, whose assimilation into the tight-knit circle of sister wives provides the only conflict in a family that keeps reminding us how happy they are.)
"I never wanted to just be married to a man," says Christine, who is pregnant with Kody's 13th child. She's glad to be his third wife because she never wanted to be alone with a husband and the third wife balances out the tension between the first two.
"I always wanted sister wives," she says. "There's too many things I wanted to do, to be free for."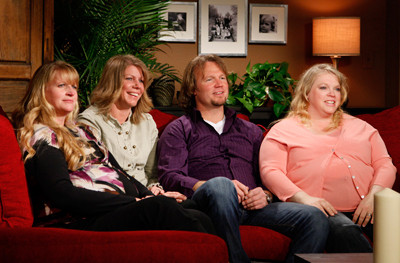 Indeed the sister wives work together to raise their plucky children and attend to Kody's sexual needs. The show doesn't waste any time getting to the bedroom dynamics, which are really why viewers are here. Kody is on a rotating schedule of conjugal visits, and the wives make it clear they are not into group sex.
"Christine and Janelle and I each have our own bedrooms, and Kody is welcome in each of those bedrooms," says Meri, the only wife who is legally married to him. "Alone. That's just how it is, we don't go weird."
The wives elaborate on the arrangement during a confessional on their sectional couch, Kody wedged in the middle, nodding his blond shag and chuckling awkwardly as they discuss sharing his sex life.
"We know that that's required in each relationship," Christine says. On the topic of Kody having sex with his other wives: "Gosh darnit, they better!"
Meri prefers an out of sight, out of mind approach.
"When he's off with somebody else, I just don't think about that part of it," she says. "Why would I want to do that to myself? They do that and I do that and that's okay."
It's okay until Kody begins courting Robyn, a 30-year-old divorcee with three kids who is slim and pretty and brunette and the new hand-holding partner he hasn't had in 16 years. Jealousies bubble up after a two-month courtship when Robyn declares, "Kody's my soulmate. I love him." Meri breaks down crying, saying that the only reason she's staying with Kody is for her daughter.
"Because wives are comfortable with another wife in this lifestyle, they're not comfortable with another girlfriend," Kody points out.
The sister wives lean on each other as their husband falls in love once again, they learn of his and Robyn's premarital, post-engagement kiss and they help break the news of the family merger to the kids, who attend a polygamist church school but aren't all sold on the idea of plural marriage.
"If it was my husband with another woman, I'd be ripping her hair out," says Madison, Janelle's likeable 14-year-old daughter who has jet-black hair and wears tank tops outside of her shirts. "I love my family and I wouldn't want it any other way, but for me I just want one guy."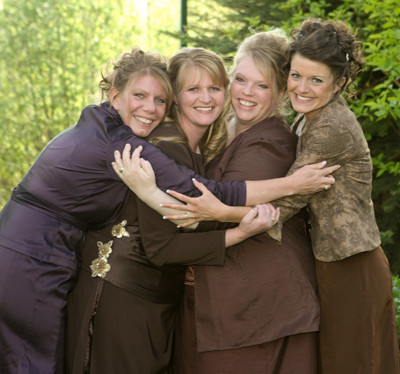 The other kids are more enthusiastic about their dad's new bride, yelling things like "He's a teenager again!" and "Go get em, tiger!" when Kody announces his intentions at a family meeting.
Coming up this season: The sister wives help Robyn find a long-sleeved wedding dress (they tell the sales clerk they are "advisers" when asked, with insult so sharp it seems staged, if they are moms). Several spouses speak of broken hearts. There is also a preview of a birth, featuring Kody peering up from between Christine's legs as he coaxes her to "push, push, push" the baby out.
'Sister Wives' asks viewers to "rethink marriage" in its trailer, but the Browns aren't advocating any configuration of moms and dads. In fact, the sentiment against non-traditional marriages of the gay sort runs strong in the mainstream Mormon Church, which raised $25 million in support of Proposition 8 in California. The fundamentalist sects split from the mainstream Church in 1890 when it renounced plural marriage.
The Browns have kept their lifestyle an open secret until now, so the show is a coming-out party as well as a much-needed paycheck for the growing family (no word on whether Kody's extralegal wives, like many Utah "single mothers," collect welfare). The family is also trying its best to rehab the reputation of an institution most often associated with images of the archaically coiffed child brides fleeing Warren Jeffs' Texas compound in 2008.
Kody and his wives spend a lot of time talking about how well their family functions, but instead of shaking the stigma attached to plural marriage they come off as the smug curiosity of TLC's dreams. It's unlikely, after all, that the Duggars have gotten a lot of converts to the Quiverfull movement or the Gosselins have made anyone give up birth control.
At times the sister wives have trouble selling their lifestyle even to themselves.
In an effort to console herself over giving another piece of Kody to a younger, more attractive woman, Christine says, "I'm glad he's getting a trophy wife. He's a great guy. He deserves a cute girl."
The sister wives never talk about what they might deserve for putting up with him.
'Sister Wives' premieres Sunday, September 26 on TLC.
WATCH a sneak peek:
WATCH the spouses talk about their lifestyle on 'Today':
Popular in the Community