We can do hard things. We belong to each other. Love wins. I wish I could take credit for these simple yet powerful statements, but the credit goes to best-selling author and award-winning blogger Glennon Doyle Melton. These are hers, yet they so perfectly illustrate my story it's as if she wrote them just for me, to help me tell my story. It's a story about going through a really hard thing, finding a sisterhood to which I belong and letting love win. I fell head over heals in love with Glennon's writing after I read her book Carry On, Warrior and stalked her blog posts on momastery.com. Glennon is a storyteller with a shameless openness I've never before seen. What I love most is her brutal honesty, wit and a perspective on motherhood, marriage, living and spirituality that is like a breath of fresh air. Glennon would call my story a "brutiful" story -- brutal and beautiful all in one. It goes like this...
Life was clicking right along just as I had planned. Joe and I had been married for eight years. We had a picture perfect life, lived in a picture perfect house, and had a PERFECT 2 ½ -year-old daughter named Isabela. We had great careers, wonderful family and friends and our second baby was on the way. And then our "hard thing" was handed to us. On May 31, 2003, just days from my due date, our baby that was supposed to join our picture perfect life was stillborn. I went into labor and then while inside my 37-week stretched belly she became still. Her umbilical cord had become knotted and she just couldn't make it. Our perfectly planned life came to a screeching halt. We named her Madeline and other than being born so quiet she looked perfect in every way. We said we were sorry to Isabela, so so sorry that we couldn't bring her new baby sister home from the hospital. Joe and I got through the funeral and were amazed at the outpouring of love from our family and friends. But in the weeks that followed the pain was still so intense and I began to wonder if I'd ever smile or laugh again. Even with all the love and support there was a huge hole in my heart. My arms ached to snuggle with my baby and I felt completely alone.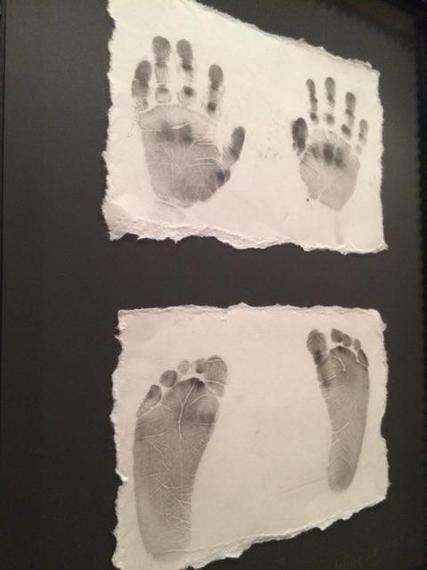 During that summer of 2003 I managed to put one foot in front of the other and made it through each day -- some days better than others. I put a smile on when I was out in public and I cried my eyes out in the shower. I took lots of showers. I treasured the sleeping pills the doctor had prescribed before I left the hospital. They'd knock me out for seven hours and those were the only hours I didn't think about Madeline. Joe found relief in them too and we traded nights taking those golden pills. On the nights that were his turn I knew I could safely cry myself to sleep without making him worry about me. Morning always came and for months I'd wake up swearing I felt a baby roll in my tummy.
I remember being at a backyard birthday party for a friend's 1-year-old and watching all the happy families. I wondered if I'd ever have that happy family feeling and eventually made up an excuse to leave early. I also remember the first time I had fun and laughed. About three months after losing Madeline Joe and I went out for dinner with a group of couples. I allowed myself a glass or two of wine and caught myself laughing. The next morning I woke with pangs of guilt for having fun.
Raw is the best descriptor for those first few months. I could have used a dose of Glennon's shamelessness right about then. I didn't have the guts to call a friend or confide in Joe and say "I'm really hurting, I feel all alone and this SUCKS." So I kept pretending the best I knew how. I think that's when God stepped in with an amazing gift.
The gift was four moms -- Kate, Janet, Jan and Kerry. They each knew the heartache of losing a baby all too well. Jan, Janet and Kerry each had full-term, stillborn girls within months of Madeline dying and Kate had to take her sweet Emma off of life support when she was eight days old due to a heart defect. We were complete strangers and one-by-one were connected through friends of friends and a special minister that two of us shared.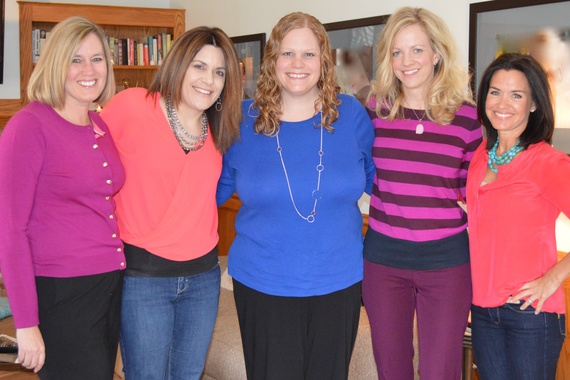 The five of us moms started meeting at coffee shops, sometimes dragging our toddlers with us and bribing them with snacks and crayons so that we could get our bereaved mommy fix. Our group was a safe haven for me - I felt like I could talk about anything and they wouldn't think I was crazy. As Glennon would say, we were all a little "jacked up" but at least there was safety in numbers. There were no layers of perfect between the five of us -- it was raw and real and I cherished our bond. The best part of being with Jan, Janet, Kate and Kerry was that they would acknowledge Madeline -- they would say her name when everyone else was afraid saying her name might make me cry. We would talk about how our five little girls must have collaborated in heaven to bring the five of us together. Joe affectionately referred to our mom group as The Cult.
The Cult kept meeting and our coffee shop conversations turned to questions and a passion to make sure no other moms joined our group. Why in this age of 4-D ultrasounds are we missing knots in umbilical cords? We quickly learned that very few in the maternal health community want to talk about stillbirth. We learned that everyday 70 babies are stillborn in the U.S. (that's 26,000 babies stillborn every year). Stillbirth seems to be the least talked about pregnancy complication.
The five of us decided that we couldn't sit silent and if no one else was going to talk about stillbirth we'd start the conversation. We met with anyone who was willing to talk to us. Through Janet's leadership (she's a state senator here in Iowa) we were able to get a bill passed unanimously through the Iowa legislature that established a Stillbirth Registry -- a program that would collect data from every stillbirth in the state. The program was funded through a federal appropriation and the State of Iowa worked with the Centers for Disease Control to establish two pilot data collection sites -- Iowa and Metro Atlanta. Others heard about the registry work and began advocating for a national Stillbirth Registry to allow more data to be collected more quickly.
A few years later we learned about a public health program in Norway that had reduced the country's stillbirth rate by 30 percent. The campaign taught pregnant women how to monitor their unborn baby's movements during the third trimester of pregnancy by doing kick counts on a daily basis. We had found our next project. We decided that even if it saved just one baby it would be worthwhile.
The five of us moms launched the Count the Kicks campaign in 2008. We contacted every OB doctor's office in Iowa. The program was free for the providers and if they would agree to participate we stocked their offices with educational posters and brochures to hand out to every pregnant mom. Several scientific studies indicate kick counting, a daily record of a baby's movements (kicks, rolls, punches, jabs) during the third trimester, is an easy, free and reliable way to monitor a baby's well-being in addition to regular prenatal visits.
My basement was home to our fulfillment and operation center. I paid my kids 25 cents for each bundle of brochures they would rubber band together. It was a mutually beneficial -- a counting exercise for them and cheap labor for me. For two years we took orders online, packaged them up and every week I loaded boxed orders into a grocery cart and shipped them from a local grocery store's postal counter. One day when the manager at the grocery store's postal counter saw me headed towards him with a larger than average load he kindly said, "Ma'am -- I'm not sure what you are always shipping but it's time you start using the Post Office. We're not set up to handle this many packages." He asked what I was shipping and I pulled out one of our Count the Kicks brochures -- he skimmed over it, looked at me and said, "I thought for sure you were an Ebayer." And then I told him that the Post Office doesn't offer grocery carts in their parking lot and his grocery carts saved me lots of headaches -- I could load the orders into the cart then keep ahold of my 3-year-old's hand and push the cart with my other hand, sometimes through slushy snow, and make it to his counter in one trip. He smiled and never said another word.
Getting Count the Kicks off the ground wasn't always easy and sometimes got what Glennon might refer to as "messy." One year after the initial launch of the program we came to the realization that we had to establish ourselves as a official 501(c)3 non-profit organization so that we could secure grants and donations. Our first attempt at writing a grant was done as a "group project" with all five of us participating. Very MESSY is all I can say. We survived and celebrated the completion of the grant with champagne at Jan's 40th birthday party. Great news followed -- we got the grant and it allowed us to hire a fulfillment company to pack and ship our orders. I'm pretty sure that manager at the grocery store postal counter was happy too.
We were set up to support the state of Iowa, yet the requests for the Count the Kicks educational materials started coming in from across the country and around the world. It was time to expand -- our little wouldn't-it-be-great-if-we-saved-one-baby program had become bigger than the five of us could handle. Thanks to a gift from an anonymous donor we were able to hire an Outreach Coordinator with fundraising and non-profit expertise. In the Fall of 2013 we trained seven Count the Kicks Ambassadors and they are now promoting the program in each of their respective states.
On Mother's Day 2014 we launched the Count the Kicks app that lets expectant parents record and track their unborn babies' kicks right on their smartphones and tablets. The app makes it easier for parents to track their baby's movements and determine if their movement pattern is changing and something to be concerned about. The app gives pregnant parents all over the world, not just Iowa, the ability to count kicks. And it's working! Iowa's stillbirth rate has dropped 26 percent since the launch of Count the Kicks six years ago. The drop in Iowa's stillbirth rate is encouraging, but the Baby Save stories that show up in our email on an almost weekly basis are truly what keeps us going. Moms send emails with praise for Count the Kicks and share how their baby's change in movement patterns alerted them to contact their providers right away and avoid a tragedy.
"This was my third pregnancy and the only new information I received from my doctor was your brochure. I read the brochure's testimonial to my husband and he decided to enter a daily reminder on my phone to count the kicks. At 37 weeks, I started to notice a VERY slight reduction in movements. From everything I remembered reading, I thought that was normal as he was running out of room to move, but I called my doctor just to be sure. Tests showed that Ryan needed to be delivered. Ryan was born healthy that afternoon, despite a true knot in his umbilical cord. Because of your brochure, we took the time to get to know our unborn baby and his kicks. It TRULY saved our Ryan's life." - Sarah, Ryan's Mom
When we began our journey together nearly 12 years ago we were just five moms with broken hearts and empty arms. As I reflect back I think about what we all went through. Together we survived and came out stronger on the other side. That's proof "we can do hard things." We had a deeply held belief that it is not okay to keep quiet and trust that these things just happen. We believed that "we belong to each other" and set out to not only start a conversation about stillbirth, but set a goal that would prevent stillbirths and other parents from enduring the same tragic loss. And then we get an email at 10:34 p.m. on a random Tuesday from a grateful mom holding her precious newborn. She's emailed to say "Thank you -- you saved my baby." I suspect our five little girls -- Emma, Grace Biondi, Madeline, Grace and Jayden -- are in heaven singing, dancing and shouting, "Hey Mama -- love wins."
For the five of us our circumstances didn't define us, it revealed to us who we are and that we can do hard things, we belong to each other and love indeed wins. On April 29, the master of these mantras is actually coming to see us. Glennon. In Des Moines. The event is nearly sold out. I can't wait to thank her in person for those empowering words that have kept me going. Together we will celebrate Count the Kicks at the Every Woman Counts luncheon. It's not often you can hear from the woman who put your feelings into words and save babies at the same time.

For more information about the Every Woman Counts luncheon, visit www.countthekicks.org