Have you talked to any of the 705 remaining Mars One candidates who will represent you -- humanity -- as the first off-planet colonists? Perhaps you should. Here's how to find one near you. If you'd prefer a neat spreadsheet to a wildly zooming Google Earth video, try this.
If more people checked in with the 705, I think there'd be less criticism of the proposed international mission to send humans on a one-way trip to Mars as a half-baked scheme that only crackpot loonies have signed up for.
I met an impressive three last weekend: Kenya Armbrister, Blake Bevin, and Megan Kane. These women are determined. They are distinctive in the skills and knowledge they'd bring to Mars. They are fun to talk to -- smart, personable, and lively. Along with me, these women are the San Francisco-based Mars One candidates. I'd go to Mars in a heartbeat with any or all of them.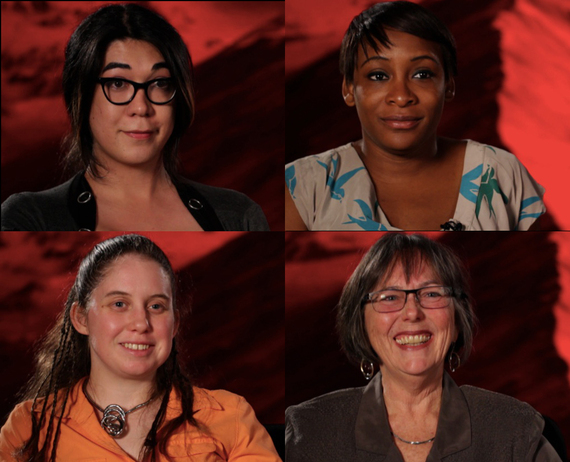 Clockwise from upper left: Blake Bevin, Kenya Armbrister, Jan Millsapps, Megan Kane
World traveler Kenya, 36, who's worked for the European Parliament, U.S. Congress, and FEMA, wants to make this world a better place and is ready to do the same for Mars. She's proven that she's more than talk, recently returning from a volunteer maintenance stint at the Utah-based Mars Desert Research Station, where she survived on astronaut food and two-minute showers -- good preparation, she says, for living on Mars.
Blake, 30, a self-taught inventor who runs a start-up that creates devices for the disabled, built her own 3D printer out of spare parts and is busy these days perfecting self-tying shoelaces to aid those who are unable to tie their own shoes.
"On Mars I'd like to get up every morning with a project to work on," she said.
She'd come in handy as chief gadget maker on Mars!
Peace Corps veteran and former Illinois farm child Megan, 29, is Sudan- and 4H-prepped to grow the food we'll need to sustain ourselves on Mars. She made a decision while in high school that she wanted to go to Mars, and everything she's done since then, she says, has been in support of this goal. She's well-versed in phsyics, engineering and math; her head is fact-full of everything Mars-related, and I had the feeling that she could talk for hours without exhausting her knowledge base. If Mars One won't send her, she says she'll find another way.
"The thing that scares me most," she says of her Mars One candidacy, "is not getting to go."
The occasion for our meeting: group and individual interviews for Madame Mars: Women and the Quest for Worlds Beyond, a transmedia documentary tracing women's slow and arduous route toward the red planet and the equally tedious march toward equity in the space sciences and space exploration. If these four, by some remote but possible chance, were to colonize Mars as a female foursome, that would represent a spectacular and ginormous step for womankind.
Now facing interviews and rigorous mental, physical, and emotional testing designed to further reduce the astronaut pool from the current 705 to 40 or less, each of these women will soon be required to strut her right stuff in the televised coverage just announced by Mars One and Darlow Smithson Productions.
Are they prepared to compete against each other, Big Brother-style, Madame Mars asked?
In a unanimous show of sistah-hood in action, each expressed solidarity and support for the others rather than camera-ready competitiveness, which may not result in the best entertainment but does further the Madame Mars call for humankind to take its next step into space with full recognition of women's value and full consideration of the female gender as vital to the success of any mission to Mars -- although gender roles, according to Bevin, who is transgender, may become a thing of the past once we get to Mars, where hooking up and settling down will become near-impossible pursuits.
"Mars is going to be my new mistress, I guess," she said.
At the conclusion of each interview, producer Beth Rogozinski asked each of the women to say to the camera, "It's our turn." As each repeated these words with conviction, it seemed more and more likely that Madame Mars has found her stride, and that the next historic step, onto the surface of Mars, may indeed be taken by a woman.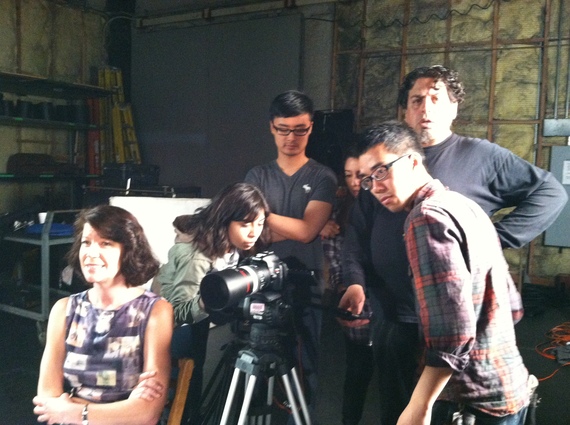 Madame Mars producer Beth Rogozinski (left) and crew
REAL LIFE. REAL NEWS. REAL VOICES.
Help us tell more of the stories that matter from voices that too often remain unheard.