Before I went to renowned spiritual author and teacher Marianne Williamson's "Sister Giant Conference" in November 2012, I rarely supported candidates outside my district; yet I would bitch and moan about the fact that women were underrepresented on the Hill. Williamson gently slapped us all upside the head at Sister Giant, reminding us that if we want to get women into office we all need to join together and support each other, including candidates near and far. Many people actually decided to run for the first time that weekend and have since made it to office.
Williamson did not decide to answer her own call to action by running for office herself until months later. Williamson is now running as an Independent for the 33rd Congressional district of California, a seat held for decades by beloved Democrat Henry Waxman who will be retiring after this term.
One of the many intentions of Sister Giant was to show women that running for office does not have to be a soul eviscerating experience, that you can be a woman with a heart -- and have some balls, too. Williamson is proving that now. As an Independent, refusing PAC money, Williamson is fiercely committed to a grass roots campaign, removing the grip of money in politics, and most importantly to starting a new conversation on the Hill. She is running as an Independent to remain as separate from the political money machine as possible and stay true to her own voice and platform.
I asked Marianne what she will do, given the general resignation most feel around the issue of money in politics. She said that with respect to all the issues for which she holds a deep passion for change, she "won't be arriving in D.C. with a magic wand." She said, "It's all about starting a new conversation."
We all know we need that. And who better to start this conversation than someone who is well-versed at easing the divides between people, and within our own hearts? She won't have a magic wand, but she will have her brilliant mind, sharp wit and tongue, a good head on her shoulders, and decades of experience helping people conquer insurmountable obstacles. She also happens to be whip ass smart about politics, American history and most importantly, the nature of people and their shadows -- the shadows that are running the show right now on that high and mighty Hill in Washington, D.C.
My goal is to encourage everyone to venture outside their very own District's bubbles to empower themselves. If you hear a candidate that gives you hope of movement toward ending the great divide in Congress, or who shares your most passionate political beliefs, grab on to his or her coattails. Support that person in whatever way you can. I promise it will make your heart and soul feel good. If you want to explore Williamson's aptly named "Create Anew" platform, go tohttp://marianneforcongress.com.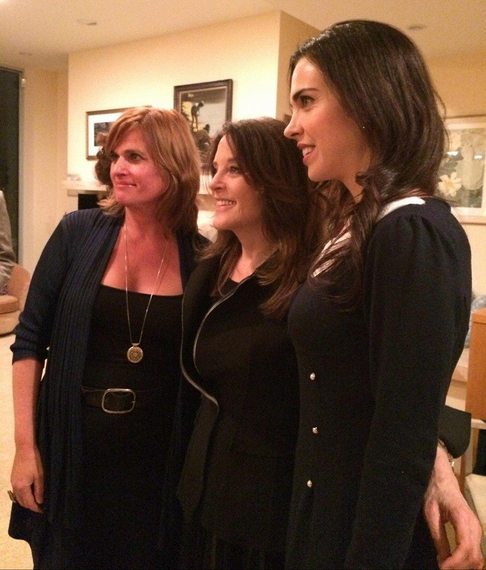 All I know is that standing far outside the 33rd district (in the above photo of Williamson) with my friend, renowned author Caprice Crane, we are two of thousands of woman who don't get to vote for Williamson, but who know that she will not only be leading a conversation on behalf of the 33rd District of California. Williamson will be starting a healing fire of conversation on the Hill for the benefit of all of us. And, please don't read "healing" as synonymous with airy-fairy new-agey, please read it as moving away from fear toward empowerment for all.