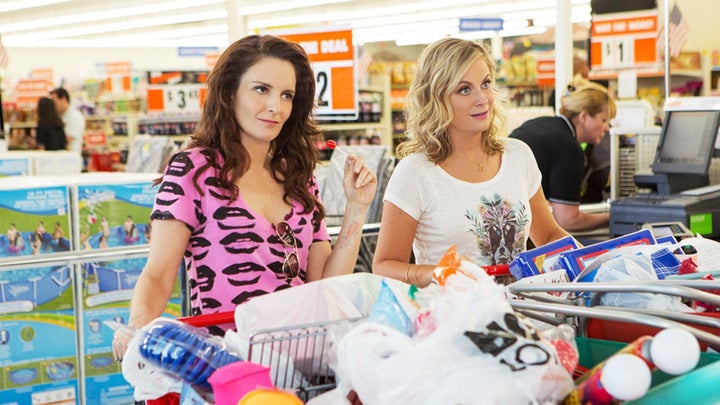 It was a balmy June day, and a party was raging on Long Island. Music was thumping, a keg was pumping and holiday lights -- that signature house-party fixture -- were strung throughout a living room that, for the moment, belonged to America's prized spiritual siblings: Tina Fey and Amy Poehler. Except this time, the duo were more than soul sisters -- they were shared-a-bedroom-and-wore-matching-Easter-dresses sisters. 
At least for several weeks.
It was 2014 when I visited a soundstage about 30 miles outside of New York City where Fey and Poehler were filming their first feature together since 2008's "Baby Mama." At the time, it was titled "The Nest." Now it's called "Sisters," but on the surface, not much else has changed. The cast and crew -- led by director Jason Moore ("Pitch Perfect") and writer Paula Pell ("SNL") -- already knew that their scheduled release date of Dec. 18, 2015, would put the movie head-to-head with the new "Star Wars" installment. (It, too, has netted a new title in the interim, as no one knew yet that "Episode VII" would be called "The Force Awakens.")
Despite the massive warehouse surrounding the "Sisters" set, it was easy to eyeball the makeshift home and imagine Florida suburbia, where the story is set. Reversing the archetypes they adopted in "Baby Mama," where Fey played a grounded career woman and Poehler her puerile opposite, America's favorite Golden Globe hosts star as kin who throw one final blowout before their parents (Dianne Wiest and James Brolin) sell their childhood home. 
The scene I witnessed was shot at Gold Coast Studios. The exteriors and the portions that don't revolve around the party were captured mostly in other New York suburbs, including Pearl River, where the movie's first set photos originated. The art department built the house to scale atop a sizable stage. The backyard, so to speak, was somewhere you or I might actually want to attend such festivities. A wooden porch led to a proper pool, replete with water, lawn chairs, artificial grass and the remnants of escalating, margarita-soaked bacchanalia. Windows peered into a living room where Poehler and Fey filmed some of the party's inaugural moments, when the night's guests -- mostly the sisters' high-school pals -- begin to arrive. I watched the action unfold on a monitor stationed at the edge of the stage, right outside the house.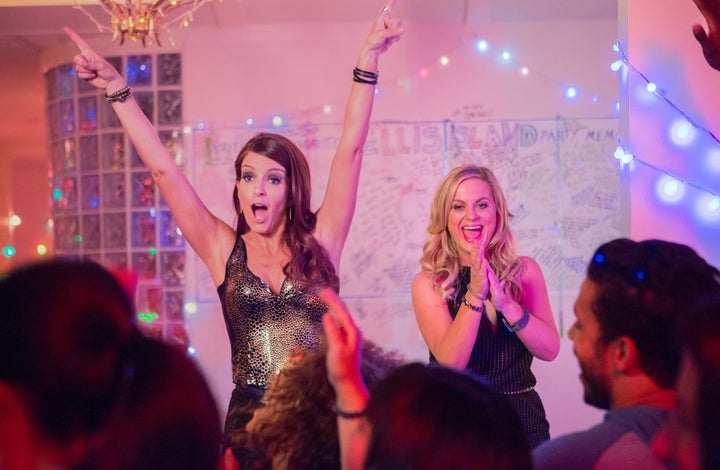 Inside, the bedroom the two characters shared growing up brimmed with '80s artifacts, many of which were suggestions Fey and Poehler made based on the contents of their own teenage chambers: a large Michael J. Fox photo in one corner and a Molly Ringwald headshot in another; stacks of cassette tapes; lava lamps; "Out of Africa," "Xanadu" and "E.T." posters; snapshots of the actresses at a younger age, including one in which they grin alongside fellow "SNL" alumna Rachel Dratch. This, folks, was a party house built for the century's most beloved comedy duo. Soundstage or not, the cast certainly made themselves at home -- if you walked through the bedroom room during filming, you might have spotted one of them napping there.
I spent the day watching Fey and Poehler shoot various bits of the lengthy party scene that acts as the movie's centerpiece. Joined by Dratch, Bobby Moynihan, Ike Barinholtz, John Leguizamo, Samantha Bee, Jon Glaser and Greta Lee, the bash is an ensemble affair in the vein of "House Party," "Can't Hardly Wait" and "Project X" -- movies that Moore and Pell said they studied while readying "Sisters" for production. (Maya Rudolph and Kate McKinnon also have supporting roles, but they weren't on call the day I was there.)
The film was expected to wrap on Aug. 7, well over a year before it was slated to hit theaters, though the press spotted Fey and Poehler filming additional scenes in January 2015. That has given Moore, Pell and Fey -- who has been a producer since the project's inception -- ample lead time before we glimpse the fruits of their labor. I was on the set with a few other journalists, and throughout the day, various cast members sat down to chat with us as filming continued. Below are a few other tidbits I learned about what went down when pop culture's queens became family.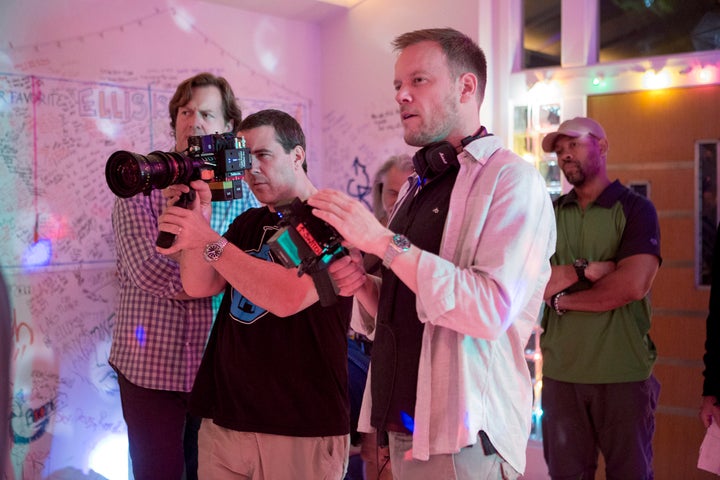 1. Pell got the idea for her script in part from the diary she kept as a teenager. She and her sister had a similar relationship to that of Katie (Fey), the wild child of the two, and Maura (Poehler), who's more straight and narrow. Pell was the Maura type. "My sister was three years older than me and she was like the stone-cold '70s fox," Pell said. "I looked like a short Polish farm woman, and so our journals were wildly different. Hers was always like, 'Mom and Dad went camping and I went to Bill's. They don't know it. P.S. I might be pregnant.' And mine was like, 'I changed the grid on my rock tumbler today. Amethyst is really shaping up. I put it on a tiepin. Drew a picture of my beagle. It's very hard because there's three colors, but I'm very pleased with it.'"
2. That same diary is one of the props Fey and Poehler shuffle through while revisiting their characters' adolescent relics in the film.
3. Pell considered titling the movie "The Rock Tumbler," but she figured people wouldn't know what it meant. She landed on "The Nest" because "one thing I kept picturing in the characters' differences is the image of two sisters in a nest and one just has their mouth open like a baby bird, like, 'Feed me,' all the time, and the other one's, like, begrudgingly being the caretaker and feeding them, and just thinking of a house as a nest."
4. This one might depress Tina and Amy disciples: Making a movie is sometimes the only way the busy actresses can ensure they spend time together. Barring the Golden Globes, which both agreed they never would have hosted individually, Fey and Poehler said they vow to "get together" for a project every seven years. "It's going to be like the '7 Up' series," Fey said, jokingly referring to the British documentary films that chronicle the same subjects every several years. "You can watch us age."
5. Bobby Moynihan, who stars as that high-school friend who always thinks he's the funniest person in the room, has clearly mastered his signature laugh. The same high-pitched, gleeful chuckle that's become part of so many "Saturday Night Live" sketches is played to comedic effect in "Sisters."
6. Greta Lee, who you may recognize from "Girls" and "Inside Amy Schumer," plays the ringleader of a group of Korean women Katie recruits to attend the party. When they show up, Fey announces, "Ladies and gentlemen, the Korean pussy squad has arrived!" I watched Fey film that line about 10 times, and with each take she improvised a different faux accent. One reading was Russian and another British, for example, while others were just plain old Fey.
7. The house may seem like it's fully functioning, but it's lacking at least one component: a doorbell. When Ike Barinholtz's character -- Maura's love interest -- arrives at the party, a crew member hollers "ding dong" to announce Poehler's cue.
8. Pell, who also wrote two Season 4 episodes of "30 Rock" and cameoed on the show, has a method for fostering brilliant improv that the cast said they adore. "Paula's Post-its" is a "little system" she developed while punching up scripts on the sets of "Bridesmaids," "The Heat" and "This Is 40." As a take plays out, she sits on the sidelines and thinks of alternate lines of dialogue -- new jokes, in other words. Pell then scribbles the suggestion on a sticky note and hands it to the director, who gives it to the actor between takes so that the rest of the cast reacts organically. "It's kind of like a fun little candy box of stuff that I'm always passing around, like Santa giving people little gifts," she said. The practice also provides a plethora of options in the editing room to ensure the best gag is the one that survives. After Pell informed us of the technique, every single person we interviewed brought it up fondly. "It's really a very generous way for Paula to continuously prove that she's the funniest person on set," Poehler said.
9. If "Star Wars" is your competition, all you can do, really, is laugh -- and that's what everyone involved with "Sisters" did. "One of the things I told them we should do is a lot of advertising where we're like, '"Star Wars," fucking bring it on. We'll have 20 percent over your take.' Just cocky, cocky shit," Pell said.
PHOTO GALLERY
Amy Poehler And Tina Fey Taught Us Everything We Know About Being A Woman
Calling all HuffPost superfans!
Sign up for membership to become a founding member and help shape HuffPost's next chapter