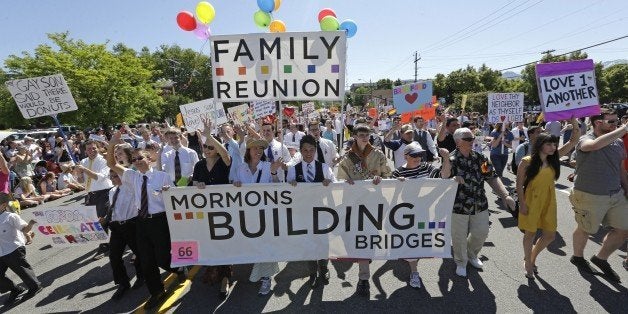 It's painful to feel like an outsider -- especially during Christmas.
However, it's a feeling that LGBT members of The Church of Jesus Christ of Latter Day Saints may experience during the holidays. While the church insists that gay and lesbian Mormons should be treated with kindness, it sees acting out on same-sex attractions as a sin. As a result, LGBT Mormons who have grown up celebrating Christmas with their church communities may be hesitant to come back.
But there's a growing number of people within the Mormon church who aren't afraid to show their support for their LGBT brothers and sisters.
On December 21, about 200 allies volunteered for "Sit With Me Sunday," promising to sit with LGBT people who are uncomfortable about attending a service.
It's unclear how many LGBT members took the group up on their offer. Campaign organizer Sherri Park, who is on the steering committee for Mormons Building Bridges, said that some people felt so anxious about returning that at the last minute, they decided not to go. She estimates less than 50 pairs of people participated this year.
In the Mormon church, people are assigned to wards, or congregations, depending on where they live. Sometimes, people get assigned to a ward that provides a safe spiritual space for gays and lesbians, and at other times, they're not so lucky.
"It's like roulette," Park told HuffPost. "It really depends on who your ward leadership is . . . So people mostly either don't come at all or they come and cringe when they hear something said about gay people being evil. It's so painful."
Park wanted to make it easier for LGBT people to identify individuals and families who are willing to be allies, creating a map for members in the US.
For the families that took part, it was an incredibly affirming experience.
Jill Hazard Rowe, an LDS mom from Draper, Utah, volunteered to sit with a young man from her town. He had grown up in the church and explored his spirituality by serving on a mission. When he returned, he realized that his same-sex attractions weren't going away.
Rowe, who has a gay son herself, wanted to make sure that this young man felt welcomed and loved in church during this year's Christmas season. Rowe, her husband, her children, and parents turned up in force to sit with the young man during Sunday's worship service.
"It sounds weird, but having him sit next to me made me feel more Christian," Rowe said. "It's obviously not about me, I know. But I just felt complete and whole to know that this is what God approves of, that we love everyone."
"My hope is for everyone to be educated on the issue and realize that this isn't a choice and just really strive to be Christian," she continued.
Peter Harrison, a 20-year-old LDS member from Sandy, Utah, knows young Mormons who were turned out of their homes after their parents found out about their sexual orientation. He remembers attending church-sponsored dances when he was younger, where the lines between genders were drawn very clearly and he couldn't dance with the people he wanted to dance with.
Harrison was initially worried that his own parents wouldn't accept him after he came out to them. But not only were they welcoming and affirming -- members of his church community also embraced him wholeheartedly.
"You hear a lot of negative stories, but there are people within the LDS church who are supportive and want people to feel welcome in church and to feel a closeness to God, which is what church provide," Harrison told The Huffington Post.
Harrison wasn't able to attend Sit With Me Sunday this year, but he has fond memories of last year's event. It was powerful for him to feel that level of acceptance, he said.
Harrison is hoping that in the coming years, the church will become more open towards same-sex couples -- and perhaps even welcome them into leadership roles.
"The church is a large organization and you've got hundreds of families dealing with this issue," Harrison said. "It's going to be more front and center as families raise kids who are gay and couples come forward wanting to serve in the church."

Calling all HuffPost superfans!
Sign up for membership to become a founding member and help shape HuffPost's next chapter
BEFORE YOU GO
PHOTO GALLERY
Inside a Church of Jesus Christ of Latter-day Saints Temple