Five or 10 years ago, a hiring manager encountering a job prospect with a "digital marketing degree" might have wondered what diploma factory the candidate visited online to score that quirky credential.
But like everything internet-related, things change -- and quickly.
Today, digital marketing majors fresh out of college are in high demand, says Richard Last, senior director of the Global Digital Retailing Research Center at the University of North Texas.
The school, which confers a four-year digital marketing degree after an intense deep-dive into nearly all aspects of e-commerce, sees its graduates snatched up quickly by retailers looking for an edge.
"We're, I'd say, at close to 90 percent employment at graduation," Last says. "One hundred percent in three months."
The majority of those students, Last says, are hired to do site merchandising, the work of making sure the right products are presented in the right way, at the right time, at the right price and in the right combination to encourage web visitors to buy.
Merchandising has always been important, going back to the pre-internet days. But e-commerce has raised the stakes. And the rise of mobile, big data and the tools to quickly and meaningfully analyze it, have brought a new prominence to the role of site merchandiser.
It is a post that is gaining importance and influence in the world of e-commerce, while providing the potential to become a retail leader.
Those who are trained or have experience in digital merchandising have a particular value to an e-commerce operation, Last says. Their perspective is both broad and deep.
"Those site merchandisers are the potential leaders of your e-commerce efforts going forward, because they are so grounded in all aspects," he says. "They're working with marketing. They're working with merchandising. They understand analytics, which is so critical, and the levers to pull from a financial standpoint. They really understand how to profitably grow the business."
And the jobs are out there. Not only can the 160 or so students in the North Texas digital retail program feel confident about finding work, Last says, it would be reasonable for a college graduate in the Dallas area to expect to land an assistant merchandising job paying $50,000 or slightly more a year. And job site Glassdoor lists site merchandiser annual salaries ranging from $38,000 to nearly $90,000.
Now, as proud as Last is of his students, he's not suggesting a graduate right out of school is ready to be the savior of a struggling e-commerce enterprise. (Though, who knows?) As with most jobs, there is a general progression, but it is that very progression that enables site merchandisers to so clearly understand the challenges and opportunities of digital commerce.
A recent graduate might sign on with a digital retail operation as an assistant site merchandiser, a person who makes sure the site's products are all properly set up in the database; that prices and images are right, including alternate images, color-changes and zoom images etc.
Those responsibilities would expand into putting business priorities into practice: Revenue looks good, but gross profit is falling short? Time to promote high-margin products by creating a landing page, suggesting an email campaign or moving them up the page.
Given a retailer's focus on conversion, Last says, a merchandiser's responsibilities would move into analytics: Looking at the relationships between product views and conversion and digging into why some highly viewed products were not selling well, for instance, or why some items were hot sellers even though they were attracting relatively few views.
Are products with high page views, but low conversions priced right? Is the image confusing or the description unclear? Are products with high conversions, but low visits in the right place on the page?
"There could be any number of factors," Last says of counter-intuitive findings, adding that the question is: "Could those be corrected?"
Site merchandisers' view into such puzzles has been enhanced greatly by data tools that help them see in real-time what is happening on the site and how consumers are behaving in terms of searches, product views, adding items to their carts and buying.
Roxanna Holley, a merchandising manager at a business-to-business labeling and packaging company, learned retail from the ground up -- starting out working as a cashier at a Texas Sears store.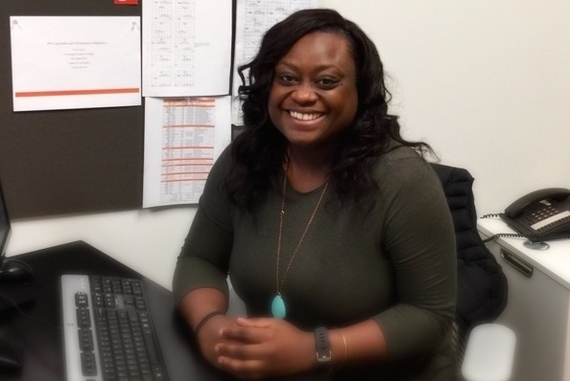 She studied retail marketing in college and soaked up every bit of wisdom she could, working at a series of retailers during and after college. Her career trajectory was meteoric -- clerk, sales, department manager, assistant store manager. And then a jump from brick-and-mortar to e-commerce, where she worked on site merchandising and immersed herself in data.
And now Holley, 28, is in a position where she will be leading a fledgling e-commerce effort for a global business-to-business enterprise with $6 billion in annual sales.
Yes, brick-and-mortar experience informed Holley's e-commerce success, but it was her e-commerce work that contributed to her landing her current job.
"They didn't hire me because I had a retail background," she says, "they hired me because I had an e-commerce background."
Like Last, Holley says site merchandisers are in a prime position for advancement because of the breadth of work they do and experience they gain.
"I call us the utility players," Holley says of site merchandisers. "We are responsible for so much and there are other things that you wouldn't say are necessarily part of our job description that we do. It's really learning all aspects of the business. Being a good project manager, understanding design, understanding copyright, understanding IT and development and how all those different roles play into what you do."
The opportunity to peer into most aspects of e-commerce puts even a beginning site merchandisers in a strong position to move up, Last says. An assistant site merchandiser, for instance, might become the merchandiser for a small category of products and then a bigger category, then an entire site. Next stop: a director-level position overseeing merchandising or maybe a vice president title.
After that? Why not the C-suite, including CEO?
In fact, Scott Silverman, a retail consultant with a vast network and deep experience, has said that retail organizations will look to e-commerce for the next generation of executive leadership.
"I think we're seeing the importance of a data-driven mindset in retail overall, and not just e-commerce," he told me at the Shop.org Digital Summit in October, "and we're seeing the value that that can bring to the entire organization."
And so the future for site merchandisers looks bright, though Last offers one caveat: Some retailers are actually de-emphasizing the role, arguing that the types of decisions site merchandisers make can be all-but-completely automated.
It's not a path he recommends for most retailers. In fact, with the rise of mobile, social commerce and powerful tools to provide insights based on data, the human element -- the ability to act on intuition and understand fellow humans -- is more important than ever.
And that's not just his hunch. Last, after all, is the one watching those North Texas students march off into the e-commerce world and all that that holds.
Mike Cassidy is BloomReach's storyteller. Contact him at mike.cassidy@bloomreach.com; follow him on Twitter at @mikecassidy.

Calling all HuffPost superfans!
Sign up for membership to become a founding member and help shape HuffPost's next chapter