In 2013, I took 50 cakes to bars around Los Angeles in hopes of baiting a boyfriend. It seemed like a practical plan: bake cakes, take them to bars, a nice guy would surface, and we'd move in together after a tastefully long courtship.
That's not really what happened, although that's not to say there wasn't any progress made in the being with boys in bars department, a previously unchartered and murky territory.
I went from being someone who played board games on Saturday nights to someone who chatted up adult film directors and pot entrepreneurs at two in the morning over slices of homemade cake. I was going up to Bulgarian tennis players and eccentric IT geniuses and handsome southern screenwriters to offer them cake and then like, exchanging texts with them afterwards. My cakes were landing me dates with high-up Hollywood assistants and a guy who claimed he stole people's information for a living, but in a legal way. Suddenly boys were kissing me good-bye in bars and kissing me as thank you for cake, more boys than I'd talked to in the whole of my undergraduate career.
I finally felt like I wasn't missing out anymore, not just sitting at home waiting for the right person to stumble upon my witty online dating profile. (I was also becoming a master of frosted, messy dessert transportation, and a logistics expert when it came to entertaining in bars, i.e. how many people can you cram around that miniature bar stool you're now using as a serving platter.) I was radiantly happy, I was more confident, and I was still, technically, completely single.
I didn't finish the year with a boyfriend, but I got a book deal--a far better win, as far as I was concerned. I spent most of 2014 writing short stories about all the guys I met cakebarring, and testing recipes for the book in my half functional oven. The guy who made contact with my mouth is paired with a Sticky Maple Kiss Cake. The guy who got handsy is paired with a Bear Claw Cake. The guy who invited me to his backyard is a Chocolate Bananas Cake, and so on. There are 35 stories and 35 original recipes, along with lessons I picked up along the way.
I was in the middle of outlining my first chapters when I got set up on a blind date--a very blind date, as there were no pictures involved and no last names given, eliminating the possibility of any Facebook stalking beforehand. Blind Date and I had a perfectly friendly dinner together, and I went home thinking it was nice he paid for everything and not much more; I told him I was about to be very preoccupied with a giant writing project. One month later we had coffee. Two months later we played tennis. He told me he thought southern hospitality wasn't a real thing, and I thought about never calling him again.
Then something shifted when he started remembering when Chrissy, my best friend, was having MRI appointments to gauge her cancer treatment. He offered help when we had to move out of our old apartment, and to come to the emergency room when I had to admit Chrissy to the hospital in the middle of the night. He took me to a Paul McCartney concert for my birthday, and put on Hanson's Middle of Nowhere album as I fell asleep on his couch. He's the first person I showed my book proofs to.
As hugely grateful as I am for the opportunity to have written a book, I'm so lucky that it tied me up enough to allow a slow and steady friendship with someone who naturally turned into my boyfriend. I would run around LA with another 50 cakes--another thousand cakes--if it meant finding Jamie at the end, who does, thank goodness, love cake.
Sitting in Bars with Cake, Lessons and Recipes from One Year of Trying to Bake My Way to a Boyfriend is available for pre-order. It comes out April 7th, 2015.
You can read more about my cakebarring adventures here.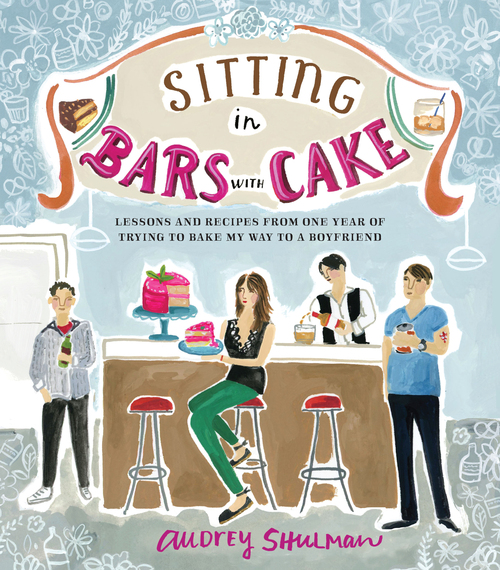 Support HuffPost
The Stakes Have Never Been Higher
Related
Popular in the Community