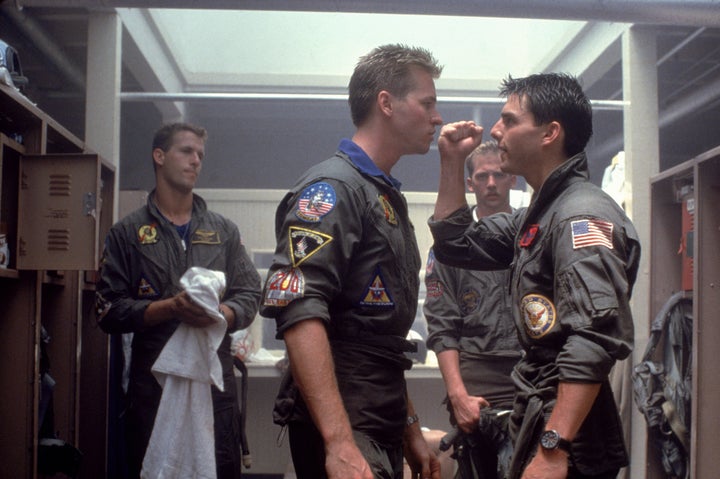 Thirty years ago this month "Top Gun" hit theaters, shooting to the top of the box office and becoming the highest-grossing movie of 1986.
The Tony Scott-directed film, which follows trainees at the Navy's Fighter Weapons School in San Diego, starred a young Tom Cruise as Lt. Pete "Maverick" Mitchell, a naval aviator aboard the aircraft carrier USS Enterprise. Cruise graced the big screen alongside Val Kilmer, Kelly McGillis, Tom Skerritt, Rick Rossovich, Tim Robbins and Anthony Edwards.
Rossovich, who starred as Ron "Slider" Kerner (a junior grade lieutenant), told The Huffington Post, "We met and we gelled as a group and we took San Diego by storm. We just had a ball in that city ... We took over the Navy. Can you do that today? I don't think so. We were on the USS Enterprise," he added. "They flew us on. And I was out to sea with 6,000 men for several days and it was like, 'What an experience!' … It all became CGI after that."
During a recent interview with HuffPost, Rossovich provided behind-the-scenes insight into the making of the film, now officially in the National Film Registry of the Library of Congress.
How the actors spent their downtime
"I did a lot of photography behind the scenes, and Val actually had a video camera. There's a lot of stuff behind the scenes on that video tape, let me tell you. It was great. So it kind of puts my life into little snapshots. I was married for two years at the time, and now I'm celebrating my 33rd anniversary … I was one of the few guys who were married."
Rossovich's off-set accident
"I almost killed my wife the day before I flew in the jet. I was on a bridge on Mission Bay and I was involved in a car crash. It totaled the vehicle I was in -- and miraculously none of us [were] hurt … But then the next day I got into a jet and she was on the runway in a Jeep and she watched me fly away, out overseas … He [the pilot] pulled out every trick. He even stalled the airplane … He turned it off and we sailed for a little bit and then he turned it on, which you're not really supposed to do. He did some really horrible left-hand turns and I thought we were crashing. He really wanted to make me vomit, but I didn't. We saw all that stuff when we saw our daily [footage] -- we saw who threw up, who didn't."
The first time Rossovich met director Tony Scott
"When I first met Tony, I went to Paramount for the meeting and I walked in and we just started chatting and I broke the ice. We're having a nice conversation, and I looked down at the floor and there was a Bruce Weber book on the floor in a pile of books. On that cover was a shot of a guy from the Navy and it looked like me from the back … I look exactly like this guy. And I said, 'Tony, look, there I am. That's a picture of me, you know!' And at first he couldn't tell if I was lying or not, and of course I was lying. And eventually I was cast … He was so genuine. He was so warm. You trusted him and you could be yourself."
What it was like having Tom Cruise as a co-star
"There was a hierarchy on the set. Tom was the star. I remember where we were staying -- The Bahia -- and I remember going to Tom's room, and we were all going to do something. But we were waiting to see him on 'Entertainment Tonight' the first time. I think it was [for] 'Risky Business,' or something. I worked with him before on a little movie called 'Losin' It' that we had done a few years before, so I knew him a bit and we were friendly. We all gelled. And there was a real camaraderie. It was a group effort. We knew what buttons to push and what not to push. And then it was over. In three or four months, it was over."
Inside the "Top Gun" stunts
"It wasn't a bunch of hocus-pocus. It was real. They were flying jets. I landed on a carrier in a helicopter. And I took off in the oldest plane the Navy had at the time. It kind of scared me for a second, because the plane just dropped. It was a propeller plane … and I reached over and I grabbed the guy's hand next to me."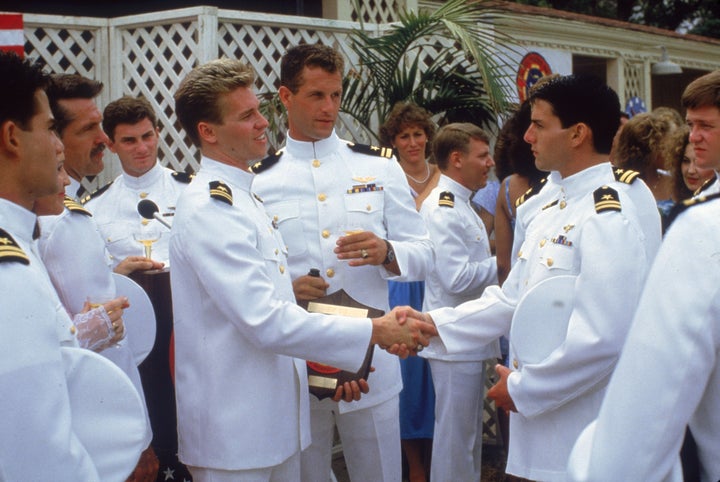 The longevity of the film
"That movie has kind of been with me every day of my life, like a family member. I was in the paint store the other day in Sweden and the guy I get my paint from was talking about 'Top Gun' and he had stories. And he lives in a little town in the middle of Sweden! It's a phenomenon that certain movies get to -- and get to stay relevant."
The 30th anniversary edition of "Top Gun" is available on Blu-ray Steelbook and on Digital HD.
REAL LIFE. REAL NEWS. REAL VOICES.
Help us tell more of the stories that matter from voices that too often remain unheard.
BEFORE YOU GO