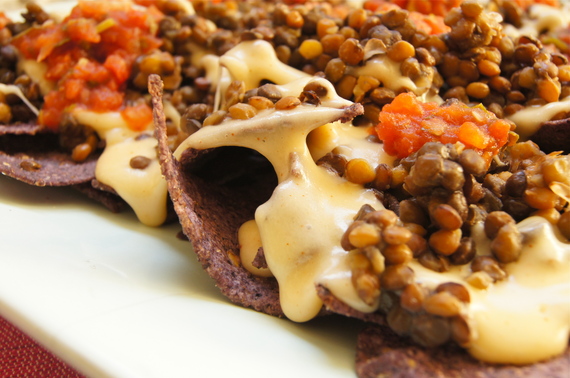 That Super Bowl Sunday must end with a winner and a loser is a foregone conclusion. That it has to end with a belly ache from too many trips to the junk food buffet isn't.
Here are seven scrumptious ways to satisfy game day cravings, just a little bit better for you.
These babies are a dream because they're done effortlessly in the slow cooker using lean pork tenderloin instead of pork shoulder. That means they're lighter on the waistline with a boost of crunch and nutrition from all that flavorful slaw. Use a whole grain bun, and you've got added fiber, too.
Skip the pre-packaged ranch and opt for this low-fat homespun version that is easy to whip together and has all the herby creaminess you want in a dip.
(photo by Jennifer Martine)
These beauties are topped with a homemade cheese sauce that doesn't have any of the creepy ingredients typical of nachos at the football stadium. Plus, they're layered up with lentils instead of ground beef, which means less fat, more fiber. All that and they still meet the criteria for excellence: cheesy, crunchy, and packed with flavor.
This takes a state fair classic and turns it up a notch on the nutrition front without losing any of the fun. The recipe replaces nacho cheese chips with Sun Chips, which means knocking out the artificial ingredients and some of the fat. Layer on beans, ground turkey, and plenty of other goodies, and it's a perfect way to feed a game-day crowd. Plus, no dishes.
The taco gets a fresh new look here that can satisfy vegetarians and carnivores alike. Collards take center stage along with a savory homemade salsa and a spoonful of tangy crème fraîche to finish.
This is a lightened up version of one of the tastiest dips out there. Pair it with a whole mess of crunchy vegetables, and you're good to go.
A one-pan meal that packs in everything we love about Tex Mex along with plenty of vegetables and beans. Set it out with whole grain tortillas or chips and it won't last long on your Super Bowl buffet.
These recipes originally appeared on Katie's blog, Mom's Kitchen Handbook, where you can find more inspiration for feeding a family. You can also follow her on Instagram @KatieMorford