One day, a few years back, I opened up the refrigerator and saw a jar of tomato sauce and there was Paul Newman staring me in the face. I'm a big Paul Newman fan. I even had the pleasure of getting to know him when my wife Kyra Sedgwick played his daughter in a film. And I have so admired his dedication to doing good through Newman's Own. I wondered how I could use my name to do some good in this world? What did I have to sell? When you think of Kevin Bacon what comes to mind? And somehow "The Footloose Foundation " just didn't feel right. All I could think of was the 'Six Degrees of Kevin Bacon' game. Then it hit me... Six Degrees dot org.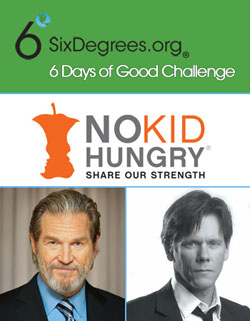 Through Six Degrees of connections, I got hooked up with Network for Good, and we launched a joint initiative at www.SixDegrees.org in 2007, one of the first social networks for social good. The site is all about regular people, passionate about social change, becoming celebrities for the causes they care about. Through SixDegrees.org, you can support your favorite charities by donating or creating a social fundraiser -- as well as check out the favorite causes of other people, including celebrities. You can also pay it forward with Good Cards® - gift cards for charity that can be redeemed as a donation to more than 1 million charities.
And now you can help end hunger by becoming a celebrity for your favorite charity working to feed those in need here at home or around the world.
In the U.S., 1 in 5 kids is hungry. My good friend Jeff Bridges, the national spokesperson for the No Kid Hungry campaign, has been working to help hungry children for over 30 years. This week, I'm teaming up with him to put our Six Degrees networks in action to end hunger. And we need you. Please take the 'Six Days of Good for Hunger' challenge, starting today, Monday, September 24. Your favorite hunger charity could win up to $6,000 in challenge grant funds from me. Challenge details are available at www.sixdegrees.org/6daysofgood.
I truly believe that it's a small world and that every good deed can add up to real and lasting change, especially through the power of technology and social networks. Imagine if every one of us gave just $10. Those small amounts could result in significant resources for causes working on the front lines of social change. That's why '6 Days of Good for Hunger' is just the beginning of the SixDegrees.org challenge series. I plan to band with other Celebrity Ambassadors - including my wife Kyra, who champions the important work of the National Resources Defense Council - to use our Six Degrees networks to make a difference for global aid, the environment, health, animals and youth over the next year. And we'll need your help. Stay tuned to www.SixDegrees.org/6daysofgood for more exciting announcements on the '6 Days of Good' challenge series.
It's a small world. You can make a difference -- and be 1o from me!
REAL LIFE. REAL NEWS. REAL VOICES.
Help us tell more of the stories that matter from voices that too often remain unheard.