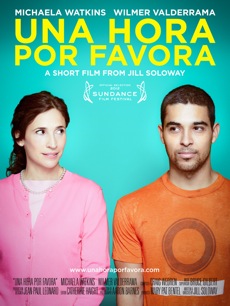 Meanwhile, the Latino day laborer character was in the spotlight yet again with Wilmer Valderrama's portrayal of character "Arturo" in writer/director Jill Soloway's film Una Hora Por Favora when it premiered in the Shorts Program of the Sundance Film Festival in Park City, Utah.
The film Una Hora Por Favora shares the story of a lonely woman "Elissa" (played by Michaela Watkins) who, when she desperately needs her shower fixed, picks up a Latino day laborer named "Arturo" (Valderrama). Elissa and Arturo are quickly swept into a whirlwind love affair, and soon Arturo is introducing his new girlfriend to his barrio, and she takes up studying Spanish. The couple seems to swap cultures before the relationship sours. In Una Hora Por Favora, it appears that one hour can change everything.
Neither Chris Weitz (the director of A Better Life) or Jill Soloway are Latino, yet both directors boldly present Latino themes in their movies, as well as attempt to introduce Latino characters with depth in their chosen storylines. Soloway tackles complex subjects, including cultural assimilation and gender stereotypes, in Una Hora Por Favora. She uses comedy as the vehicle through which to disguise these controversial topics, and at the same time, slip them onto the tips of our tongues for serious discussion:
"I love the idea of creating films that are both funny and meaningful at the same time. It's a tightrope act, but it inspires me."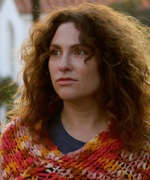 Soloway isn't a newcomer to comedy or the entertainment business; Soloway honed her comedic voice as Writer and Co-Executive Producer of the HBO original series "Six Feet Under." She was also a Executive Producer of the comedic Showtime series "The United States of Tara." Soloway was born in Chicago and got her start in the "theater and by writing essays." A fan of Woody Allen, Albert Brooks and Andrea Arnold, Soloway is 100% ready to direct her own writing: "I have worked in Hollywood for almost 20 years, so it doesn't even seem like Hollywood to me, it feels more like Detroit and the auto industry...[I] really [want] to push myself to grow as a writer and artist. Moving into directing and being forced to have responsibility for the total package [by making a short film] seemed the best way to do this."
"The fundamental storyline was already hammered out when Jill brought it our way. She had done a lot of heavy work on it. So the actual concepts, which are so applicable in contexts outside of ethnicity, were already planted. Other than that, associate producer, Daffodil Altan, and I were able to sit with Jill and really help articulate how the details of Wilmer's character's background would navigate the details of his behavior within the film's narrative."
Latinos Altan and Villalobos are happy with the portrayals of Arturo and the other day laborer characters in the film, not necessarily for what the characterizations appear to be at the film's first frame, but where they unfold to during the film's story. Altan explains:
"I'm Latina, so yes, I realize that the film is a comedic representation of one of the most ubiquitous but rarely explored modern immigrant character: the day laborer. I'm proud and grateful that this film [is] able to humanize and destigmatize the idea of who a day laborer is, and to free Wilmer's character--and the supporting cast of actual day laborers--from the awful and alienating stereotypes often attached to brown, working class immigrants."
Together with writer/director Soloway, Villalobos and Altan were dedicated to making the character of Arturo complex and multi-faceted. According to Villalobos:
"[Unlike] the usual, often simple objectification and alienation of immigrants in the media, Una Hora Por Favora takes the time to look at one undocumented worker from some very subtle viewpoints-- in this case as a critical, insightful person who confronts his "overseer," or objectifier ["Elissa"] in surprising and intimate ways. Without being too obvious, Wilmer's character demonstrates the sharpened ability to adapt that is required of any immigrant."
Casting Valderrama as the role of Arturo was an easy decision. As Villalobos states:
"[Wilmer has] a presence that puts people at ease; He's the Ricardo Montalban international playboy of our time! ¡Esta guapo y las mujeres lo quieren!"
In Una Hora Por Favora, it seems the theme of gender stereotypes is turned on its head at the same time as the ethnic one: Elissa has an 'idea' of men prior to her encounter with Arturo, but she discovers a newfound respect for them through their romance. This revelation just may lead Elissa to ultimately fall in love...or so we are teased into believing when the film ends.
MORE ON SUNDANCE FILM FESTIVAL
Sundance Film Festival rolls up its red carpet on Sunday, January 29th, as the 11-day film festival comes to a close. The 2011 festival at a glance? 112 feature films from 29 countries; 64 short films from 18 countries; 89 World Premieres; 44 first-time feature filmmakers; 1,853 volunteers; and 22 sponsors.
Calling all HuffPost superfans!
Sign up for membership to become a founding member and help shape HuffPost's next chapter