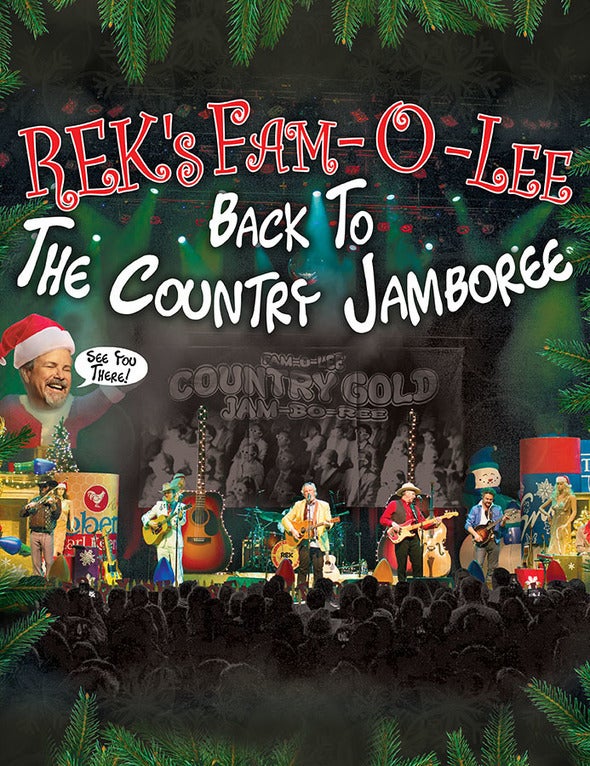 If you haven't bought your tickets for Americana icon Robert Earl Keen's annual holiday show tour, "Merry Christmas From the Fam-O-Lee," that kicks off Monday, Nov. 27, at the Tivoli Theatre in Chattanooga, Tennessee, it's not too late. And if you've never experienced it, it's sure to become a favorite family tradition.
This year's theme is "Back to the Country Jamboree," which promises fan favorites including the show's title track as well as some of Keen's classic hits "The Road Goes On Forever," "Corpus Christi Bay" and "Gringo Honeymoon."
One of the show's highlights is when each member of Keen's all-star band dresses up as and performs songs from Neil Young, Bob Dylan, Tom Petty and Dwight Yoakam.
"It will be country but we'll explore the country rock side of things, and we might mashup a couple of tunes. I am going to do a couple of characters," he explained in a recent phone interview from his home in Texas. "In my role, I like being the MC and talking about what they are doing. And there will definitely be some hijinks."
Keen decided to expand the 2017 Christmas tour to include twice as many shows as last year with it stretching up and down the East Coast and across the South, including two North Carolina dates in Charlotte (12/1) and Durham (12/3). Visit www.robertearlkeen.comfor dates, locations, tickets and more.
Q:  What's the best part of any given day?
A:  I really love the stage and performing. With the exception of a few shows, the two hours I spend on stage are the best two hours of my day. I've always felt a home on stage and I'm always trying to do a really good show and trying to play my best. I really never really check out on any song because I really love playing it.
Q: You've mentioned you don't like to rehearse. Why not?
A: At soundcheck, we're always tweaking little parts of songs. We play songs and we fix things and change things. That's very enjoyable to me. I've had some rehearsals and they have always gone badly. I have great, great players who don't need rehearsals.
A: Vinyl. I was in a tricked out greenroom in East Texas and it had this great high-quality turntable with two or three records. One was Johnny Cash. I love the process of picking up a record and dusting it off. The ease we have created around listening to music has made it disposal. The newness of changing tracks on CDs wore off immediately. I think the process is part of the enjoyment and the satisfaction. I think that's why vinyl is coming back. Go try it for an hour or two. You know after five or six songs you have to turn over it. It was a great couple of hours for me and I think it's the process. I miss that process.
Q: What can't you get through the day without?
A: I can't get through the day without a nap. I call it touching base. I close my eyes for about 15 minutes and when I wake up, I'm ready to go.
Q: What kind of whiskey do you drink?
A: My favorite whiskey is Blanton's 1994. It's made in Frankfort (Kentucky) and one of the original single barrels. i've yet to find one that's better.
Q: How are you trying to reach the next generation?
A: Short songs, Snapchat songs, 90 seconds. Less is more. I'm working on a whole pile. Occasionally I'll put one or two in a show but most I have kept in my back pocket. It's going to take three times as many songs to fill an album. Sometimes I think this is stupid, but I keep writing them."
Calling all HuffPost superfans!
Sign up for membership to become a founding member and help shape HuffPost's next chapter
This post was published on the now-closed HuffPost Contributor platform. Contributors control their own work and posted freely to our site. If you need to flag this entry as abusive,
send us an email
.