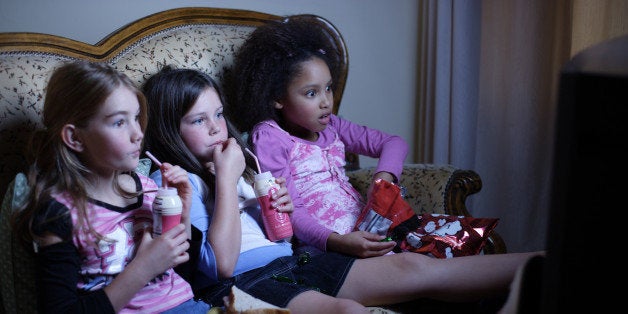 It starts with the cajoling from your daughter: "Please, please, please, can I have a sleepover party for my birthday?" followed by promises that she'll be good and everyone will go to sleep early and it will be totally great! Something inside you resists, in large part because the idea of shushing a gaggle of girls throughout the night seems dreadful. You also sort of, kind of, remember from your own sleepover party years that they don't end well. But it's all a bit hazy. Let me jog your memory as to why.
The girl who hosts the party always "loses it" at some point because nobody is paying enough attention to the fact that it's her birthday after a couple hours. She feels dissed because this is supposed to be all about her. Or, the pressure becomes too much for her to keep everyone else in good spirits for so many hours. So she starts bossing everyone around out of anxiety, or comes to you in tears because she's miserable.
Within minutes of arriving, the girls will start negotiating about who they are going to sleep next to that night. Some girls will be thrilled to "lock in" their desired sleep-buddies. Others will feel rejected and hurt, leading to misery and tears and possibly a few girls insisting they want to go home.
At least two, if not more, girls will inevitably whisper about one of the other girls as a way of bonding. They may gossip about another girl's "lame nightgown," the way she snores, how "weird" she's being, etc. That girl will overhear the whispers, cry and insist on going home.
Some girls will want to go to sleep before the others, and will become totally fed-up with the giggling and shrieking. The early-bird sleepers will ask the others to pipe down and even beg them, but the late-birders will refuse because they're not tired and having fun. Fighting ensues.
You, the mom host, will have to tell the girls at least a few -- and possibly a billion -- times to go to sleep after 10 p.m.. Your daughter will worry that everyone is going to hate you for being too strict. (How did you become the enemy? You didn't even want to host this party.)
All of the girls will be a giant, exhausted, teary mess the day after the sleepover, whining and weeping over the tiniest things (the sun is too sunny, the pancake syrup is too sticky). You will be waiting in desperation for the other parents to come take their child away. They will want to hear how the evening went, and you will be too tired to tell them coherently.
Is it all coming back? For all these reasons, and so many more, I suggest rethinking whether throwing a sleepover is truly the best option. Far better: a sleep-under, in which your daughter's friends come over wearing their pajamas and enjoy all the perks of a sleepover (movie, cake, wild silliness) but leave at around 9:30 p.m.. Everyone gets a good night sleep, including you, and it's less pressure on everyone to have fun for that long. If you're still unconvinced or already promised your girl a sleep-over, might I suggest investing in high-quality ear plugs, boxes of tissues and a solo room for yourself at a hotel the next day?