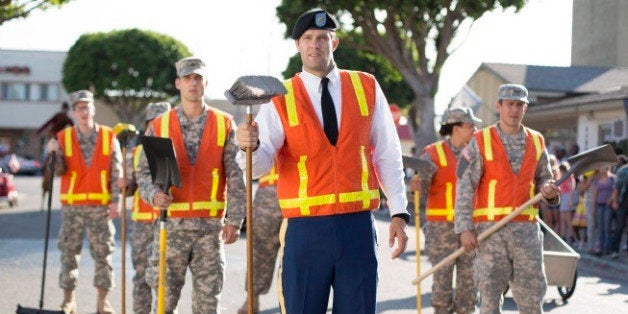 Please watch "Enlisted." It's the best comedy on TV right now.
You might ask why I'm saying this on a Tuesday, when "Enlisted" airs on Fridays on Fox (and this week's episode is a repeat -- of one of the show's finest episodes, as it happens).
Well, it's partly because Ryan McGee and I just recorded a new podcast in which we talked about the Fox comedy (as well as "Scandal," "Doll and Em" and several other shows), so there's fresh "Enlisted" praise for you to absorb and meditate upon.
And though it's undoubtedly important to watch the show Fridays on Fox if you can, watching it on DVR, On Demand, on Hulu (where every episode is available for free) or on iTunes certainly can't hurt. That's how you can see the show, which has struggled in the ratings. But why should you watch it? I wrote about that in my original review, but I'd like to double down and expand on my previous thoughts.
A few reasons to watch "Enlisted":
1. Each episode packs in a whole lot of funny. Sly humor, physical comedy, relationship hijinks, workplace goofiness, smart wordplay, subtle irony, zany, go-for-it lunacy -- "Enlisted" manages to balance all those kinds of humor in each half-hour installment and yet stay true to the story it's telling about a Florida-based Army platoon attempting to improve its lot. As "Enlisted's" first season has gone forward, the show has only gotten better at successfully integrating and mixing up all those different kinds of humor without losing focus or tilting the whole enterprise too far in one direction or another. If you like to laugh and enjoy yourself, "Enlisted" will likely have one or two or five brands of humor that will suit you.
2. The supporting cast is uniformly fantastic. Some actors only have a few lines per episode, but every actor in the cast makes every moment count. I hesitate to single one person out because they're all very skilled, but I have to: Mel Rodriguez as Chubowski manages to make every one of his lines sing with a special brand of gentle insanity. Part of the reason the supportive cast is so effective is that each character has a very defined and funny role to play within Staff Sergeant Pete Hill's misbegotten platoon. These aren't just a bunch of random, half-defined figures who are there to set up punchlines for the leads; they're invariably endearing, unpredictable and amusing in their own right.
3. The core cast remains delightful. As Randy Hill, Parker Young, like Chris Pratt on "Parks and Recreation," makes energetic stupidity and relentless enthusiasm one of the most entertaining combinations on TV. As Derrick Hill, Chris Lowell (of "Veronica Mars" fame) finds the insecurity underneath his character's studied nonchalance, and as big brother and platoon leader Pete Hill, Geoff Stults is a peerless straight man able to play comedy and pathos with equal ease. On top of that, Angelique Cabral, who plays the leader of a rival platoon, and Keith David, the man in charge of all these goofballs, are brilliant foils who also have their own agendas, personalities and intelligence. It's rare to see a cast mesh this well this fast; even "Parks and Rec" and "The Office" didn't manage it as quickly as "Enlisted" did.
4. The show's about something. Not every comedy has to have deeper meanings, layers of sincerity or a backdrop of aspiration, but when done right, those kinds of foundations tend to make a good comedy even funnier. If these men and women weren't actually trying some of the time -- trying to connect with each other or simply trying not to be the worst platoon in the Army -- their setbacks wouldn't be quite as entertaining or affecting. If the deep bonds among the characters on shows like "Community," "Parks and Recreation," "The Big Bang Theory" and "Modern Family" appeal to you (or have appealed to you in the past), this show should be right up your alley.
5. It's not like every other comedy. "Enlisted" is set on an Army post, which means it's not traveling the same path as every other group-of-friends-in-the-city sitcom or family comedy. In the right hands, a military setting can supply terrific fodder for stories that are both silly and serious (a la "M*A*S*H"), and like that comedy classic, "Enlisted" doesn't mock the service of those in uniform (for example, an ongoing story about Pete's PTSD, a topic creator Kevin Biegel wrote about here, has been handled with delicacy and restraint). While remaining a very accessible workplace comedy, "Enlisted" has fun with the particular foibles of soldiers and milks the chain of command for a lot of amusing storylines. Next week's episode, "Paint Cart 5000 vs. The Mondo Spider," which features a smarmy new lieutenant, is particularly effective on that topic.
6. Its fans are awesome. Yesterday on Twitter, I asked what fans should send Fox in an effort to keep the show alive (I noted that mailing in grenades would probably send the wrong message). Some of the responses I got included the following: "Baby blue half-shirts" (a reference to one of Pete's more memorable outfits); "a prosthetic foot" (David's character has a prosthetic foot that he frequently detaches and uses in emphatic moments); Humvees; toy soldiers; and "Toy Story 3" DVDs (the movie that invariably turns Randy into an emotional mess).
The suggestions were all entertaining, but I appreciated the idea from Bart Smith the most. Bart's idea: Make a donation to the Wounded Warrior Project in the show's name. It's a terrific idea, and I've done just that.
If you go to the Wounded Warrior Project, you can make a donation in honor of a particular person or entity. As you can see from this screenshot, I made my donation in the name of "Enlisted" and my late father, who served in the Marines. The charity will send an acknowledgement of your donation to an individual, and if you want to, you can do what I did: I had the acknowledgment of my donation sent to Kevin Reilly, the head of Fox, the man who will decide whether "Enlisted" lives to serve another tour on TV. (Reilly's address: Kevin Reilly, Fox Broadcasting, 10201 W. Pico Blvd, Los Angeles, CA 90035. The Fox network's feedback email, by the way, is here.)
I can't bear the thought of "Enlisted" not making it to another season; if any show deserves to develop its world and its lovably loony characters, it's this sterling half-hour. So I'll keep hope alive and urge those who like the show to do their best to spread the word about it. Keep in mind, there are still five episodes to come this spring and anything can happen -- and as Vulture reports, fan engagement is often a leading metric that networks use when evaluating the success of their comedies.
If fans want to join the Save "Enlisted" mission, keep in mind that donations aren't necessary, given that viewer eyeballs on Fridays, on DVRs, on Hulu and On Demand will likely determine the show's fate. But if some fans are financially able to donate and want to support a good cause while spreading the word about the show, that's a beautiful thing. If Bart's idea takes off, whether or not the show gets another season, those who are able to donate will have done a little bit of good. (By the way, if you share your #SaveEnlisted efforts on social media, feel free to let the show's Facebook page and Twitter account know.)
"Enlisted" airs 9 p.m. ET Fridays on Fox.
I've embedded a full episode of "Enlisted" below. And in a new Talking TV podcast, which can be found here, below and on iTunes, Ryan McGee and I discuss "Enlisted," "Crisis," Believe," "Resurrection," "Doll and Em" and several other HBO half-hours.

Before You Go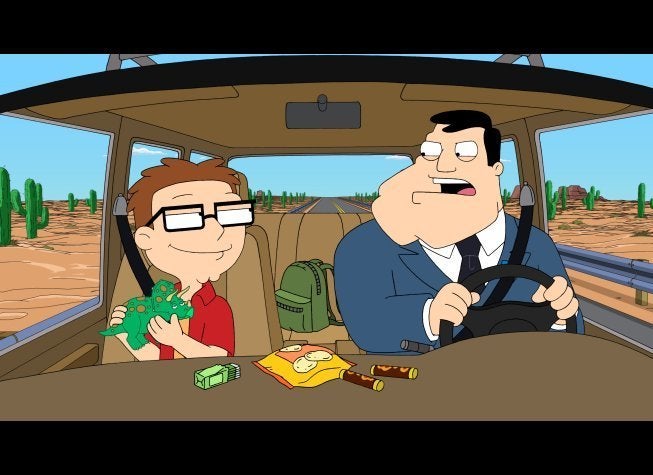 Fox Shows
Popular in the Community