On Aug. 6, Detroiters will head to the polls and pick the two mayoral candidates who will face off in the general election this November. The race for mayor has been a two-man contest since the beginning -- between Wayne County Sheriff Benny Napoleon and Former CEO of the Detroit Medical Center Mike Duggan.
Other candidates failed to gain traction with voters, but they thought their fortunes would turn once frontrunner Duggan lost his spot on the primary ballot due to a legal technicality. Duggan reemerged after this challenge bigger and better than ever, however, launching a grassroots write-in campaign. Now that he's back in the race, the voters of Detroit should support Mr. Duggan in his bid to be the next mayor of Detroit.
Yes, I know what you're thinking. Write-in campaigns are typically dead on arrival -- let alone successful. Duggan himself hesitated to relaunch his campaign. His supporters throughout the city, though, changed his mind.
So why should the people of Detroit pick Mike Duggan as their man, write down his name, and fill in that circle on the ballot?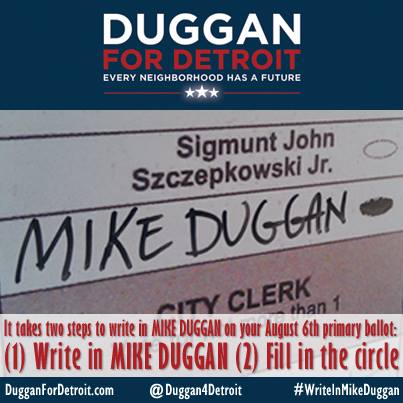 As Aug. 6 comes closer and closer, here are six reasons to write in Mike Duggan:
1) He's A Turnaround Specialist
It's no secret Detroit is grappling with a staggering $18 billion debt. After the city filed for chapter 9 bankruptcy, Detroiters need to rally behind a leader who can seriously grapple with budgets and figures.

Wayne County suffered through 17 straight years of budget deficits when Duggan took over as Deputy County Executive in 1987. Under his leadership, he turned around Wayne County and secured fifteen years of balanced budgets.
As CEO of DMC, Duggan transformed a failing hospital system into a premiere institution of Detroit. Prior to 2003 when Duggan came on board, DMC was in dire straits -- thousands of layoffs were planned, and the system considered closing hospitals to stay afloat. Mike stemmed the devastating layoffs and presided over a complete comeback for DMC. That same leadership will lead Detroit out of bankruptcy, and out of emergency management.
Duggan forged strong alliances with leaders from all communities. In addition to support from business leaders, community advocates strongly support Mike. Well known activist and head of Detroit's New Black Panther Party, Malik Shabazz, stood behind Mike Duggan from the beginning. In an interview with MLive, Shabazz stated:
"I'm not supporting the best black candidate. I'm supporting the best candidate... We need legal experience. We need government experience. We need crime fighting experience. And we need business experience. Mike Duggan is the only candidate that offers all of that."
Duggan served as Wayne County Prosecutor from 2001 to 2003. With superb leadership, Duggan proved successful in helping repair DPS schools, as well as combating blight and drug houses.
As CEO of DMC, Duggan made sure that anyone coming to the emergency room would be seen by a doctor within 29 minutes. He also shifted focus to put all available resources to support anything related to direct patient care, which significantly improved customer satisfaction. Since police response time is on average over 50 minutes, it is imperative that Detroit look at more efficient ways to allocate crime fighting resources.
4) Transit Is a Top Priority
Detroit's transit systems are a mess, but luckily Mike knows exactly what to do. Duggan became the general manager of the SMART bus system in 1991. He reorganized the failing transit system, and achieved a 50 percent increase in reliable bus service. Detroit's bus system, DDOT, is growing more insolvent by the year, and often failing to move residents from point A to point B. Detroit needs a leader with the experience to deal with transit issues.
5) Economic Development Guaranteed
The steady resurgence of a quality downtown, complete with Comerica Park and Ford Field, led the city's development in recent years. It was Mike Duggan who helped negotiate the $545 million deal to bring those stadiums to downtown in the first place.
DMC also desperately needed a makeover when Mike took over. As CEO, Duggan secured investments from Vanguard Health Systems to facilitate new construction. Every year since 2004 DMC turned a profit, a remarkable accomplishment for a medical system many considered down for the count. As mayor of Detroit, Mike Duggan's leadership will transform this city of abandoned skyscrapers into one that builds great things once more.
6) No Other Candidate Has a Catchier Jingle
Drive your friends crazy, and save Detroit at the same time -- what could be better?
Calling all HuffPost superfans!
Sign up for membership to become a founding member and help shape HuffPost's next chapter