In less than two months, world leaders will come together for another international summit, to discuss even more global challenges. I know that sentence won't necessarily make you want to read on. I get it.
But here are six reasons why the first ever World Humanitarian Summit, to be held in Istanbul in May, deserves a bit of your attention.
1. Because the Scale of the Humanitarian Crisis is No Exaggeration
The reasons for this Summit (called by UN Secretary-General Ban Ki-moon) are not overstated. It might sound dramatic to hear people say the world is at a "critical juncture" and faces a "staggering escalation" in humanitarian needs. Well, it's true.
We have the highest level of humanitarian needs since the Second World War. More than 60 million people have had to flee their homes--the majority women and children. And the average length of displacement is now 17 years.
In addition, conflicts are more complex than ever before and, according to some estimates, the cost of conflict and violence now accounts for more than 13 percent of the total global economy. Climate change adds extra volatility to the situation.
In response, requests for humanitarian funding jumped twelvefold in just 14 years, to US $24.5 billion. Yet, last year, the world was only able to meet just over half of that need.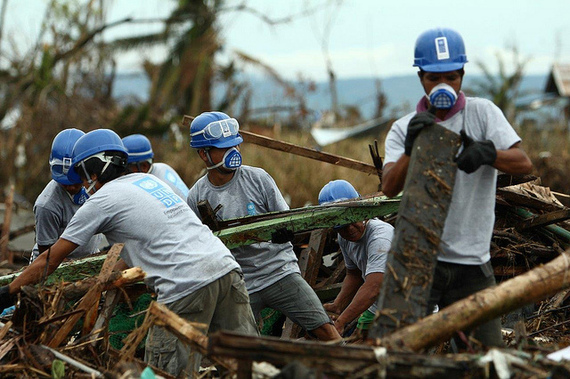 Sometimes these "global challenges" seem so vast and complex, they seem insurmountable. Maybe some of them are. But this time we know what should be done to address the problem and it's feasible.
First and foremost, we need political solutions by Member States. We want to get firm commitments from governments at the World Humanitarian Summit that they will work to put an end to conflicts.
We need to end humanitarian need, rather than simply delivering more and more aid. We have to prevent conflicts and disasters, not just manage them. This means humanitarian, development and peacebuilding actors must find new ways to work together, rather than competing for funding or working in isolation. Further, donors must commit more funding for work to predict, prepare for and prevent crises and it must be flexible, multi-year financing.
3. Because Now, More Than Ever, We Need To Treat Refugees And Displaced People With Humanity And In Line With International Humanitarian Law
After the devastating attacks in Brussels, some people are again trying to make the argument that treating refugees with dignity leads to terrorism. This is wrong.
The Secretary-General has said the World Humanitarian Summit is about putting humanity back at the heart of global decision-making. He said that meeting our responsibilities to humanity is not just a strategic necessity but also a moral imperative. And he has warned that we are witnessing the erosion of 150 years of international humanitarian law and called for "an uncompromising pursuit of protecting civilians."
4. Because It's Your Money That's Being Spent
Perhaps you don't live in a country that is hosting millions of refugees right now. But your government is more than likely funding UN agencies, non-governmental organizations or local governments that are working on these crises, or carrying out development programmes. So if you pay tax, you have a financial interest in how this money is being spent.
Each new disaster or conflict can wipe out development progress, which could have been partially funded by your government. And each new drawn-out conflict or mass displacement costs more money, to provide food, shelter, sanitation and clean water to vulnerable people.
Wouldn't you prefer your government invests more in preventing these overwhelming humanitarian needs from arising in the first place (and therefore avoiding the ever-increasing bill for the global response)?
5. Because This Isn't the Only Global Challenge
Global financial resources are finite and we have to choose how we spend our money, just like a household budget. If we simply wait for crises to erupt, and then respond after the fact, humanitarian needs will continue to grow exponentially and we will never be able to meet the costs.
But if we find a better way to tackle these humanitarian challenges, it will allow us to invest more in other global challenges, such as climate change.
6. Because It's Linked to the 2030 Agenda Which Is, Quite Literally, the Plan for the Future of the Planet
You may have heard of the 17 Sustainable Development Goals, which were adopted by world leaders in September last year, building on the success of the Millennium Development Goals. The new Goals call for all countries to end all forms of poverty, fight inequalities and tackle climate change, while ensuring that no one is left behind.
If disasters and conflict keep wiping our development gains and taking us back to square one, we will never achieve these Sustainable Development Goals.
And there is no 'Plan B' for the people and the planet if we don't achieve these Goals.
So whether you're worried about your fellow humans, or your tax dollars, or other global issues such as climate change, you have a reason to get involved in the World Humanitarian Summit.
Read more about the Summit and see how you can ask your world leader to commit to action.
You can also follow @WHSummit on Twitter and use #sharehumanity to join the conversation.
Watch for more opportunities to have your say and help to ensure this historic World Humanitarian Summit is a success.
Calling all HuffPost superfans!
Sign up for membership to become a founding member and help shape HuffPost's next chapter