Everyone I know is recovering from December. Too much of too many good things left us with that morning-after feeling. New Year's resolutions followed, as did 24/7 ads for diets and gym memberships. Now what?
Since I'm a physician and healthy food blogger, people always engage me on this topic in January. When my most exercise-averse friends announced last week that they had bought a recumbent bike, I didn't say what I was thinking: "Good start. But unless it fits into a larger plan of action, that bike won't take you where you want to go." If I had said it, and they'd asked what I had in mind, I would have shared this six-point strategy:
Rethink Snacks
Multi-task
Shop Smart
Do Breakfast
Make Meals Count
Move to Lose
Rethink Snacks
Snacks are now a "full eating event" that account for more than 25 percent of Americans' calories. If yours are healthy, you're 25 percent of the way to a healthy diet. It takes no more time to eat a protein bar or a low-fat yogurt than a bag of chips and a sugary drink. Even if you're busy, it's all about choosing right and making the most of the time you have.
Multi-task
While you're doing your laundry, you can prepare a week's worth of healthy snacks. The best options combine protein and whole grains. Whip up a batch of protein-rich Oatmeal Spice Breakfast Cookies. They're perfect for a pre- or post-workout boost or a mid-night snack. Just bake, wrap, refrigerate, and feel good about yourself all week.
Shop smart
Stock up on low-sugar low-fat yogurt, low-fat cheese, fruit, cut vegetables, and nuts. Nuts are high in calories, but they contain healthy fats, fiber, and protein. A handful can keep the hunger demons at bay and prevent you from overeating at dinner. If you brown-bag your lunch (better for your body, your wallet, and the planet), make a sandwich and a half with lean protein on whole grain bread. That extra half will make a perfect snack in the late afternoon when your energy dips. Use one of those frozen gel packs to keep it cool.
Do Breakfast
If you skip breakfast, your body goes into starvation mode and your metabolism slows down to conserve energy -- which affects both physical and mental performance. By 10 a.m., you're so hungry that you'll eat whatever junk comes within range, or you'll wait until lunch and overeat to make up for your down-energy state and caloric depletion.
To keep you in sync until lunch, your breakfast should include protein. That doesn't mean you have to give up muffins and pancakes; but they should either contain or accompany some sort of lean protein. Egg whites, protein powder, tofu, cottage cheese, low-fat yogurt (Greek or regular) are all good. Get up five to 30 minutes early and eat. If a five-minute breakfast is your max, make a smoothie, defrost a muffin, or toss into the toaster an Apple Cinnamon Pancake left over from Sunday brunch. You'll actually feel less tired, not more. Now you're 50 percent of the way there.

Make Meals Count
Of course you're pressed for time, but in 30 minutes or less even time-pressed cooks can prepare something healthy and delicious. What do I mean by healthy? Lean proteins, good-for-you-fats, whole grains, beans, fruits, and veggies. If you live with other people, divide and conquer the shopping, prep-work, cooking, and cleaning. If you live alone, prep the night before. However you do it, make dinner worth eating. There's nothing like boring food to undo even the sincerest resolution. You need bold flavors, like the ones in Grilled Shrimp with Smoky Barbecue Rub.
Move to Lose
It's almost impossible to achieve a healthier body without exercise. Even 30 minutes three times a week can make a difference. Cardio workouts rev up your metabolism so you burn more calories. Strength training replaces fat with muscle, which makes you look leaner even at the same body weight. It also adds a metabolic bonus because muscle burns more calories than fat. Exercise gives you more energy during the day and helps you sleep better at night. Try partnering with someone else for support and motivation.
None of these recommendations is radical or new, but each makes a distinct contribution. Follow them, and you'll get much more mileage out of that new bike in your basement.
The following recipes are excerpted from Trufflehead, a new healthy cooking app for iPhone and iPad.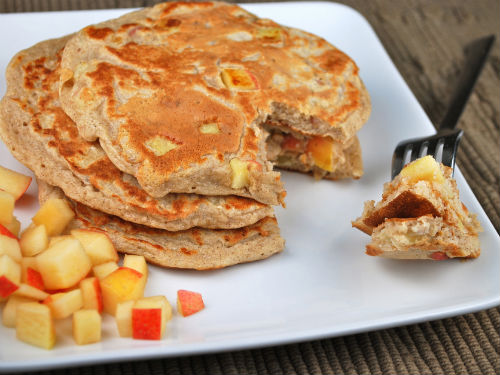 Servings: 2
Time: < 30 minutes
Difficulty: Easy
1 cup plain oatmeal (old-fashioned or quick oats, not instant)
6 egg whites (1 cup)
½ cup 1% cottage cheese
½ teaspoon ground cinnamon, plus extra for dusting (optional)
2 teaspoons Splenda granulated or sugar
½ tablespoon baking powder
½ Fuji apple, preferably organic, chopped (½ cup)
Cooking oil spray, preferably olive oil
Powdered sugar (optional)
In a blender, combine the oatmeal, egg whites, cottage cheese, cinnamon, and Splenda or sugar. Cover and process until smooth. Add the baking powder and process briefly, just enough to blend. Stir in the chopped apple by hand.
Place a medium nonstick skillet over medium heat. When it is hot, coat with cooking oil spray. (If using a gas stove, remove from the heat just long enough to spray away from the flame.) Reduce heat to low.
Pour ½ cup of the pancake batter into the pan. When it is golden underneath (use a spatula to peek), flip and cook 2 to 3 minutes on the other side. Transfer the cooked pancake to a plate. Repeat with the remaining batter to make 4 pancakes. Serve with a dusting of cinnamon and powdered sugar, if desired.
Per serving: 268 calories, 3 g total fat, 1 g saturated fat, 1 mg cholesterol, 40 g total carbohydrate, 6 g dietary fiber, 22 g protein, 677 mg sodium.
Oatmeal Spice Breakfast Cookies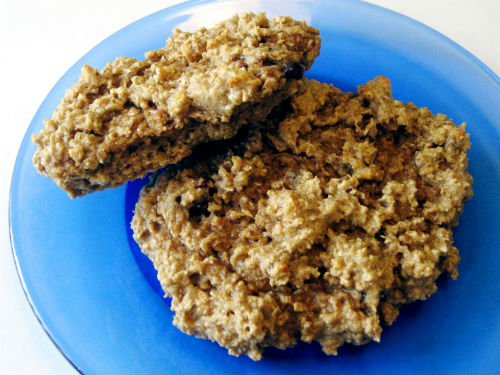 Servings: 8
Time: < 30 minutes
Difficulty: Easy
Cooking oil spray, preferably olive oil
2 cups plain oatmeal (quick oats, not instant)
1 cup whole wheat pastry flour or white whole wheat flour
1 cup vanilla whey protein powder (3½ scoops)
1 cup Splenda granulated or sugar
¼ cup milled flaxseed
½ teaspoon salt
½ tablespoon baking soda
1 tablespoon baking powder
1 tablespoon ground cinnamon
½ teaspoon ground cloves
3 egg whites (½ cup), lightly beaten
¾ cup nonfat or low-fat plain Greek yogurt
1 tablespoon canola oil, preferably organic, or macadamia nut oil
2 tablespoons water
Preheat the oven to 375F. Coat a nonstick baking sheet with cooking spray.
In a large mixing bowl, combine the oats, flour, whey protein, Splenda or sugar, flaxseed, salt, baking soda, baking powder, cinnamon, and cloves. Stir to blend. Add the egg whites, yogurt, oil, and water; stir to blend.
Drop the batter onto the baking sheet in 8 equal mounds. Bake 8 minutes. Promptly remove from oven while still very soft. Allow the cookies to cool on the baking sheet for 10 minutes. Wrap in plastic and store in the refrigerator or freezer. (To reheat frozen cookies: unwrap and microwave 30 to 45 seconds).
Per serving: 241 calories, 5 g total fat, 1 g saturated fat, 11 mg cholesterol, 32 g total carbohydrate, 5 g dietary fiber, 18 g protein, 614 mg sodium.
Grilled Shrimp with Smoky Barbecue Rub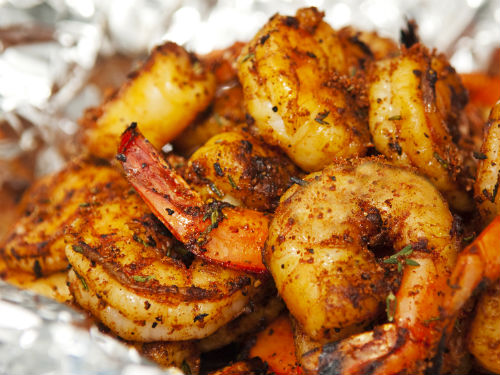 Servings: 6
Time: < 30 minutes
Difficulty: Easy
1 tablespoon chopped fresh thyme (leaves from about ½ small bunch)
1 teaspoon kosher salt
1½ teaspoons packed dark brown sugar
1 teaspoon ground cumin
¾ teaspoon smoked paprika (pimentón dulce, sweet)
¾ teaspoon freshly ground black pepper
¾ teaspoon chili powder
¼ teaspoon ground cinnamon
1½ pounds large shrimp, peeled and de-veined
1 tablespoon canola oil, preferably organic, or macadamia nut oil
In a small bowl or measuring cup, combine the thyme, kosher salt, brown sugar, cumin, smoked paprika, pepper, chili powder, and cinnamon. Blend well with a fork. (May be prepared in advance and stored, covered, up to 1 week in the refrigerator or up to 4 weeks in the freezer.)
Prepare a grill with an oiled rack and preheat to high. (Alternatively, the shrimp may be broiled.)
Place the shrimp in a large bowl. Drizzle with the oil and toss to coat. Sprinkle with half the rub and toss. Sprinkle with the remaining rub and toss again. Place on the grill rack in a single layer. Cook, turning often, until curled and opaque, about 5 minutes total. Do not overcook. Serve immediately.
Per serving: 149 calories, 4 g total fat, 1 g saturated fat, 173 mg cholesterol, 3 g total carbohydrate, trace dietary fiber, 23 g protein, 485 mg sodium.