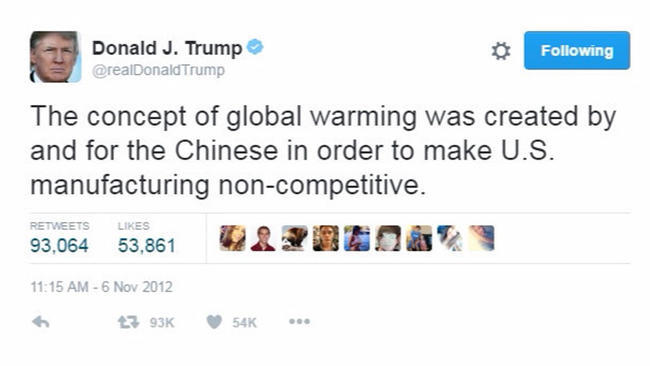 Businesses' failure and success often hinges on the public's perception of their brand. Chipotle, for example, knows this all too well after its E.coli crisis in 2015 and its norovirus outbreak last month. Both have caused the company stock to drop and customers to stop supporting them resulting in reduced profits.
Last month, CNN and other news organizations reported that President Trump's approval ratings were at an all-time low of 36 percent. If the President was a business (and in some ways the office is), a crisis communication team might be called in and an analysis of ways to make the brand stronger would be done.
If we did a SWOT analysis of strengths, weaknesses, opportunities and threats, we'd see that the Trump name could be used as a strength. Worldwide, many people knew that name as a brand even before the Donald became 45th President of the United States. A weakness might be his constant need to Tweet, even before he's informed senior officials of his decisions. Opportunities could be every chance he has to meet with world leaders, and threats include North Korea as the most prominent and now Russia, too.
But to do a more thorough analysis and to provide useful suggestions to the President on how to better his brand, I had a discussion with digital marketing expert Brian Hong, CEO if Infintech Designs, and we came up with these six suggestions:
1) Allow the Experts to Manage His Social Media
While anyone can establish a social media presence, the best branders know you need to plan first and build second. Hong said, "Too many people and companies get excited about being online and creating an audience without planning how they or their business should come across. Social media experts knows that you build a brand by crafting a consistent message and presence, not by posting on Facebook or Instagram or Twitter any time you have a reaction to something."
2) Create Targeted Online Video Content
Shawn Mendes, Justin Bieber and Charlie Puth have music careers because they put themselves out there on YouTube in ways that showcased their talents. While the Internet has over 63 million videos of President Trump (according to a Google search), very few of them were created to transmit a targeted message. Yet, Small Business British Columbia projects that by next year video will account for 80 percent of Web traffic.
In order to create targeted video content that your consumers will find and find useful, your content needs to be clear, address a topic and provide value. Hong said, "It helps to have a three to five second introduction of the topic, explain a problem and then present solutions to the problem, to summarize and then maybe add a call to action. This is the way to get people's attention and involve them."
3) Avoid Making Every Message Sound like a Blog
Sometimes sounding colloquial is a good thing, like you're in touch with Everyman. Other times your consumers expect more from you; they trust you to sound like the expert you are. Take Bill Gates for example, when asked how history might view him, he responded, "I'm sure history will simplify things by taking a few people and talking about their role in personal computing. But it doesn't matter; it doesn't motivate me. If we're all forgotten or remembered, it doesn't change what we do every day—but that hasn't really changed in the last 25 years." That answer was more formal and thoughtful than a response he could have made, like "I don't care. It's not important to me."
Hong said, "While blogging can make you appear as an expert on a particular topic, the tone is often friendly, like you're chatting to a friend. It's important to understand your audience and when to sound like you're in a friendly conversation, when you're drafting a white paper and when your audience is somewhere in between."
4) Present Yourself as an Authority
Nobody knows your business better than you do—or at least that should be the case. On your business' website you can do this by publishing white papers and providing tutorials and infographics, content-rich videos and industry information or reviews. "With quality content, you can show your audience that you are knowledgeable in your field and your brand is a go-to source for their business needs," Infintech writes on its blog.
Whitehouse.gov should be the authority on all things related to the presidency, but this official website is often usurped by other websites, including news and social media sites. For example, a Google.com search of "Donald Trump" ranks www.trump.com and http://twitter.com/realDonaldTrump first and second and dozens of entries on five and a half pages of search results before Whitehouse.gov is even mentioned. Based on these search results, it would appear the Donald J. Trump is an expert on himself rather than on the presidency and politics.
"In order for anyone to appear an authority on a business or on issues," Hong said, "he, she or the company must establish themselves as experts by providing quality information about those issues, not just media sound bites that might sound superficial. People want to see in-depth knowledge and understanding from their authority figures."
5) Connect with Your Customers/Constituents
Many ways exist to connect with customers. You can go to trade shows, conduct focus groups, use direct e-mail or social media or mobile apps, or even go old-school and send direct snail mail. CIO.com asked dozens of business owners, managers and customer relations experts the best ways to connect with customers and the results included sending personalized notes or cards, picking up the phone, going for a visit being active on Twitter and Facebook and offering webinars.
President Trump is very active on Twitter. It's a fact we all know. But as Slate.com reported, he and other politicians have begun blocking people with whom they disagree. As Slate.com said, "The growing combat over social media is igniting a new-age legal debate over whether losing this form of access to public officials violates constituents' First Amendment rights to free speech and to petition the government for a redress of grievances. Those who've been blocked say it's akin to being thrown out of a town hall meeting for holding up a protest sign."
While the Internet has spawned many trolls, many times the best thing to do when a customer or constituent has an alternate viewpoint to yours is either to try to understand theirs and see how you can fulfill their needs or to quietly ignore them.
6) Remember That It's All Marketing
And lastly, there's an old advertising adage that "everything is copy," meaning that any words or action can make a story or end up news. Every change a business makes to its website may boost or hurt its rankings in search engines. Every word spoken or Tweeted may boost or hurt the Presidency or any public figures.
Even things such as couture color choices (how many articles were about Hillary Clinton's pants suit choices during debates?) and haircuts can affect a person's brand, just as font style and logo design and color can affect a company's brand. Anyone remember Gap's 2010 logo change disaster?
Hong said, "Every piece of your business from your website to your social media accounts to videos to presentations represents a piece of your brand. Consistent messaging is so important because everything you do is marketing."
Because the President of our country represents us and represents Brand U.S.A. just as much if not more than our Olympic athletes, we want to ensure we are broadcasting the best version of our brand. So, Mr. President, if you'd take a few moments to consider our suggestions, we'd be grateful.
REAL LIFE. REAL NEWS. REAL VOICES.
Help us tell more of the stories that matter from voices that too often remain unheard.
This post was published on the now-closed HuffPost Contributor platform. Contributors control their own work and posted freely to our site. If you need to flag this entry as abusive,
send us an email
.