I really like speed. Unfortunately, motorized toys and I do not get along. I tend to send them into trees or over ledges. When a colleague invited me to join her and her friends on an off-road excursion in West Virginia*, I accepted, only because I'd heard such great things about the epic scenery.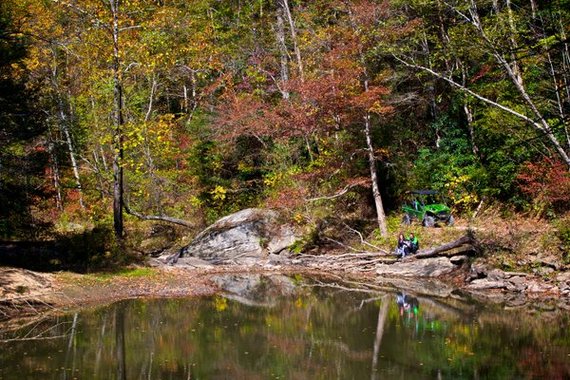 Over four days on the Hatfield-McCoy trails, one of the largest off-road vehicle trail systems in the world, I learned how to drive a side-by-side vehicle (and not crash), plus, a few other fascinating things about West Virginia:
Romeo and Juliet (WV Style):
The Hatfield and McCoy families were the Montagues and Capulets of the late 19th century. Their squabble, complete with arson, livestock theft, kidnapping and, of course, star-crossed lovers, was so bitter and so long (truce declared in 2003), it's now part of American folklore. For more on the Hatfield-McCoy drama -- check out the made-for-TV series starring Kevin Costner.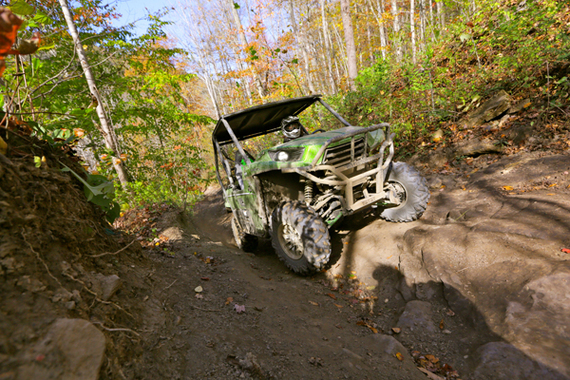 Symbolically reflecting the immensity of the families' feud, the eight Hatfield-McCoy off-highway trails cross six West Virginia counties, and total more than 600 miles, featuring varied terrains for all levels.
After hours of riding on dusty trails, going up to 45 m.p.h., I took off my helmet to give my neck a rest. Our local guide comes over with a grin and tells me to look in the mirror. I gasped, quickly grabbing my sleeve, wiping off the dust that darkened my nose and mouth in a near perfect circle. "In these parts, a dirt snout on a girl is a beautiful thing," he says.
When I Grow Up, I Want to Be...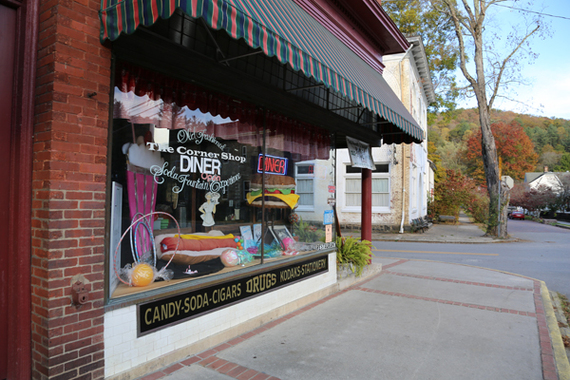 Bramwell, a town with the largest number of millionaires per capita in America in the late 1800s, due to the booming coal industry, is now a quiet, quaint stop off the Pocahontas trail for riders to rest-up and refuel with a tasty burger at the Corner Shop Diner (photo above). In addition to the historic homes to marvel at on "Millionaires' Row," Bramwell's mayor is an attraction unto herself.
Lou Stoker ran for office in her 70s, and has more energy than two twenty-year-olds combined. She's also an incredible storyteller, relaying the town's colorful history as lifelong resident and author of two Bramwell history books. She makes it a point to personally welcome riders with down home Southern hospitality and humor. After sharing a meal with her at the Bramwell Bank Bed and Breakfast, I can say, when I grow up, I want to be like Lou Stoker.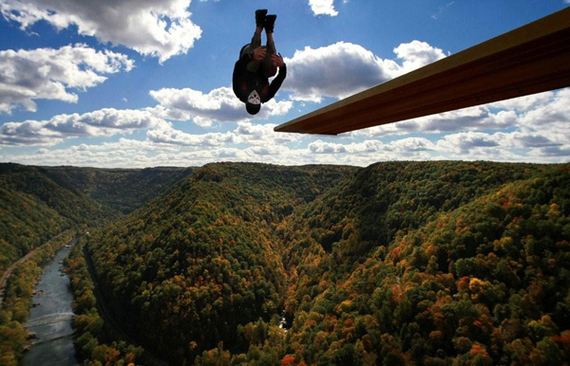 West Virginia will celebrate its 35th annual Bridge Day on October 14, 2014. As one of the largest extreme sports event in the world, you can rappel, highline or base jump for over six hours from the 876 foot high New River Gorge Bridge with an audience of roughly 80k. Now that's a high.
To continue reading, plus more photos, head HERE.
Yet, I firmly believe one of the best ways to help an area recovering from a disaster is via tourism. In sharing what I experienced during my inaugural trip to West Virginia, I hope it piques your interest to visit the 'wild and wonderful' state.

Bridge Day photo courtesy of Official Bridge Day, and all other images by Alfonse Palaima.