It's pouring rain here in New York today, so this interview with Sol Rodriguez came through just at the right time. We need a little sun in our lives!
Sol Rodriguez joined Season 4 of Lifetime's addicting dramedy series Devious Maids which just returned to the airwaves June 6th. Rodriguez plays 'Daniela Mercado,' a spicy Puerto Rican pop star hopeful and cousin of Carmen Luca (Roselyn Sanchez) who spontaneously comes to Los Angeles.
Born in Buenos Aires, Argentina, Sol was raised in a tight knit family. Her father was a musician and from an early age she always loved to sing and dance with him at home and whenever he has gigs around town. In middle school the family picked up and moved from Argentina to Guatemala and then to Miami during her teenage years. Seeing how unsteady it was to constantly be in the entertainment field, Sol wanted to choose a different path and after high school graduation decided to attend Dade College in Miami, working part time at a local Macy's department store. Acting was never a thought that crossed Sol's mind until a friend suggested she go on an audition just on a whim.
You've joined Lifetime's Devious Maids as Daniela Mercado for Season 4. What's it like coming into an already established cast?
I was very nervous. It's intimidating to become part of a show that has been running for three seasons. They're like a family and they know each other very well, so I was really scared. My very first scenes were with Tom Irwin and Roselyn Sanchez, and they made me feel like I was part of the family since day one. Roselyn has been amazing, patient and inspiring to me. I couldn't ask for a better cast mate to work with. She is truly a wonderful human being. Everyone in the cast and crew were so welcoming and warm and they made me feel like I was home.
Your first acting role was in Nickelodeon's Grachi. After that, you moved to LA. How'd you get your agent and manager?
My first acting role was Grachi for Nickelodeon, but I didn't move to LA after that. I worked very hard in Miami, I did a couple of soap operas, and then after a couple of years I moved to LA. I had a strong resume in the Latin market and that made it a bit easier to get representation in Los Angeles.
Do you have contact lenses for vision?
Yes, I use corrective contact lenses, and I also have eye glasses. I like both. I try to use eye glasses as much as I can so I can give my eyes a rest from the contacts. I want to get Lasik as soon as possible.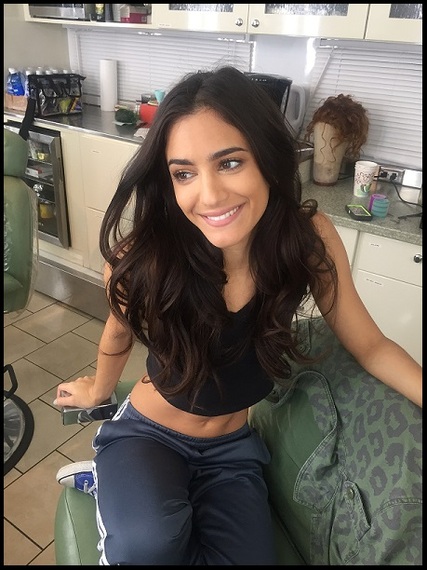 Sol Rodriguez on the set of Lifetime's Devious Maids. Time for Hair and Make-up! Is that an avocado on the counter?
What's your food and workout routine?
My food routine is a mess, I eat really badly. I don't cook, so I just eat whatever I can. I just started working out with my girl Sarah Koudouzian less than a month ago, and she's getting me into shape. I love her. We are working out one hour three times a week. I have never worked out before, so it's been hard but I know we're going to get amazing results.
Name a sport that you'd LIKE to do but never have. Why haven't you?
I would LOVE to learn horseback riding. I love animals and I love horses, I think they're beautiful and magical creatures. I respect them a lot, and they're so big. I just haven't had the chance to try it, but it looks very fun.
What's your biggest fear?
My biggest fears are heights and cockroaches. I can't ride roller coasters because I'm afraid of heights, so it sucks for me.
Calling all HuffPost superfans!
Sign up for membership to become a founding member and help shape HuffPost's next chapter