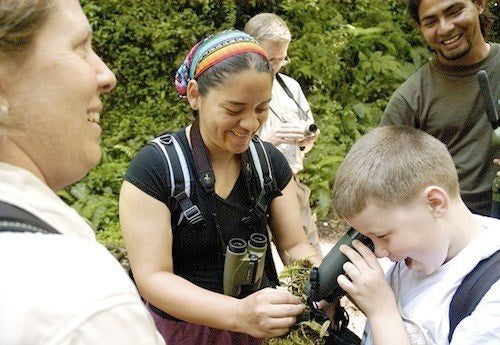 "... There are two classes of travel -- first class, and with children."
-- Robert Benchley
Benchley notwithstanding, travel with children has increased more over the last decade than any other type of travel. Since spring break is upon us, and it is highly likely that more families with children will travel internationally than in any previous spring break in history, I thought it would be a good time to think about how to make travel to strange places a positive nourishing experience for both parents and kids.
The hardest part of traveling with kids is striking the right balance between the challenging and the comfortable, the strange and the familiar. Too much of the former and you'll have stressed out kids. Too much of the latter and you may as well have stayed at home.
Here are six ideas that I have found will help you strike the right balance.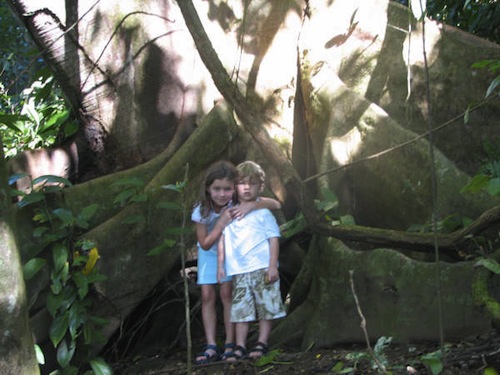 Strange place; familiar food. Pasta and peanut butter and jelly will go a long with most kids
Getting everybody packed up and moving is often the most stressful part of the trip -- especially when a favorite toy is left behind at your last destination. Also after a few days strange places become familiar. Pick one or two places and stay put.
Game boys, iPods, etc. are invaluable for keeping kids entertained at airports and on long flights. However, once the kids are at the destination, the experience will not be very nourishing if they shut out the sights and sounds of where they are with the portable sights and sounds of home. Make the deal before you leave, digital distraction ends when you get there. It will cause serious withdrawal for some kids--which is not such a bad thing.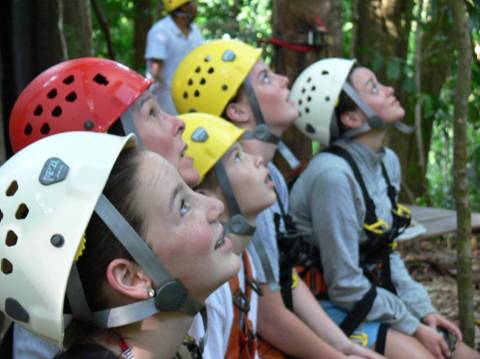 Replace the digital toys with binoculars. One of the great benefits of travel is that it shows you new worlds. Binoculars show you new worlds within new worlds. Binoculars are on virtually all "What to Bring" lists for nature travel, but they are almost as valuable for other kinds of travel as well. They are not of much use inside the Louvre, but they are great for seeing the details of the molding above the cornice on the exterior of the Louvre. The same binoculars that work for bird watching work for people watching. You do not need to get your kid800 Swarwarskis, but20 specials are worse then nothing. Bushnell H2O 10x42 Porro Prism Waterproof/Fogproof Binoculars,73.08 on Amazon are good starter binoculars. Finally binoculars are not hard to use but there are a few tricks. Find someone to teach them to your kids -- and to you for that matter.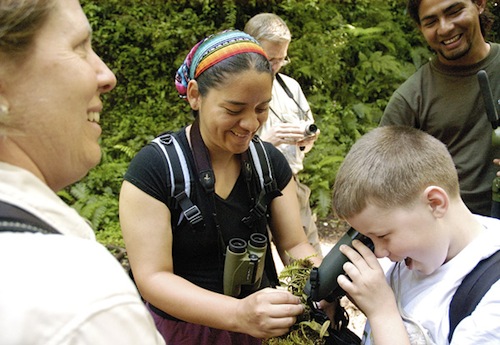 If the purpose of the trip is for you and your kids to learn about a culture, natural or human, other than your own, find a really good guide. I am not talking about the kind of guide who gives canned speeches. I am talking about the kind of guide who asks the right questions: For example, "How do you think families in ancient Rome were different from modern families in your country?" And then, "How do you think families in modern Rome are different from modern families in your country?" Really great guides who can transform a perfectly good vacation into an extraordinary magical experience are trained professionals and they do not come cheap. If money is a factor, skimp on hotels, but don't skimp on the guide.
If you want your kids to truly love, appreciate and savor travel, schedule your family trip for a time when school is in session. There are two reasons for this. The first is they will not be distracted relating to all the other kids from their country and class who are traveling at the same time. This means will be much more able to appreciate where they are. The second is that traveling will almost certainly be more educational than school.
These tips will enhance travel for adults as well as children, but the suggestions are much more important for kids because kids are in general more sensitive and more malleable than adults. Many adults are a lost cause.