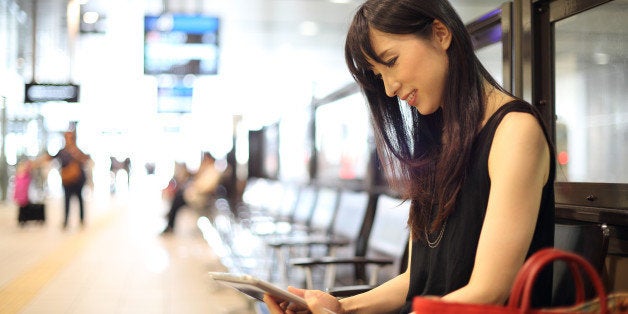 By Lori Sussle Bonanni, Director of Marketing at World 50
There's no reason to look like Natalie, the neophyte business traveler Anna Kendrick portrayed in Up in the Air. Business travel does not have to be intimidating. If you pack carefully and plan ahead, you'll be a savvy business traveler in no time.
Be particular about what you pack. Determine a clothing color and stick with that palette. Every pair of pants, skirt and shoes should be able to work with multiple outfits. If your trip is extensive, there are laundering options. If an item doesn't work with at least one other outfit, don't pack it.
Slip-on shoes are best for airport security (ladies, think flats like Tieks or Lucky Brand) and bonus points if you can match them with packed clothing. You never know how far your gate might be.
If it's been a while since you only used carry on, familiarize yourself with the TSA's 3 oz rules. You don't want to see your full size bottles of hair product go into the trash (and you don't need to pack that much product, anyway).
If you can bear to part with your favorite liquid beauty products for a few days, look into non-liquid toiletries like Biore cleansing cloths. Bonus: You avoid the fear of spills! There are plenty of websites like flight001 that sell a wide variety of travel toiletries.
If it's unavoidable and you are checking a bag, make sure you have everything you need for business in your carry on luggage (computer, presentation, documents, business appropriate clothes and shoes, toiletries, medication and device chargers) so even if your bag doesn't make it, you still have the essentials.
Collecting Points and Miles on Planes, Trains and Automobiles (and Hotels!)
If you are holding tickets for an upcoming business trip, but aren't already enrolled in a frequent flier account for the airline, do it now. Really. Do not pass go, do not collect $200. Sign up. It takes all of 10 seconds.
Your company is probably loyal to an airline and it will be the fastest way for you to rack up miles. On the legacy carriers you only need 25,000 miles for a free domestic trip. And do your research -- hotels and airlines have lots of partnerships and you could be earning miles even when your head hits the pillow. There are websites like FlyerTalk dedicated to talking about accruing and using these miles.
I have traveled a lot for business and, as a result, amassed a lot of airline mileage and points that I was able to redeem for personal travel.
[Find out if your company's policy will allow you to keep the miles you earn on business.]
Sure, your corporate travel department could send you itineraries or, maybe you've done the booking yourself. Either way, be sure to compile everything in one place with an online organizer like TripIt.
Not only will TripIt store all of your itineraries and confirmations, but it compiles maps and weather that will sync with your calendar which you can easily share with colleagues.
If your itinerary is stored in the cloud, it's not a bad idea to print a copy with phone numbers, emails and confirmation numbers. It might never come in handy until the power is out, your battery is dead and you really need to make a call.
It wasn't until Hurricane Sandy until I realized how much we rely on charging devices. As soon as I was able, this was the first thing I bought. Forget about staring down a seat next to a charging station, or worse, finding a seat on the floor next to a socket.
The Dreaded Expense Report
The one thing all business travelers can agree on is that completing and submitting expense reports is worse than losing your luggage (which is why you should carry on!).
Between taxis, meals and accommodations, you'll probably spend a bit of money on this trip, whether it's on a company card or your own. Bring an envelope to keep all of your receipts together. Label each envelope with the date of the trip, client name and city (especially if you travel a lot on behalf of that client). You can even write notes on the envelope -- airline, hotel, restaurants. The last thing you want to do is pull crumpled receipts out of a pocket or try and figure out which receipt belonged to which trip.
You may have to fill out a company-issued expense report, but if there is flexibility, try the free service Expensify. Their tagline is "Expense reports that don't suck!" Enough said. It is super easy.
Snap a photo, upload it to the app and Expensify creates a report based on the information you input. Just hang onto your receipts until you've been reimbursed.
Delayed or Cancelled. Now what?
When I learned how to drive, my dad always told me to 'expect the unexpected.' It's come in handy throughout my life. While airline and train delays have become part of the norm, you can get through delays with a little preparation. Here's how to handle:
You might be tempted but don't get in line with the masses. While it's great to talk to a real person, call customer service and have your frequent flyer number handy. Customer service won't be as nearly overwhelmed as the gate agents who have a line of angry people looking to be rebooked. More than likely they will have you rebooked before you would have gotten to the front of the line.
Don't forget to let the hotel/car service know you'll be arriving later than you expected. If you are headed straight to a business meeting and it looks like there's a chance you will be late, let them know.
If you are traveling, someone is bound to have a meltdown. Don't let it be you.
Safe (and successful) business travels!
Popular in the Community