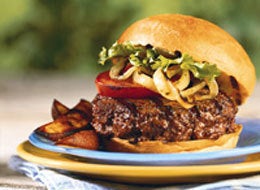 December 21 may officially be National Hamburger Day, but--let's face it--any day could be called "Burger Day" in Denver. From City Grille to the Cherry Cricket, the city is home to some of the nation's most formidable burger joints.
While the debate over the "best burger in Denver" can rage for hours without any closure, we thought we'd honor the occasion by highlighting a few of the stranger burger options in the city. Not always for the faint of heart (or those at all concerned for their heart), these creations venture far from the standard ketchup, lettuce, tomato and onion fare you'll encounter on most burgers.
You may not ever read about all of these on the annual "best-of" lists, but they make valuable contributions to Denver's rich burger landscape. Check out our list, and let us know what you think in the comments below.
The 'Diego' And The 'Cheleste' at Jack-n-Grill
2524 Federal Boulevard, Denver
The Diego is a full 10-ounce patty with cheese and a hot dog inside of it. The Cheleste is a burger topped with a chile relleno.
The O'Malley At Dougherty's
The O'Malley is stuffed with corned beef, Swiss and bacon.
The Irish Breakfast Burger At The Irish Snug
Topped with white cheddar cheese, rashers, bangers, grilled tomatoes and a fried egg.
The JCB Burger At My Brother's Bar
The JCB burger is simple enough: a patty smeared with jalapeño cream cheese on a sesame-seed bun.
The Tap Burger At Highland Tap And Burger
2219 W. 32nd Avenue, Denver
A beef patty with Eli's root beer pulled pork, "Mama's Pilsner" onion rings, American and Cheddar Cheeses and a fried egg.
"Truffle Cheeseburger" At Larkburger
2525 Arapahoe Ave, Boulder, 8000 East Belleview Avenue, Greenwood Village
The Truffle Cheeseburger is a standard larkburger smothered in savory truffle aioli.

Related
Popular in the Community