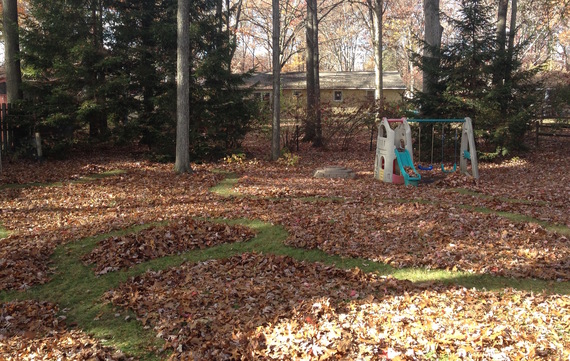 I don't mind raking. In fact, I rather enjoy it, as fall is my favorite time of year and doing yard work gives me a fresh-air break from parenting. But after a recent weekend of the blister-forming repetitive chore, I realized raking is pretty much exactly like parenting. Really. By Sunday evening I felt the urge to read the leaves a night-night book and ask if they'd brushed their teeth. Don't believe me?
Six Ways Raking Leaves Is Exactly Like Parenting
1. It often looks better on social media than it is in real life.
It's easy to look at a friend's Instagram pic of her adorable toddler on a playground slide and think, "Aww, what a cute little guy. Bet they're having a blast!" But if you were actually on the playground with your friend, you'd see she isn't even smiling. She's cringing through clenched teeth because her lower back hurts from crouching to catch her son, who's been whining for seven minutes about everything, including having his picture taken. I imagine eventually you'd hear her beg her own offspring to please, please just move to the swings already so she can stand upright for a hot minute and have a sip of her now-tepid coffee that's sitting abandoned on the grass.
Raking leaves is exactly like that. When I posted a photo on Facebook of the carpet of colorful leaves hiding my lawn while my children scampered around with rakes and shovels, I scored 34 "likes" and eight envious comments about my perfect autumn day. And then I actually raked for 10 minutes and realized my shoulders were sore and the kids had stopped helping and started complaining about the cold. Also my backyard had magically grown to the size of a football field.
2. You spend most of your time looking down.
Short people, small toys, little furniture. Parenting means focusing on a world that is, at least for the first few years, about 3 feet off the floor. I have never vacuumed as much in my life as I have these last several years, and it's not because I've suddenly developed OCD. It's just that I can't help but notice every dust bunny, crumb and stray dog hair when I spend 80 percent of my time on my hands and knees.
When I started raking, the sky was an ominous dark gray but I hoped I could get a small chunk of the yard done before it started to rain. Two and a half hours of staring at the grass later, one of my boys commented on the pretty sunset, and I looked up from my daze to see a clear blue sky with beautiful pink and purple hues. Also that's when I noticed how many leaves were still up there on the branches, which leads me to ....
3. You're never really finished.
You know that feeling when you leave a perfectly clean living room void of toys and clutter ... and walk past your child's bedroom to see that a bomb apparently went off in there? Or when you climb the basement stairs triumphantly with the last load of laundry in your hands, only to notice a pair of dirty socks and a muddy hoodie near the front door? That is exactly what it feels like to rake leaves in the fall.
By the time I was finishing up the final pile in the corner of the backyard I looked out over my glorious handiwork and I saw ... leaves! Tons of stupid leaves! All over the ground! Actively floating down from the branches above, mocking me. And the children! They were gleefully jumping in the piles, trails of leaves kicked up behind them in every direction.
I mean why do we bother washing clothes and dishes at all?
4. They're both immeasurably better with Salted Caramel Mochas.
Or, I suppose, that other fall coffee concoction people seem to like.
5. Both produce piles of things to get rid of.
Literally. Piles.
In my neighborhood, we don't have to bag up the leaves like we did when we were kids. Here we just haul them to the curb in loose piles and a truck comes by to magically suck them up with a giant vacuum hose. If only they had such a thing for onesies and sippy cups and toddler beds and Duplo blocks and tiny shoes and teeny socks and high chairs and swings and talking magnets and well-worn copies of Goodnight Moon and those giant wooden puzzles with the knobs on every piece that never fit right on the shelf. Man, parenting would be a breeze (and Craigslist would be nonexistent).
6. The payoff is pretty huge.
Yes, both raking and parenting are tiring. Yes, both are messy and inconvenient and can feel more like a chore than a privilege. But what's the biggest payoff to raking leaves, besides having a nice clean lawn? Jumping in the pile.
Jumping in a pile of leaves is like experiencing the wonder of the world through the eyes of a child. It's a little slice of your own childhood you get to both pass down to your kids and - if your knees cooperate and you take the time to drop the rake for a second - continue to enjoy yourself. It's reveling in the fruits of your labor, quite literally, in a way that mixes pride and wonder and love and in-the-moment joy that for a few minutes quiets the "we're making a mess and I'll have to re-do this and I hope nobody gets hurt" loop in your head.
In other words, it's exactly like parenting.