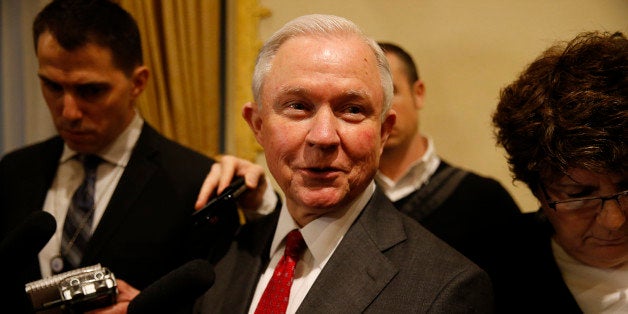 Senate Republicans claim they are "confident" Senator Jeff Sessions (R-AL) will be confirmed to be Attorney General, but their rigging of his confirmation process undermines their false bravado. They must be worried that if Americans get to know Senator Sessions' record, they would know he is unfit to be Attorney General and demand the Senate reject his nomination, just as it did 30 years ago.
Here are six ways Republicans are stacking the deck.
1. Chairman Grassley's double-standard rush to judgment. As Judiciary Committee Chair, Senator Chuck Grassley (R-IA) has scheduled consideration of two Attorney General nominations. He took more than six weeks to schedule the confirmation hearing for Loretta Lynch, who is the first African American woman to serve as Attorney General. He took barely six minutes to schedule the confirmation hearing for Senator Sessions, setting a date even before his records were delivered.
2. Senator Sessions refuses to provide the Senate with his full record -- which he has previously argued is a felony and that a judge would consider contempt.
In 2010, when Senator Sessions was Ranking Member of the Judiciary Committee, he charged that a nomination was "'in jeopardy' after extraordinary omission of 117 items from Record," and that the nominee's "unwillingness to take seriously his obligation to complete these basic forms is potentially disqualifying." He asserted, "At best, this nominee's extraordinary disregard for the Committee's constitutional role demonstrates incompetence; at worst, it creates the impression that he knowingly attempted to hide his most controversial work from the Committee."
Senator Sessions went even further, declaring that it is "a criminal offense to make a false statement to the government, two years in jail, a felony...A judge who finds that a nominee or someone coming before him left out 117 or now 130 or 140 documents would consider contempt." (36:40)
Two reports have documented how Senator Sessions has omitted hundreds of items--easily double the 2010 Sessions Standard to place a nomination "in jeopardy."
As staggering as this hypocrisy is, it is not only the volume of what he omitted, but the content of what he omitted.
Senator Sessions also has failed to provide much information on two decades of his career, including the time during which he was nominated and rejected for a federal judgeship and even his first term as U.S. Senator.
3. Another Grassley double standard refuses to hold Senator Sessions accountable for these hundreds of missing items. In 2010, Senator Grassley joined Senator Sessions' letter asserting that a nominee's omissions were "potentially disqualifying." The Senators also asked for "an indefinite postponement of the hearing" because "a further investigation must be conducted to ensure that nothing else is missing."
Today, as Chairman, Senator Grassley refuses to hold Senator Sessions to any standard of accountability, with his spokeswoman stating, "The notion that Senator Sessions--somebody who committee members have known and served beside for 20 years--hasn't made a good faith effort to supply the committee with responsive material is preposterous."
The hypocrisy extends beyond Senator Grassley's position in 2010. He also appears to argue that nominees should receive special treatment if committee members know and have served beside them. Yet, in 2009, when the Senate considered Tom Daschle--who had served as a Senator for 18 years before being nominated to be HHS Secretary--Senator Grassley's position was "the same as it has been for every other nomination processed by the Finance Committee since 2001, that all relevant information about a nominee must be made public in order for the confirmation process to go forward in the committee. The public's business ought to be public, and committee members must weigh all the facts of a nominee's record."
4. Chairman Grassley silences outside witnesses. In November, the Democratic Senators on the Judiciary Committee wrote to Chairman Grassley. They noted that when former Senator John Ashcroft (R-MO) was nominated to be Attorney General, the Committee hearings lasted four days, with testimony from 19 outside witnesses, and they requested that "the Committee should hear from outside witnesses for, at a minimum, each of the following areas: immigration; violence against women; civil rights, including LGBT protections, racial justice, and hate crimes; workers' rights; national security and civil liberties; voting rights; criminal justice; and government conflicts of interest, transparency, and oversight." Despite this request, Chairman Grassley is allowing Senate Democrats to call only four witnesses, with the hearings lasting only two days--preventing Senators and the public from hearing comprehensive testimony on critical areas of Senator Sessions' record.
5. Chairman Grassley does not provide transparency or public access to Senator Sessions' nomination materials. The Senate Judiciary Questionnaire is a public document, and Senator Sessions' questionnaire is more than 150,000 pages. Unfortunately, the Senate Judiciary Committee has only provided online access to 356 pages--without making available any of his outside speeches or interviews, which are largely unknown to the public--and even to his fellow Senators.
6. Senator Sessions refuses to recuse himself. One month ago, Senator Richard Blumenthal (D-CT) urged Senator Sessions to recuse himself from consideration of his nomination--noting that since 1960, none of the six sitting Senators who were nominated and confirmed as department heads cast a recorded vote on his or her own nomination. The ethical question and conflict of interest are so clear, it should have taken Senator Sessions a minute to respond, but a month later, there is still no answer.
The U.S. Department of Justice advises the President on constitutional and legal boundaries around ethics and conflicts of interest and enforces numerous anti-corruption laws. If Senator Sessions cannot answer this simple question, how can he demonstrate that he has the independence and ability to serve this vital role?
When you have a winning hand, you don't need to stack the deck.
You don't need to hide records, rush the process, or exclude witnesses.
And you certainly don't need to create an ethical cloud because you may need one more vote.
This is a nomination to become the people's lawyer -- to uphold the Constitution and the rule of law -- and if you need to rig the process in pursuit of becoming Attorney General, it is further proof that you weren't fit for the position in the first place.
Calling all HuffPost superfans!
Sign up for membership to become a founding member and help shape HuffPost's next chapter