Calling all Father of the Bride fans! Planning a wedding? Don't send dad running wildly for the hot dog buns.
Just in time for Father's Day (which also happens to fall right in the middle of wedding season), here are a few ideas for honoring Dad on the big day. No need to stick to tradition - there are countless ways to include the father figure in your life that don't include walking you down the aisle.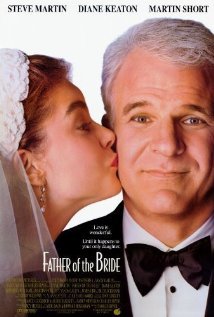 A Special Note in the Program
Including a sweet note to your dad in the wedding program will not only give him a precious memory he can physically hold onto, but it's a great way to honor him on the big day. That special, public shout-out will give him some widespread recognition for the role he has played and the ways in which he has influenced you.
Father-Daughter Photos
It is common for couples to do first look photos before the wedding, so why not do a quick series of pre-ceremony photos with your dad? You can share some sweet one on one time together before you walk down the aisle and the photos will help you remember those precious moments forever. Pop a favorite photo in a frame for a great future Father's Day gift!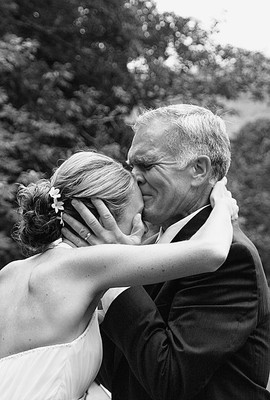 Image courtesy of Julie Whitlock Photography via Pinterest
Share a Secret Toast
Those final moments before the wedding can be nerve-wracking. An intimate toast with just your dad is a great way to calm your nerves before the ceremony begins and the festivities whisk you away.
Have Dad Officiate
The wedding officiant is such a meaningful role - why not give the honor to your dad? Having dad, or your future father-in-law, perform your wedding ceremony will surely make for an emotional and memorable day for all!
Invite Dad to do a Reading
If you'd prefer to have a rabbi, priest, minister or other loved one officiate, but still want your father involved in the ceremony, invite him do a reading. It can be a poem, a scripture, something he wrote or even a passage from a favorite childhood book. Your dad will still feel included without having to take on the responsibility of getting ordained and officiating.
Keep his Memory Close
Dad can't be with you for the big day? Keep his memory close by tying a miniature framed photo to your bouquet, mentioning him in the program or playing his favorite song on the dance floor.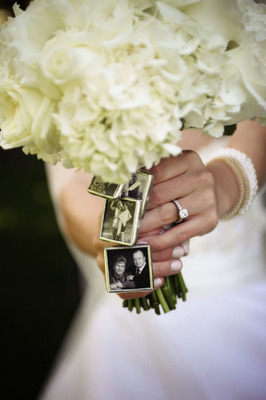 Image courtesy of Alisha + Brook Photography via Pinterest
At the end of the day your dad (or the special father-figure in your life) wants the best for you and just seeing you glowing and happy throughout your big day, is enough to melt his heart.