"What if I run out of things to say?"
"What if nobody shows up?"
The popularity of Periscope, Facebook Live and other livestreaming platforms have given a international stage to small business owners, but many are unable to break through their anxieties and hit that broadcast button.
Everybody had a first day, and everybody started at zero, but there are a few secrets to successful live streaming lies that the so-called pros don't tell you. These five tips will help you push past the fears that you may have of going live AND help you get the most out of your broadcasts.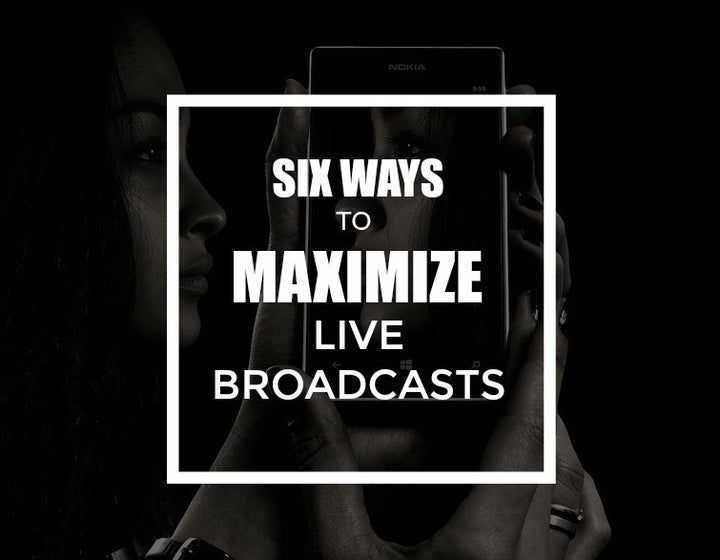 Nobody goes in front of a live camera without knowing ahead of time what they're going to say. Believe it or not, I do an outline for every single live broadcast that I do. You'll want to make sure that you cover everything that you want to talk about, and that your thoughts are organized in a clear way that's easy for viewers to follow. Remember the 6 P's: Prior Preparation Prevents Piss-Poor Performance.
Speaking of preparation - how do you expect people to know that they need to show up and watch your broadcast? Tell them! Leverage the audiences that you have on your other social media profiles to attract people to your live streams.
Oh, and don't forget to email your subscribers about it too...
Rehearse Since we were kids we've been told that practice makes perfect, right? The same rules apply here. The only way to be remotely comfortable in front of the camera is to well, get comfortable. Once viewers have decided to watch your stream it becomes your job to keep them engaged so they'll keep watching. Record yourself in the setting you'll be broadcasting from to make sure that you can be seen and heard, and if you really want to elevate your live stream, invest in a mount or tripod.
Check Your Connection This may seem like a no-brainer, but it also wouldn't hurt to check the strength of your internet connection before your broadcast. Don't risk losing viewers because your broadcast signal is shady.
One of the appeals of live streams is the face-to-face, real-time interaction - it's like watching your favorite TV show and actually being able to chat with your favorite character. Don't ignore the people that show up to watch you, greet them, answer their questions and thank them for supporting your broadcast. Granny was right when she told you that manners would take you where money can't.
Resist getting caught up in wanting to emulate the broadcasters whose streams you watch. The people that appear to be a "natural" and have it all together have simply prepared well in advance.
Once you make the decision to start livestreaming these tips will help you fin tune your process and be awesome on day one.

Popular in the Community