Fall is upon us, and kids are heading back to school. Sadly, for too many children that means 6-7 hours a day with no free play. That's because more and more schools are slashing recess to make time for the "serious" classroom subjects. A recent study published in the journal Pediatrics found that 30 percent of children surveyed are currently deprived of recess in their school day. That's no recess for nearly one in three kids. Zilch. None.
Some schools still offer recess but have cut it down to a measly 10 or 15 minutes. Others offer combined recess/lunch periods--some as short as 20 minutes--which force children to scarf down their food if they want a chance to run around.
Increased emphasis on high-stakes testing is often to blame, despite overwhelming evidence that more physical activity actually increases focus inside the classroom and can lead to higher test scores. The fact is, a school day with no play isn't going to make your child smarter, and not only that, it's dangerous to your child's health.
Luckily, most parents are just as unhappy about dwindling recess time as their children are. Just last week, over 300 parents in East Providence, RI convened in a town hall meeting and chanted, "We want recess!" after hearing rumors that the school district had plans to eliminate it.
Are you concerned that your child isn't getting enough time to play? You're not alone! With the right tools and resources, you can rally your school community to get recess reinstated or to incorporate more recess into the school day.
Peaceful Playgrounds, Inc offers materials online to start your own "Right to Recess" Campaign. It includes a webinar, speaker's guide, tips to get you started, and tons of resources about the value of recess and play. The Alliance for Childhood also offers a great Play Resource List to help you make your case for recess.
The Healthy Schools Campaign recognizes recess as an important component to "school wellness" and includes it in a comprehensive online guide to achieving school wellness. It all starts with creating a Wellness Team that involves parents, students, teachers, the school nurse, and the principal, amongst others.
The International Play Association offers a list of recess advocates by state who are ready to help you out. If your state doesn't have a recess advocate, you can apply to be one yourself.
Saving recess isn't just about making enough time for it--of equal concern is the quality of your child's recess period. Beyond the fact that it's often too short, many children simply aren't using the time they have to engage in imaginative, active play. Here are some common problems--and solutions:
Is recess too rough, or are too many kids sitting on the sidelines? Playworks is a unique organization that has come under some fire lately for its "recess coaches," who work in a number of schools to supervise games and activities during recess periods. I often laud the values of child-directed free play, so while this approach would appear to be incongruent, it recognizes the sad fact that many children these days simply don't know how to play. As stated on Playworks.org, "This structure is designed to encourage kids themselves to take ever-increasing responsibility for the quality of play and for each other. Ultimately our unique brand of play fosters greater independence and leadership among children." Here's more information about bringing the Playworks approach to your school.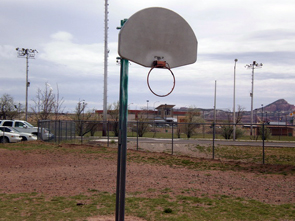 Does your child's school lack a playground, or does its playground need upgrading? An alarming number of elementary schools are being built without playgrounds, leaving it to the parents to fundraise and take action. In other cases, existing playgrounds fall into disrepair and schools cannot afford an upgrade or overhaul. A playground is essential to any school recess, inspiring children to move around, work collaboratively, and continually challenge themselves. My nonprofit, KaBOOM!, offers online tools and resources that can help you mobilize your school community to design and build a playground following our unique community-led, done-in-a-day model. There's lots of fundraising tips too. You can register a playground project and get started here.
Does your child's school lack a playground and lack adequate space to build one? Some urban schools simply don't have room for a playground structure. Imagination Playground offers a compelling alternative. With a focus on loose parts, Imagination Playground provides giant foam blocks, mats, wagons, fabric and crates that overflow with creative potential for children to play, dream, build, and explore. See pictures and learn more here.
It's time to stand up for your child's right to play. Luckily for you, the tools are at hand.
Play On 2010 is a great conference coming up on Oct. 12-13 in New York City for parents who understand the value of play and want better tools, techniques, and strategies to make it part of their community. Learn more about Play On 2010.