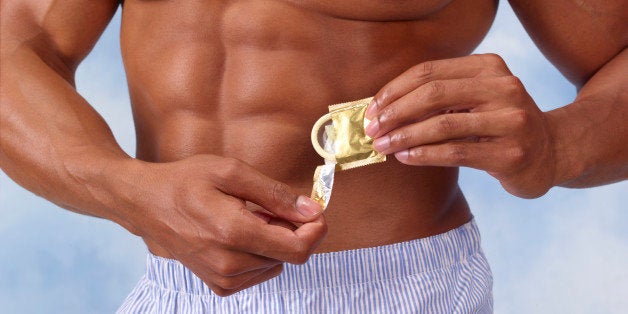 "I peeled open the condom and as I rolled it on him, his shaft instantaneously went soft, softer. Limp. "Urgh, I hate condoms!" He exhaled. "I never had to use them in my last relationship. I'm not used to them."

My story isn't rare. I've encountered different versions by my friends and peers that, even in clear non-monogamous scenarios, men will complain that condoms dull sex -- as if sex is not worth it if it involves a condom! This puts the woman in an incredibly confusing situation.

Speaking from my own experience, I felt it was implied that the problem was that I wanted him to use protection. This guy wasn't just complaining. There was a real physical disdain to the condom. He kept losing his erection each time we tried."
This story, first shared on Condom Monologues, is alas far from uncommon. A study published in the journal Sexual Health found that over the course of 3 months, 37% of men lost at least one erection while putting on a condom. As expressed above, this can make the partner doubt their own sexual worth or worry that they are for making great sex impossible by insisting on condom use.
What's wrong with that picture? Well, first, remind yourself that being safe is a legitimate requirement of great sex. As in, a lifetime of great sex. Over the long-term, only being sexually safe allows for hot sex. No one is worth putting your own well-being at risk.
And it turns out that great sex is very much possible when using a condom. As long as it's not just any old condom, mind you.
Most folks (even those who've been using condoms for decades) have little idea how to find the most comfortable and pleasurable condom for their needs. This leads to men suffering through standard condoms that are too big or too small.
Ongoing international research by my company, Lucky Bloke (over 3,500 participants in 28 countries to date) indicates that 35% of men require a smaller than "average" condom and only 15% of men actually require a larger than standard condom. And by "standard," I mean the vast majority of condoms sold at the local store.
Further, the selection offered at most conventional retailers does not focus on the brands leading condom innovations such as enhanced shape, ultra-thin premium latex or non-latex materials.
Which brings us to our blow-by-blow guide to optimize your condom sexperience:
1. Choosing the Right Condom Size and Type
He may need a different size condom. Did you know that there are three different size categories for condoms? Wearing the right condom will radically improve pleasure. Check out this condom size chart to know what will fit your penis of choice best.
Next, I suggest that you explore different condom materials and shapes to find a better option for your partner.
Condoms with more headroom: There are a variety of condoms that offer a wider, dome-like shape that some men find very appealing in that there is less constriction, which can translate into greatly improved sensation during sex. Condoms with more headroom are great to explore in an effort to keep your partner...
Thin condoms: Ultra thin condoms enhance sensitivity. They are a great starting point if your partner complains that he simply can't feel anything when using a condom.
Non-latex condoms: Many people prefer non-latex condoms regardless of having a sensitivity to latex. This is because polyisoprene and polyurethane transfer body heat better than latex. The material also is generally more comfortable and less restrictive than latex.
2. Buy and Use Your Own Lube
While most condoms are "lubricated," I can't emphasize enough how crucial it is to add additional lube to improve your condom experience. Both water and silicone-based lube (or a hybrid) are safe to use with condoms. Starting with a lube sampler is the most cost efficient and fun way to explore a variety of lubes and figure out what lube feels best.
3. Practice, Practice, Practice... with Superior Condoms
It's likely your partner is not used to associating pleasure with condoms. Anyone with a penis would benefit from solo practice with a high-quality condom. Masturbating with a condom will help your partner determine his pleasure spots and what feels best with premium protection. This will also help if his issue is anxiety-related. I'll add that mutual stimulation can be very sexy. So there is no reason you can't help him here if he'd like an extra hand.
4. Make it Sexy
There is no one way to be sexy. Being sexy is about how you feel and how you work it. If you pull out a condom with confidence and you firmly believe that safer sex is sexy, then it's likely to be perceived as much sexier.
A condom can be a turn on. Keeping condoms in an easily accessible place is very helpful, but that does not mean that it is always best to rush through the process of putting one on. When you introduce condoms, it's a great idea to turn up the sizzle and have a sense of play.
For example, try putting the condom on your partner for them. When done in a deliberately slow manner with stroking, teasing and eye contact, putting on a condom can be very exciting. Try slipping it on his penis with your mouth. Spice it up by carrying a condom with you in your handbag or pocket (keeping in mind safe condom storage) when you are out together and discreetly show it to your partner to hint at what's on your mind.
The possibilities are endless.
Remember: The goal is a long and healthy sex life. Asking someone to use a condom shows that you care about them -- and care about yourself. Communication really is key and talking about sex might mean sharing what you like, what your favorite position is or how to choose and use condoms in ways that work for both of you. Talking together about these things will cultivate intimacy and deepen your bond (not hinder it), and exploring the best premium condoms available (most you've likely not tried before) is a surprisingly enjoyable way to get on track in the sack.
Popular in the Community